Edu Compilations
7 Fantastic Free Social Media Tools for Teachers. The possibilities for social media tools in the classroom are vast.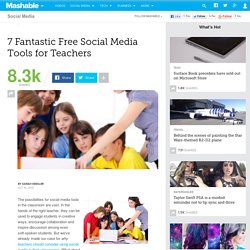 In the hands of the right teacher, they can be used to engage students in creative ways, encourage collaboration and inspire discussion among even soft-spoken students. But we've already made our case for why teachers should consider using social media in their classrooms. What about the how? Even when people say they want to incorporate social media, they don't always know the best ways to do so. Tools for EDU. Twitter Guidebook For Teachers. Emerging Top 100 Tools for Learning 2010. 3 for 3: Web 2.0. Web 2.0 Ed Tech Experts Choose Top Tools Which web 2.0 tools are best suited for enabling collaboration in teaching and learning?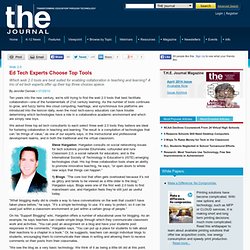 A trio of ed tech experts offer up their top three choices apiece. By Jennifer Demski07/28/10 Ten years into the new century, we're still trying to find the web 2.0 tools that best facilitate collaboration—one of the fundamentals of 21st century learning. List of Ed Web 2.0 Apps. Lifelong Learning Blog / April 2008 / List of Educational Web 2.0 Apps to Jumpstart Your...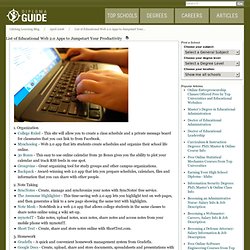 List of Educational Web 2.0 Apps to Jumpstart Your Productivity There are lots of great web 2.0 apps aimed at students. Here is a list of 25 apps to jumpstart your productivity and help you become a better student today. Educational Networking. Elgg:Grou.ps:Facebook:Linked In:Ning:General:Art:Classroom Networks:Conferences:Course Material:English as a Foreign Language:English as a Second Language:English Education (Pre- and In-Service):Russian Education:Georgian recruiting :French as a Foreign language :Language Learning:Leadership:LibrariesMusic:Other LanguagesProfessional Development:Science:Social Studies:Spanish as a Foreign Language:Student Organizations:Teacher Education:Technology:Virtual Environments:Visual Mapping (Mind Mapping):Vocational:Other: A listing of social networks used in educational environments or for educational purposes.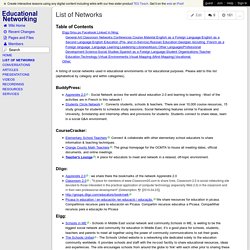 Please add to this list (alphabetical by category and within categories). BuddyPress: Tech Tools for Educators. Classroom 2.0. A-Z Internet Resources for Education. Latest update 4th June 2013 - These are some of the best free internet resources for education.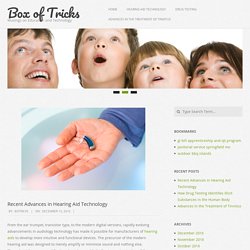 This page is constantly updated; every time I come across a new piece of software or an exciting website, I list it here. This list is not exhaustive in any way. In fact, if you think there is a tool or application for use in education that should be added to this list, please don't hesitate to get in touch and suggest it! 90+ Essential Social Media Resources. Teacher's Guide To Social Media. E-Learning Websites. [ad#link-unit-post] We are with something different today, as you seen below according to our title or article "Showcase of E-Learning Websites for Interactive help" this is totally new and too much demanding topic for all generations so we make an roundup about E-Learning website design inspirations in an beautiful showcase where everyone who want to learn something about own profession can visit there any related website and take information.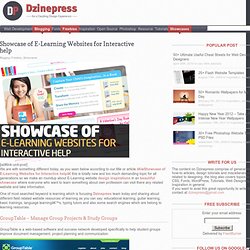 One of most searched keyword is learning which is focusing Dzinepress team today and sharing about different field related website resources of learning as you can say: educational learning, guitar learning, basic trainings, language learning's, typing tutors and also some search engines which are belong to learning resources. GroupTable – Manage Group Projects & Study Groups. 50 Free MAC Applications. [ad#link-unit-post] Apple always produces most powerful products, one of those are Mac Machines and we presenting "50 Ultimate Useful Free MAC Applications" we dug up from famous resources all over the web and arrange on our platform for you Mac lovers.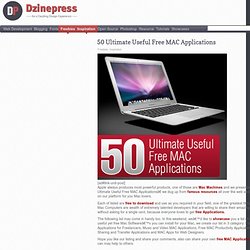 Each of listed are free to download and use as you required in your field, one of the greatest things about Mac Computers are wealth of extremely talented developers that are willing to share their amazing creations without asking for a single cent, because everyone loves to get free Applications. The following list may come in handy too. Online Survey Tools. Online surveys can be a huge help in understanding what your constituents think and how successful your programs are, without breaking your budget.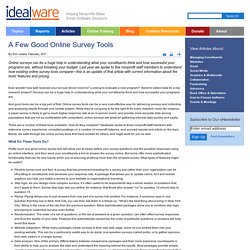 Last year we spoke to five nonprofit staff members to understand how existing online survey tools compare—this is an update of that article with current information about the tools' features and pricing. Ever wonder how well received your annual dinner event is? 210 Websites To Help Teachers Make Learning Fun. Top 10 Sites for Brainstorming and Mind Mapping. 0 Comments June 27, 2010 By: Tech Learning Blog Staff Jun 27 Written by: 6/27/2010 6:43 AM ShareThis.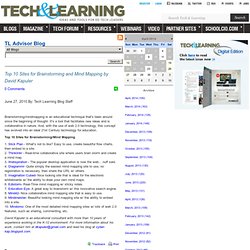 25 Best Sites for Free Educational Videos. RefSeek's guide to the 25 best online resources for finding free educational videos.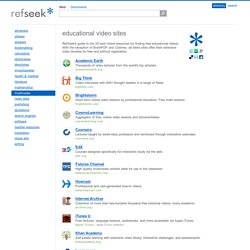 With the exception of BrainPOP and Cosmeo, all listed sites offer their extensive video libraries for free and without registration. Academic Earth Thousands of video lectures from the world's top scholars. academicearth.org Big Think.
---