Guides
Travel guide & journal for London, Paris, New York ... (Travel)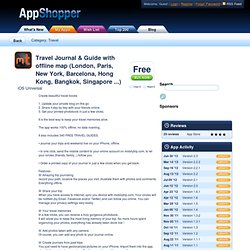 Create beautiful travel books 1. Update your private blog on-the-go 2.
Laissez-passer FASTPASS
Disney Vacation Specialist - Plan a perfect trip to Disney with Specials & Discount Resort Pricing
Universal Orlando opens new attractions! Magical Journeys knowledge of Disney products has earned us the distinction of being named an Authorized Disney Vacation Planner. We were given this special designation by Disney as a result of our agency's ongoing focus and commitment to planning customized, magical trips to the Disney Parks, Disney Cruise Line® and other Disney vacation destinations worldwide.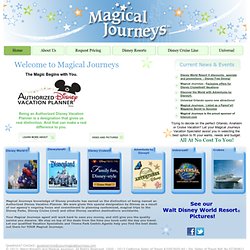 How MyMagic+ Will Affect Disney Dining
Welcome to the Disney Food Blog. If you enjoy this post, you should check out the tour of the site to see all the great Disney Food information we have. Planning your Disney World vacation is about to change—big time. While making your Advance Dining Reservations 180 days in advance will still be important, MyMagic+ is going to make it easier to pre-plan your trip and maybe even save your Disney dollars at the same time! We've outlined the basics of the new Walt Disney World Resort technology below, followed by a healthy dose of Disney dining tips for making the most of the new system — including how it will change your Disney Dining planning, and how you might save money using MyMagic+!!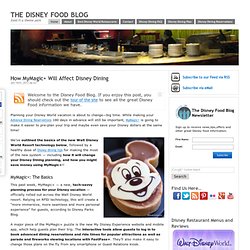 Five Mistakes Guests Make in WDW
When a family decides to plan a trip to Walt Disney World, there are a few things that are important to keep in mind to help ensure that your trip is wonderful and enjoyable. 1. Not Realizing the Size – When people plan a trip to Walt Disney World, they always seem to believe that Walt Disney World is similar in size to your standard Six Flags. In reality, Walt Disney World Property is spread across 25,000 acres, almost twice the size of Manhattan. You will need to look into different forms of transportation to get you from point A to point B. Keep this in mind when you begin to plan and budget.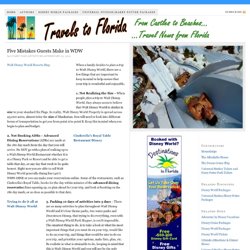 WDW / This list include some of the best kept Disney secrets, advice on how to make the most of your Disney World vacation and tips on how to save money and avoid long lines. *!READ THIS ARTICLE!*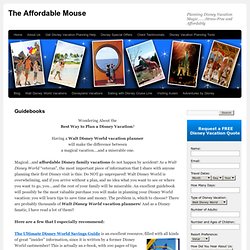 Wondering About the Best Way to Plan a Disney Vacation? Having a Walt Disney World vacation planner will make the difference between a magical vacation….and a miserable one. Magical…and affordable Disney family vacations do not happen by accident!
Walt Disney World Vacation Planner | The Affordable Mouse
Some big changes are expected to be implemented at all FASTPASS attractions next month. Starting March 7 2012, it is expected that the FASTPASS return windows will now be actively enforced, with a 5 minute early arrival and 15 minute late arrival to be allowed. Anyone arriving outside of those times will not be allowed entry to the attraction. The new validity windows will be required for the future roll-out of more advanced NextGen FASTPASS systems, which will require much tighter control of FASTPASS entry than what the current system offers.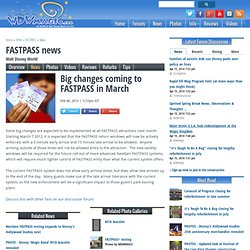 FASTPASS news - Big changes coming to FASTPASS in March
A Disney Mom's Thoughts: Surviving New Year's Eve at WDW
With New Year's Eve fast approaching, I scoured the internet looking for all the events/ activities going on at the Walt Disney World Parks on December 31, 2011. You can find those details at the end of this post. Before you get to that information, I'm sharing some thoughts on surviving New Year's Eve at WDW!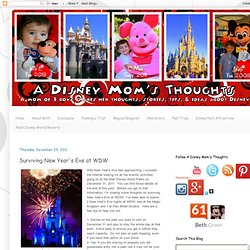 Magical Kingdoms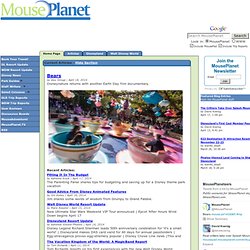 Due to travel of our writing and editing teams to the Walt Disney World Marathon Weekend, the Walt Disney World Resort Update will be published on Wednesday this week. Thank you for your understanding. Recent Articles: The Case for runDisney Race Insurance by Adrienne Vincent-Phoenix | January 10, 2014 Adrienne's opinion of runDisney's no-refund policy, and why she's sitting out the rest of 2014My Disney Top 5 - Walt Disney World Guest Mistakes by Chris Barry | January 10, 2014 Chris Barry is back with another Top 5 list.Running Back-to-Back Races: If One is Fun, How About Two (or Three or Four)?
etckt.com .|. reviews, tips + news for wdw and all of disney's world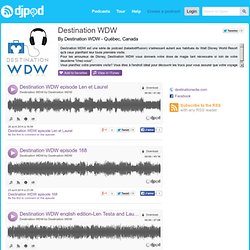 By Destination WDW - Québec, Canada Destination WDW est une série de podcast (baladodiffusion) s'adressant autant aux habitués du Walt Disney World Resort qu'à ceux planifiant leur toute première visite. Pour les amoureux de Disney, Destination WDW vous donnera votre dose de magie tant nécessaire si loin de votre deuxième ''chez-vous''. Vous planifiez votre première visite? Vous êtes à l'endroit idéal pour découvrir les trucs pour vous assurer que votre voyage au WDW Resort soit un succès et tout savoir sur les attractions, spectacles, restaurants et hôtels du WDW Resort.
Destination WDW
WDWMAGIC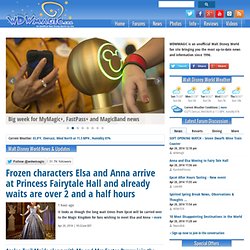 Get the latest news and construction photos from Disney Springs Spice Road Table review - our thoughts on Epcot's latest Disney releases new information & concept art for AVATAR land New Disney Festival of Fantasy coming to the Magic Kingdom Get the latest news and construction photos from Disney Springs Spice Road Table review - our thoughts on Epcot's latest WDWMAGIC is an unofficial Walt Disney World fan site bringing you the most up-to-date news and information since 1996. Walt Disney World Weather
WDWMAGIC.COM WDW, Walt Disney World News Rumors Photos Reviews Discussion Forum
Disney World - The Largest Unofficial On-Line Guide to Disney World, Walt Disney World
Disney Every Day | We'll Take You to Disney Every Day!
Ah, the 2014 Walt Disney World Family Fun Run 5K. I haven't run an official 5K since the 2013 Expedition Everest Challenge. I always refer to the 5K as the gateway drug.
Disneygeek
Meet the Magic
© Maxima Systems Ltd Maxima Systems Ltd and Guide-to-Disney.com are not affiliated with, authorized or endorsed by, or in any way officially connected with, The Walt Disney Company, Disney Enterprises Inc, or any of their affiliates. This site and the information contained therein represents the opinion of the webmaster. Walt Disney World theme parks, resorts, and attractions are trademarks of The Walt Disney Company.
Guide to Disney World
Planning a Disney World vacation requires some research. Walt Disney World is a huge place (47 square miles — that's almost twice as large as Manhattan!) with so many things to do and see that even after more than 30 visits, I have not begun to do it all. Just a quick summary of SOME of what's available at Disney World: 4 major theme parks: Magic Kingdom, Epcot, Animal Kingdom and Disney's Hollywood Studios (formerly Disney-MGM Studios) 2 water parks: Blizzard Beach and Typhoon Lagoon Over 20 large resorts 5 golf courses 2 mini-golf courses numerous lakes offering water sports, boating and fishing 2 dinner shows BoardWalk entertainment district DisneyQuest "virtual theme park" Downtown Disney shopping and dining district So it's not surprising that you're a little confused about where to begin.
Walt Disney World Vacation Planning Guide
Frommer's Walt Disney World
The Crowd Tracker: Get Email Updates When The Crowd Calendar Changes | TouringPlans.com Blog
Trip Planning 101: Packing for Your Walt Disney World Vacation - TouringPlans.com Blog | TouringPlans.com Blog
Disney World Ticket Calculator