Guides
Travel guide & journal for London, Paris, New York ... (Travel) Create beautiful travel books 1.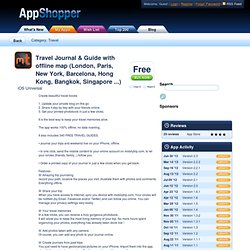 Update your private blog on-the-go 2. Laissez-passer FASTPASS. Disney Vacation Specialist - Plan a perfect trip to Disney with Specials & Discount Resort Pricing. How MyMagic+ Will Affect Disney Dining. Welcome to the Disney Food Blog.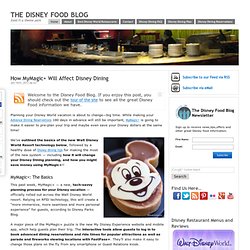 If you enjoy this post, you should check out the tour of the site to see all the great Disney Food information we have. Planning your Disney World vacation is about to change—big time. While making your Advance Dining Reservations 180 days in advance will still be important, MyMagic+ is going to make it easier to pre-plan your trip and maybe even save your Disney dollars at the same time! We've outlined the basics of the new Walt Disney World Resort technology below, followed by a healthy dose of Disney dining tips for making the most of the new system — including how it will change your Disney Dining planning, and how you might save money using MyMagic+!!
Five Mistakes Guests Make in WDW. When a family decides to plan a trip to Walt Disney World, there are a few things that are important to keep in mind to help ensure that your trip is wonderful and enjoyable. 1.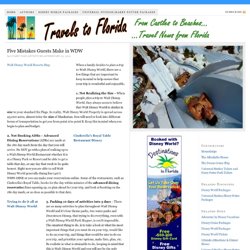 Not Realizing the Size – When people plan a trip to Walt Disney World, they always seem to believe that Walt Disney World is similar in size to your standard Six Flags. In reality, Walt Disney World Property is spread across 25,000 acres, almost twice the size of Manhattan. You will need to look into different forms of transportation to get you from point A to point B. Keep this in mind when you begin to plan and budget. WDW / This list include some of the best kept Disney secrets, advice on how to make the most of your Disney World vacation and tips on how to save money and avoid long lines. *!READ THIS ARTICLE!*
Walt Disney World Vacation Planner | The Affordable Mouse. Wondering About the Best Way to Plan a Disney Vacation?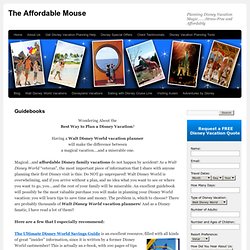 Having a Walt Disney World vacation planner will make the difference between a magical vacation….and a miserable one. Magical…and affordable Disney family vacations do not happen by accident! FASTPASS news - Big changes coming to FASTPASS in March. A Disney Mom's Thoughts: Surviving New Year's Eve at WDW. With New Year's Eve fast approaching, I scoured the internet looking for all the events/ activities going on at the Walt Disney World Parks on December 31, 2011.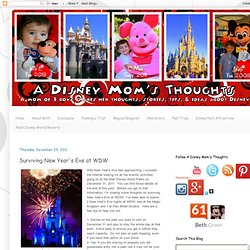 You can find those details at the end of this post. Before you get to that information, I'm sharing some thoughts on surviving New Year's Eve at WDW! Magical Kingdoms. MousePlanet. Etckt.com .|. reviews, tips + news for wdw and all of disney's world. Destination WDW. WDWMAGIC. WDWMAGIC.COM WDW, Walt Disney World News Rumors Photos Reviews Discussion Forum. Disney World - The Largest Unofficial On-Line Guide to Disney World, Walt Disney World. Disney Every Day | We'll Take You to Disney Every Day! Inside the Magic. Disneygeek. Meet the Magic. AllEars.Net. Guide to Disney World. Walt Disney World Vacation Planning Guide. Planning a Disney World vacation requires some research.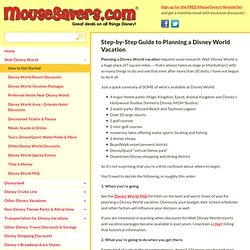 Walt Disney World is a huge place (47 square miles — that's almost twice as large as Manhattan!) With so many things to do and see that even after more than 30 visits, I have not begun to do it all. Just a quick summary of SOME of what's available at Disney World: 4 major theme parks: Magic Kingdom, Epcot, Animal Kingdom and Disney's Hollywood Studios (formerly Disney-MGM Studios) 2 water parks: Blizzard Beach and Typhoon Lagoon Over 20 large resorts 5 golf courses 2 mini-golf courses numerous lakes offering water sports, boating and fishing 2 dinner shows BoardWalk entertainment district DisneyQuest "virtual theme park" Downtown Disney shopping and dining district So it's not surprising that you're a little confused about where to begin.
Frommer's Walt Disney World. Disney World | Disneyland - Vacation Planning Tools. The Crowd Tracker: Get Email Updates When The Crowd Calendar Changes | TouringPlans.com Blog. TouringPlans.com is proud to introduce a new feature included with a premium subscription: The Crowd Tracker (see Disneyland and Walt Disney World trackers).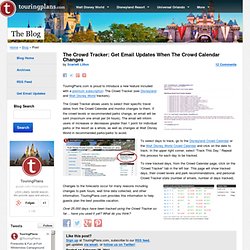 The Crowd Tracker allows users to select their specific travel dates from the Crowd Calendar and monitor changes to them. If the crowd levels or recommended parks change, an email will be sent (maximum one email per 24 hours). The email will inform users of increases or decreases greater than 1 point for individual parks or the resort as a whole, as well as changes at Walt Disney World in recommended parks/parks to avoid.
To select days to track, go to the Disneyland Crowd Calendar or the Walt Disney World Crowd Calendar and click on the date to track. Trip Planning 101: Packing for Your Walt Disney World Vacation. You're going to Walt Disney World!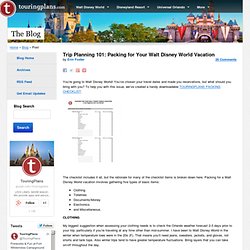 You've chosen your travel dates and made you reservations, but what should you bring with you? To help you with this issue, we've created a handy downloadable TOURINGPLANS PACKING CHECKLIST. The checklist includes it all, but the rationale for many of the checklist items is broken down here. Packing for a Walt Disney World vacation involves gathering five types of basic items: ClothingToiletriesDocuments/MoneyElectronicsand Miscellaneous. Disney World Ticket Calculator. Find Disney World Ticket Discounts and Compare Prices by Len Testa April 14, 2014 Every day we check the Disney World ticket prices at Disney and the most popular authorized Disney ticket discount wholesalers: Undercover Tourist, The Official Ticket Center, Kissimmee Guest Services, Maple Leaf Tickets, and Orlando Fun Tickets.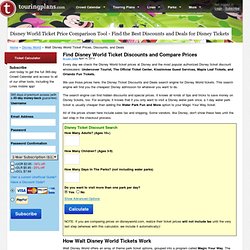 We use those prices here, the Disney Ticket Discounts and Deals search engine for Disney World tickets. This search engine will find you the cheapest Disney admission for whatever you want to do. The search engine can find hidden discounts and special prices.
---