Water Security
Pearltrees visualization problem mac safari. Liquid Gold: The Economics of Water Trading Markets. Presidio Graduate School's Macroeconomics course for Spring 2012, is authoring a series of articles.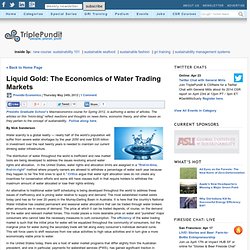 The articles on this "micro-blog" reflect reactions and thoughts on news items, economic theory, and other issues as they pertain to the concept of sustainability. Follow along here. Rivers are Largest Source Of Mercury in Arctic Ocean, Study Says. 22 May 2012: Rivers are Largest Source Of Mercury in Arctic Ocean, Study Says A new study suggests that rivers may be funneling far more toxic mercury into the Arctic Ocean than previously believed, a finding that may portend even greater mercury concentrations in the future as the effects of climate change accelerate the region's hydrological cycle.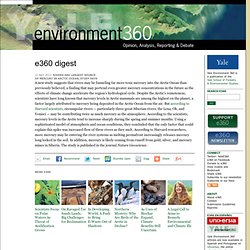 Despite the Arctic's remoteness, scientists have long known that mercury levels in Arctic mammals are among the highest on the planet, a factor largely attributed to mercury being deposited in the Arctic Ocean from the air. But according to Harvard scientists, circumpolar rivers — particularly three great Siberian rivers, the Lena, Ob, and Yenisei — may be contributing twice as much mercury as the atmosphere. According to the scientists, mercury levels in the Arctic tend to increase sharply during the spring and summer months. Water Security Maps. (Updated 28 November 2012) Here we shall present maps (list, details and sample of maps below) related to global water security that are useful for both analysis and delivery of products.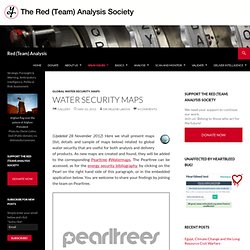 As new maps are created and found, they will be added to the corresponding Pearltree #Watermaps. The Pearltree can be accessed, as for the energy security bibliography, by clicking on the Pearl on the right hand side of this paragraph, or in the embedded application below. You are welcome to share your findings by joining the team on Pearltree. Maps are both necessary tools for analysis and crucial delivery visuals for our foresight and warning products. They constitute a category of delivery form, which can, furthermore, be combined with other categories to suit at best our needs.
Active Fire Mapping Program. Climate change hits globe's water cycle. LIVERMORE, Calif., May 21 (UPI) -- The Earth's dry lands are getting drier and wet ones wetter as climate change shifts and accelerates the globe's water cycle, U.S. researchers say.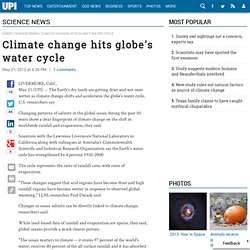 Changing patterns of salinity in the global ocean during the past 50 years show a clear fingerprint of climate change on the shift in worldwide rainfall and evaporation, they said. Scientists with the Lawrence Livermore National Laboratory in California along with colleagues at Australia's Commonwealth Scientific and Industrial Research Organization say the Earth's water cycle has strengthened by 4 percent 1950-2000. The cycle represents the ratio of rainfall rates with rates of evaporation.
"These changes suggest that arid regions have become drier and high rainfall regions have become wetter in response to observed global warming," LLNL researcher Paul Durack said. Changes in ocean salinity can be directly linked to climate change, researchers said. Now blue rating water standards for industry. The Union Ministry of Water Resources has asked the CII to frame guidelines for increasing water efficiency in Indian industries.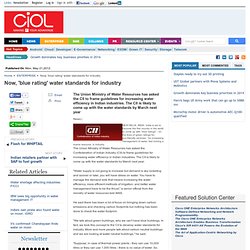 The CII is likely to come up with the water standards by March next year News | NEW DELHI, INDIA: India is set to become the first country in the world to come up with "blue ratings" - on the lines of green ratings for eco-friendly ventures - for increasing management of water, fast turning a scarce resource, in industry. The Union Ministry of Water Resources has asked the Confederation of Indian Industry (CII) to frame guidelines for increasing water efficiency in Indian industries.
The CII is likely to come up with the water standards by March next year. Water Outlook to 2050: The OECD calls for early and strategic action | Global Water Forum. Water Outlook to 2050: The OECD calls for early and strategic action (pdf) By Dr.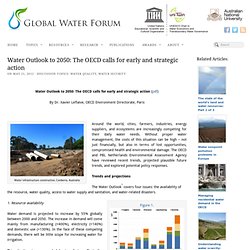 Xavier Leflaive, OECD Environment Directorate, Paris Water infrastructure construction, Canberra, Australia Around the world, cities, farmers, industries, energy suppliers, and ecosystems are increasingly competing for their daily water needs. Egypt revolution doesn't affect Nile Basin countries' stance on new agreement. Egypt's revolution would not change Tanzania's stance on a water-sharing agreement that would strip Egypt of its historical Nile water share, a Tanzanian minister said, according to privately owned Al-Shorouk newspaper.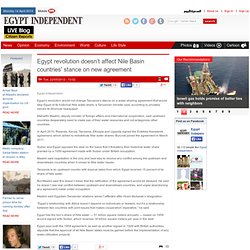 Mahadhi Maalim, deputy minister of foreign affairs and international cooperation, said upstream countries desperately need to make use of their water resources and not antagonize other countries. In April 2010, Rwanda, Kenya, Tanzania, Ethiopia and Uganda signed the Entebbe framework agreement, which aimed to redistribute Nile water shares. Burundi joined the agreement in March 2011. OTHERS / STATES : Israeli water major in talks with W Bengal for infra projects. New Delhi, May 22: Israel's largest national water company, Mekorot, is in talks with the West Bengal Government for setting up water infrastructure projects.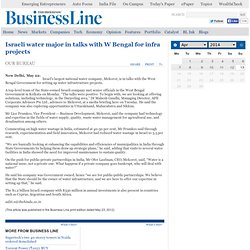 A top-level team of the State-owned Israeli company met senior officials in the West Bengal Government in Kolkata on Monday. "The talks were positive. To begin with, we are looking at offering solutions, including technology, in the Darjeeling area," Dr Mahesh Gandhi, Managing Director, AFII Corporate Advisors Pte Ltd , advisors to Mekorot, at a media briefing here on Tuesday. Tens Of People Arrested In East & West Azarbaijan Protesting The Drying Up Of Lake Uromieh « persianbanoo. May 22, 2012 Under increased heavy security atmosphere in East and West Azarbaijan, tens of people were arrested by police and Intelligence Ministry in the last two days.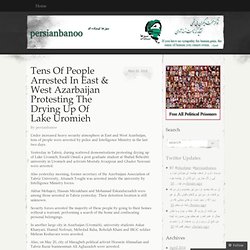 Yesterday in Tabriz, during scattered demonstrations protesting drying up of Lake Uromieh, Esrafil Omidi a post graduate student at Shahid Beheshti university in Uromieh and activists Mostafa Avazpour and Ghader Norouzi were arrested. Also yesterday morning, former secretary of the Azerbaijani Association of Tabriz University, Afsaneh Toughi was arrested inside the university by Intelligence Ministry forces. Tweeting Robots Monitor Water Quality in California Rivers. UC Berkeley Campus Life/Video screen capture To keep an eye on the quality of the water in California, a team from the University of California, Berkeley has developed robots that don't just swim around, they tweet their findings.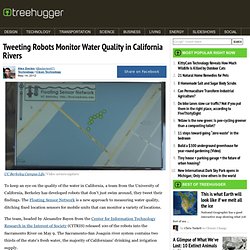 The Floating Sensor Network is a new approach to measuring water quality, ditching fixed location sensors for mobile units that can monitor a variety of locations. 2012 - 4th Edition. The fourth edition of the World Water Development Report (WWDR4), 'Managing Water under Uncertainty and Risk' is a comprehensive review of the world's freshwater resources and seeks to demonstrate, among other messages, that water underpins all aspects of development, and that a coordinated approach to managing and allocating water is critical.
The Report underlines that in order to meet multiple goals water needs to be an intrinsic element in decision-making across the whole development spectrum. It was launched at the 6th World Water Forum in Marseille by Irina Bokova, UNESCO Director General, and Michel Jarraud, UN-Water Chair. 'Managing Water under Uncertainty and Risk' is available in PDF and as an eBook (ePub format). L'Ifremer étudie les champs de nodules polymétalliques. L'Atalante, navire de la flotte Ifremer©Ifremer/Michel GOUILLOU Source IFREMER La campagne océanographique franco-allemande BIONOD [1] (contraction de BIOlogie et NODules) a débuté le 27 mars à bord du navire L'Atalante de l'Ifremer.
Elle se poursuivra pendant un mois et demi, jusqu'au 10 mai prochain, dans le Pacifique nord-est, dans la zone de Clarion-Clipperton, entre l'archipel d'Hawaï et la côte ouest du Mexique. California's Deadlocked Delta: Is Carbon Farming the Future? This is the third story in our three-part series on California's Delta. Tules on Twitchell Island in the Delta. (Photo: Josh Cassidy/KQED) Venezuela: Floods (as of 14 May 2012) - Location Map. Methane Emissions from the Arctic Ocean. World of Change Satellite images showing how our world— forests, oceans, cities, even the Sun— has changed in recent decades.
Read more Blue Marble. A Tour of Drought as it Unfolds Across the U.S. Last year at this time, all eyes were on Texas, where drought conditions were intensifying into what became that state's worst single year drought on record, causing nearly $8 billion in economic losses. Recently, though, Texas has gone from famine to feast in the precipitation department, and drought concerns for the upcoming summer are focused farther to the west, as drought tightens its grip across a broad swath of the interior West and Southwest In addition to the West, drought conditions are also prevalent in the Southeast, Mid-Atlantic, and parts of the Northeast as well, along with a small pocket in the Upper Midwest.
In all, 56 percent of the Lower 48 states were experiencing drought conditions as of May 8, almost twice the area compared to last year at this time, according to data from the U.S. Drought Monitor. U.S. Drought Hits Spain's Wheat Crop. Georgian agency denies having misinformed about flood - Democracy & Freedom Watch | News. Unsustainable water.
Water India. Aswan dam. Water maps. AQUASTAT - FAO's Information System on Water and Agriculture. Could there be 'Water Wars' in the Future? | Geography Education. 48 hours to save our oceans. Source found for missing water in sea-level rise. The "Inconvenient Truth" Film About Water. Water Shortages May Leave Energy Producers Dying of Thirst. Despite Recent Rainy Weather, New York Faces Drought Condition. How politicians could end droughts FOREVER: But they don't want to. 13 die in Nepal flash flood. Drought hits Angola's already struggling farms. Water security: a SF&W issue for national security? Global Water Security: a US Intelligence Community Assessment (pdf. Building upon the 2012 "Global Water Security" IC Assessment. The Water Sigils. Global Water Security: The Intelligence Community Assessment.
The Coming Global Water Crisis - Stewart M. Patrick - International.
---