War journalism
Pearltree qui référence les liens sur le warjournalism. elolink Dec 5
Peace journalism in times of war - Susan Dente Ross, Majid Tehranian - Google Livres
www.cco.regener-online.de/2006_2/pdf/mcgoldrick.pdf
From the Persian Gulf to Kosovo — War Journalism and Propaganda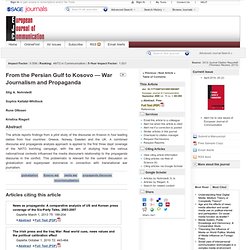 The article reports findings from a pilot study of the discourse on Kosovo in four leading dailies from four countries: Greece, Norway, Sweden and the UK.
Martine Laroche-Joubert, en décidant de couvrir ce conflit, Gilles Jacquier a-t-il pris, comme vous, un risque particulier ?
Gilles Jacquier enquêtait bien sur Assad
Essay: When Journalists Die in War
Certain responses are to be expected whenever a journalist is killed in a war. His employers will remark on his courage and devotion to duty, his colleagues on his professionalism; from close friends and family will come expressions of grief or anger.
War journalism can be a hazardous occupation. The current conflict in Iraq has left 33 journalists dead and many more wounded.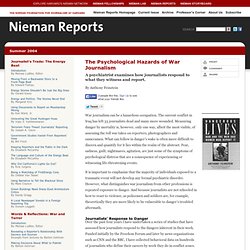 The Psychological Hazards of War Journalism
War Journalism Resources
War Journalism Resources A Dangerous Job Journalists, too, have a role in the fight for freedom, and sometimes the risks of reporting are great. By Robert Leger
The Embedded War Journalism Controversy - un knol de Adrian Robbe
www.nordicom.gu.se/common/publ_pdf/279_nohrstedt ol.pdf
Peace journalism, war and conflict resolution - Richard Keeble, John Tulloch, Florian Zollman
Source: Content partner // Reporters Without Borders A member of the media works on a staircase at the Rixos hotel during a power cut in Tripoli August 22, 2011. Heavy gun fire rang out near the Tripoli hotel where members of the foreign media are staying, a Reuters correspondent at the hotel said on Sunday REUTERS/Paul Hacket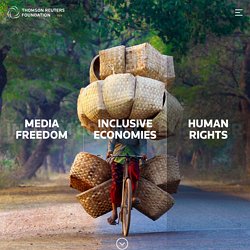 The 10 most dangerous places for journalists - TrustMedia
Serious games : dans la peau d'un journaliste
InfoChange India News & Features development news India - War, peace, and journalism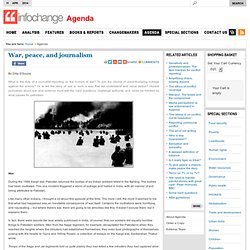 By Dilip D'Souza
An Interview with John Pilger 'Journalism, Not Truth, Is The First Casualty of War'
'Journalism, Not Truth, Is The First Casualty of War'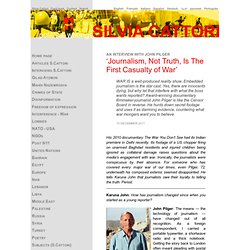 Jeu Rapporteur de guerre a beaucoup à apprendre | Le Globe Jakarta
War journalism has always evoked images of greenhorn reporters setting off on a quixotic quest to a faraway land to cover a conflict that eventually takes on a personal meaning for them.
Rolling Stone 's Michael Hastings — whose 2010 article on Gen.
Michael Hastings on war journalists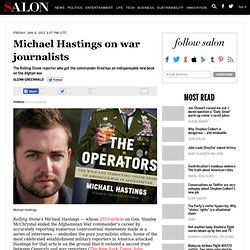 With U.S. military involvement in Iraq ending and troops coming home, news coverage rightfully focuses on the lives of these men and women and their adjustment to noncombat roles. Notable stories document the challenges facing veterans who cope with physical and mental health injuries, including depression and post-traumatic stress disorder. However, what is typically missing in the analysis of postwar issues are accounts of the print and broadcast journalists who have spent extended time embedded with troops and borne witness to death and destruction while working in harm's way.
COMMENTAIRE D'HÔTES: Quand les journalistes de guerre revenir à la maison
History of War Journalism
War Journalism
What important problems need a theoretical solution? Here is an opportunity to have a few teams of brilliant people work on a problem, the solution to which may benefit humankind.
Journalisme de guerre et immersion: l'objectif subjectif
L'application Condition One propose des films documentaires immersifs et interactifs dont un fut tourné pendant la guerre de Libye.
Outils en ligne pour écouter de la musique
Les armées et investigations de jounalistes.