w3c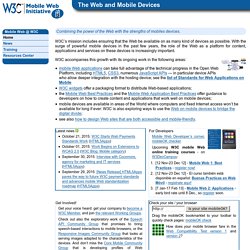 Quick menu: W3C Mobile Web Initiative | Site navigation Combining the power of the Web with the strengths of mobiles devices. W3C's mission includes ensuring that the Web be available on as many kind of devices as possible. With the surge of powerful mobile devices in the past few years, the role of the Web as a platform for content, applications and services on these devices is increasingly important.
Guía Breve de Web Móvil
La dirección URL que ha solicitado no coincide con ninguno de los recursos que tenemos disponibles. Por favor, revise los siguientes pasos y quizás pueda encontrar lo que está buscando: Si ha escrito la dirección directamente a mano, por favor compruebe que la ha escrito exactamente como debería ser. También podría comprobar si ha escrito correctamente las mayúsculas y minúsculas y si está utilizando las barras inclinadas en el sentido adecuado ( / ). Si tiene dudas, siempre puede intentar buscar lo que necesita a partir de nuestra página principal o de la página principal de W3C Central .