Vst
How To Make A Monstrous Vocal Based Bass With Harmor
In this tutorial I will show you how to make a monstrous vocal sample based bass using Harmor. I got inspired to make this tutorial after watching SeamlessR's How To Bass -videos so lots of credits goes to him from the techniques I'm using here! First, here's an audio example: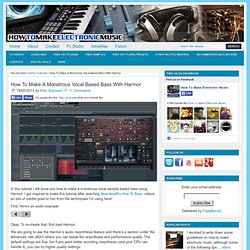 The Patch Lab - Free VST instruments, presets, banks and kit downloads
Phonec is best described as an 'analog flux synthesizer'. Inspired by the mystique of video logo synth scores from worn out VHS tapes, Phonec was primarily designed with character in mind. However Phonec is capable of producing a wide range of sounds such as vintage analogue tones, lo-fi synthscapes, ethereal pads, minimal techno sequences, and synthwave leads and basses.
Psychic Modulation VST Plugins for Windows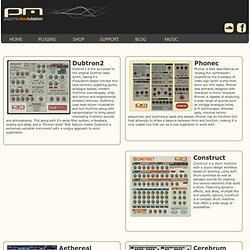 Sugar Bytes Easter Craze We wish you happy sounding holidays with the funniest easter prices. Visit our Shop and find discounts up to 50%. Cyclop 1.1.1 update released The 1.1.1 update makes presets load much faster! In version 1.1 we added the gigantic Preset Handler! This mega feature makes it so easy and joyful to look for your desired sounds or fit your own ones with tags.
Sugar Bytes | Home | Purely made of passion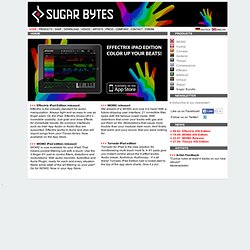 Blog do PC
Speedsoft Virtual Sampler v3.52 [VSTi]
VST free plug-ins
Mai 2012 ... May 2012 TAL-Dub II Delay avec distorsion vintage CLIC Nouvelle fenetre Vintage distortionned Delay CLICK New Window Delay Trio Un ensemble de trois delays CLIC Nouvelle fenetre A collection of three plugins CLICK New Window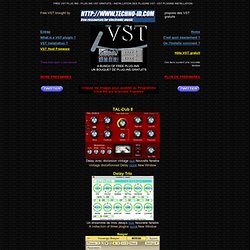 Music Generator : Free VSTi's : FreeMusicSoftware.org
NUSofting Crazy sounds modulator & generator download ndc Plugs An audiovisual instrument with a drawing-based interface.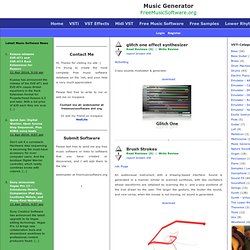 VST Blog - Try Before Buy---http://www.vstexclusives.net
mertnil'in yeri - Vst
Propellerheads Reason 4,Refills,update,loops y mas
VST Cafe - good, free vst plugins, presets, soundsets, tutorials (about synth programming etc.) ...