Vst
How To Make A Monstrous Vocal Based Bass With Harmor
In this tutorial I will show you how to make a monstrous vocal sample based bass using Harmor. I got inspired to make this tutorial after watching SeamlessR's How To Bass -videos so lots of credits goes to him from the techniques I'm using here! First, here's an audio example: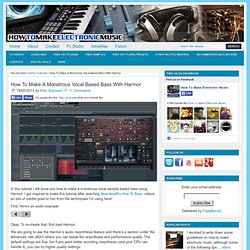 The Patch Lab - Free VST instruments, presets, banks and kit downloads
Construct is a drum machine with a sound design workflow based on layering, using both drum synthesis as well as sampled sounds for creating the various elements that build a drum. Featuring dynamic effects, dub delay, multiple lfos and velocity options, Construct is a compact drum machine that offers a wide range of possibilities. Phonec is best described as an 'analog flux synthesizer'.
Psychic Modulation VST Plugins for Windows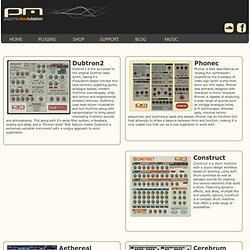 WOW2 iPad edition released WOW2 is now available for your iPad! That means juiciest filtering just with a touch. Use the 3-finger-XY pad to control filters, distortions and modulations. With audio recorder, AudioBus and Auria Plugin, ready for each and every situation. Need some state of the art filtering on your pad?
Sugar Bytes | Home | Purely made of passion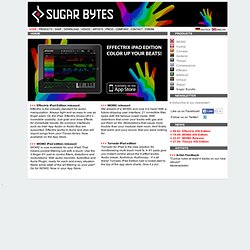 Blog do PC
VST free plug-ins
TAL-Dub II Delay avec distorsion vintage CLIC Nouvelle fenetre Vintage distortionned Delay CLICK New Window Delay Trio Un ensemble de trois delays CLIC Nouvelle fenetre A collection of three plugins CLICK New Window Beeper Pour protéger vos démos du piratage To protect your protect your work from stealing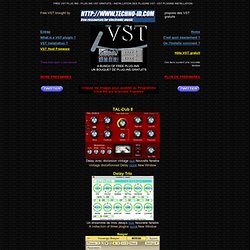 Music Generator : Free VSTi's : FreeMusicSoftware.org
NUSofting Crazy sounds modulator & generator download ndc Plugs An audiovisual instrument with a drawing-based interface.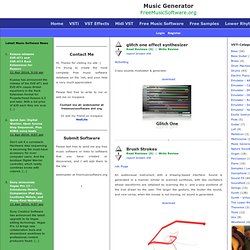 VST Blog - Try Before Buy---http://www.vstexclusives.net
Propellerheads Reason 4,Refills,update,loops y mas
VST Cafe - good, free vst plugins, presets, soundsets, tutorials (about synth programming etc.) ...