Volcanoes
lon-p ElasticHosts
Beautiful Destruction: 11 Gorgeous Geological Maps of Volcanoes | Wired Science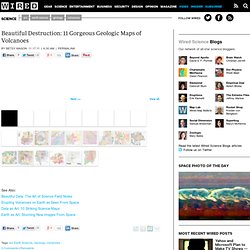 It's not always obvious what it is that scientists find beautiful about a graph, microscope slide, soil sample or some other aspect of their work. It just looks like numbers, blobs or dirt to the rest of us. But sometimes a scientific result or product is so visually appealing, anyone would want to hang it on their wall as art.Geological maps are often in this category. And some of the most beautiful geological maps are of volcanoes.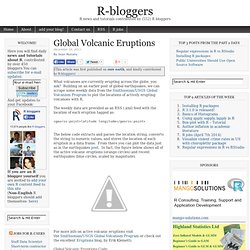 Global Volcanic Eruptions
What volcanoes are currently erupting across the globe, you ask? Building on an earlier post of global earthquakes, we can scrape some weekly data from the Smithsonian/USGS Global Volcanism Program to plot the locations of actively erupting volcanoes with R. The weekly data are provided as an RSS (.xml) feed with the location of each eruption tagged as: <georss:point>latitude longitude</georss:point>The below code extracts and parses the location string, converts the string to numeric values, and stores the location of each eruption in a data frame. From there you can plot the data just as in the earthquakes post. In fact, the figure below shows all of the active volcanic eruptions (orange circles) and recent earthquakes (blue circles, scaled by magnitude).
The Weekly Volcanic Activity Report is a cooperative project between the Smithsonian's Global Volcanism Program and the US Geological Survey's Volcano Hazards Program. Updated by 2300 UTC every Wednesday, notices of volcanic activity posted on these pages are preliminary and subject to change as events are studied in more detail. This is not a comprehensive list of all of Earth's volcanoes erupting during the week, but rather a summary of activity at volcanoes that meet criteria discussed in detail in the "Criteria and Disclaimers" section. Carefully reviewed, detailed reports on various volcanoes are published monthly in the Bulletin of the Global Volcanism Network.
Volcanic Activity Reports | Smithsonian / USGS Weekly Volcanic Activity Report |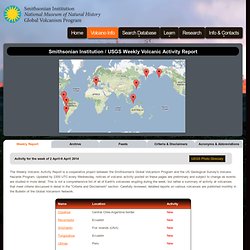 Aviation industry news
The Philippine Institute of Volcanology and Seismology (PHIVOLCS), together with partner agencies, launched on March 26 at the institute's auditorium an infochart that serves as a guide for broadcasters when informing the public about disaster awareness and preparedness. PHIVOLCS, the Kapisanan ng mga Brodkaster ng Pilipinas (KBP), Office of Civil Defense (OCD), Philippine Atmospheric, Geophysical and Astronomical Services Administration (PAGASA) and Mines and Geosciences Bureau (MGB), have collaborated to enhance the capacity of broadcast media in disseminating disaster information related to disasters and emergencies through updating the existing Broadcaster's InfoChart on Emergency Preparedness.
Philippine Institute of Volcanology and Seismology