Vocabulary
Many people who've had to proof read documents start to develop a kind of compulsive "tutting" at misused words. Here's my top ten words that are misused by either professional writers or public speakers who, let's be honest, should really know better. I'm not being paid for this, so I don't feel so bad if there are mistakes! "Refute" means to "disprove with evidence" and yet it's commonly used, even by professional writers, to mean "rebut" which carries a similar meaning but isn't quite so strong, as it can also mean "argue against." The example here ("Simon Cowell refutes 'scandalous' claims he helped billionaire hide assets from wife he was divorcing") is from a recent Daily Mail article. For those outside the UK, the Daily Mail is a newspaper which regularly rages against falling educational standards.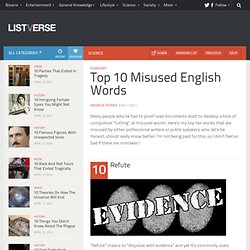 InnovatiVocab - home
English Vocabulary Study Resources
German English
What's The Longest Word In The English Language? : Krulwich Wonders…
The longest word? Well, that depends on what we mean by "word." If a word is coined just to be long, like supercalifragilisticexpialidocious, should that count? Here are the top candidates.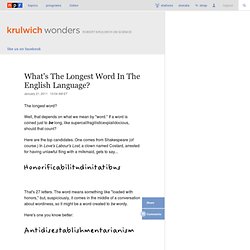 Vocabulary Team Web Sites
word association