Virtualization
VMware has begun the phased retirement of support for guest OS kernel-based paravirtualization using VMware's Virtual Machine Interface (VMI) technology. We have decided to retire support for VMI in 2010-2011 as a result of innovations in CPU hardware acceleration technologies from Intel and AMD which have surpassed the performance improvements provided by VMI. As these CPU innovations are expected to become ubiquitous in the next 2-3 years, VMware has begun a phased retirement of the VMI functionality.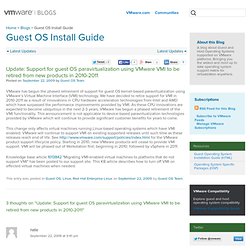 Guest OS Install Guide: Update: Support for guest OS paravirtualization using VMware VMI to be retired from new products in 2010-2011
VMTN Discussion Forums: Static MACs not working
Moka5 | www.moka5.com
Storage Basics – Part I: An Introduction | VMtoday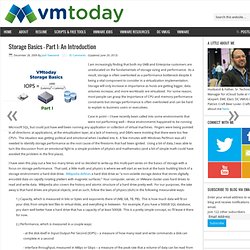 I am increasingly finding that both my SMB and Enterprise customers are uneducated on the fundamentals of storage sizing and performance. As a result, storage is often overlooked as a performance bottleneck despite it being a vital component to consider in a virtualization implementation. Storage will only increase in importance as hosts are getting bigger, data volumes increase, and more workloads are virtualized. For some reason, most people can grasp the importance of CPU and memory performance constraints but storage performance is often overlooked and can be hard to explain to business users or executives. Case in point – I have recently been called into some environments that were not performing well – these environments happened to be running Microsoft SQL, but could just have well been running any application or collection of virtual machines.
Virtualization Management - vWire
Top Virtualization Security Links - AstroArch
Contributed Article from Hezi Moore, co-founder and CTO of Reflex Security
Securing networks in VMWare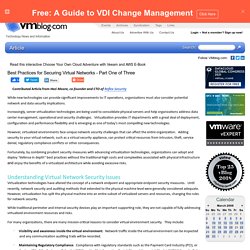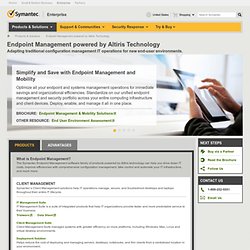 What is Endpoint Management? The Symantec Endpoint Management software family of products powered by Altiris technology can help you drive down IT costs, improve efficiencies with comprehensive configuration management, take control and automate your IT infrastructure, and much more. Symantec's Client Management solutions help IT operations manage, secure, and troubleshoot desktops and laptops throughout their entire IT lifecycle. IT Management Suite
Software Virtualization
The Virtual Search
VMware virtualization information and resources ⊘ SearchVMware.com
Troubleshooting VMWare
vm4all.com
LINA - open source everywhere
Software // Proven Data Protection
Virtual Machine - Terminal Server
BixData is a system, application, and network monitoring tool which allows you to easily monitor nearly every aspect of your servers. The newly released version 2.6 is the only application that has the ability to control both Xen and VMWare virtual machines. You can control both VM Hosts (the computer that's running the VM software) and VM Guests (the virtual machines running on the hosts). Installation The first thing we need to do is install the BixServer onto one of our boxes. I'll be installing this on a Linux box but I could have easily put it on an OS X, FreeBSD or Windows machine.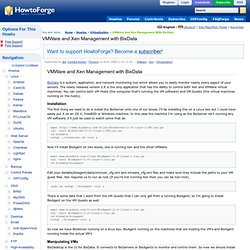 VMWare and Xen Management with BixData
Virtual Server, VMware Consulting, Virtual Servers, Server, Clustering, Consolidation
BixData | IT Management
tools for VMware virtual machines management
Server Consolidation and Disaster Recovery with Virtual Machines
Sanbarrow.com
P2V, V2P, P2P Tools for Server Migrations - Home
View Document
Migrating VMware Workstation and VMware GSX Server Virtual Machines
Shop
VMware
Technology Network (VMTN)