Virtualization
Virtual pc, virtual machine and multiple operating system solutions by Parallels, Inc.
VMware has begun the phased retirement of support for guest OS kernel-based paravirtualization using VMware's Virtual Machine Interface (VMI) technology. We have decided to retire support for VMI in 2010-2011 as a result of innovations in CPU hardware acceleration technologies from Intel and AMD which have surpassed the performance improvements provided by VMI. As these CPU innovations are expected to become ubiquitous in the next 2-3 years, VMware has begun a phased retirement of the VMI functionality.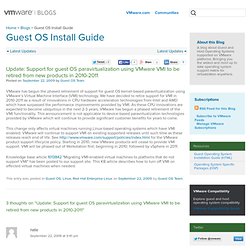 Guest OS Install Guide: Update: Support for guest OS paravirtualization using VMware VMI to be retired from new products in 2010-2011
VMTN Discussion Forums: Static MACs not working
Moka5 | www.moka5.com
Storage Basics – Part I: An Introduction | VMtoday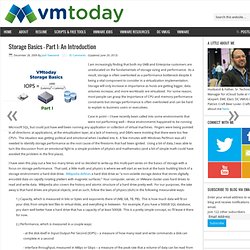 I am increasingly finding that both my SMB and Enterprise customers are uneducated on the fundamentals of storage sizing and performance. As a result, storage is often overlooked as a performance bottleneck despite it being a vital component to consider in a virtualization implementation. Storage will only increase in importance as hosts are getting bigger, data volumes increase, and more workloads are virtualized. For some reason, most people can grasp the importance of CPU and memory performance constraints but storage performance is often overlooked and can be hard to explain to business users or executives. Case in point – I have recently been called into some environments that were not performing well – these environments happened to be running Microsoft SQL, but could just have well been running any application or collection of virtual machines.
Virtualization Management - vWire
vSphere Upgrade Saga: Installing HP StoreVirtual 11.0 I have had HP StoreVirtual (LeftHand) licenses for some time now, but the previous versions were nearly impossible to install. At least, I could not discover the magic incantation to make them work, so I decided to put that upgrade on hold. Now that 11.0…
Top Virtualization Security Links - AstroArch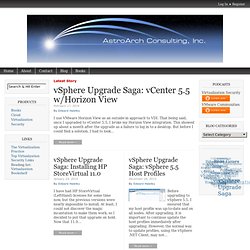 Contributed Article from Hezi Moore, co-founder and CTO of Reflex Security While new technologies can provide significant improvements to IT operations, organizations must also consider potential network and data security implications. Increasingly, server virtualization technologies are being used to consolidate physical servers and help organizations address data center management, operational and security challenges. Virtualization provides IT departments with a great deal of deployment, configuration and performance flexibility and is emerging as one of today's most compelling new technologies.
Securing networks in VMWare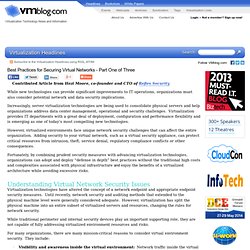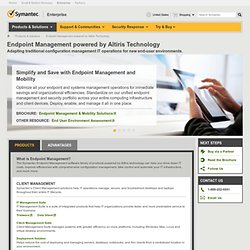 What is Endpoint Management? The Symantec Endpoint Management software family of products powered by Altiris technology can help you drive down IT costs, improve efficiencies with comprehensive configuration management, take control and automate your IT infrastructure, and much more. Symantec's Client Management solutions help IT operations manage, secure, and troubleshoot desktops and laptops throughout their entire IT lifecycle. IT Management Suite IT Management Suite is a suite of integrated products that help IT organizations provide faster and more predictable service to their business.
Software Virtualization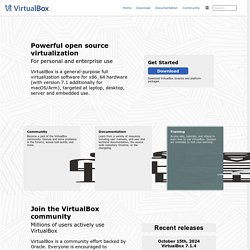 News Flash New March 25th, 2014VirtualBox 4.3.10 released! Oracle today released VirtualBox 4.3.10, a maintenance release of VirtualBox 4.3 which improves stability and fixes regressions. See the ChangeLog for details. New March 14th, 2014VirtualBox 4.2.24, 4.1.32, 4.0.24 and 3.2.22 released! Oracle today released maintenance releases of stable branches which improve stability and fix regressions.
The Virtual Search
VMware virtualization information and resources ⊘ SearchVMware.com
Troubleshooting VMWare
vm4all.com
Als sambal liefhebber heb ik al vele soorten sambal mogen proeven. Dan heb ik het niet alleen over de normale standaard sambal die verkrijgbaar is in de supermarkt, maar ook zelfgemaakte sambal van verschillende toko's. Wat mij altijd opvalt, is dat de normale sambal vaak erg oppervlakkig en zout smaakt en totaal niet pittig is, terwijl de zelf gemaakte sambal vaak zo heet is, dat je na een theelepel gegarandeerd 10 minuten echt niets meer van je maaltijd proeft. Sloof's Hete Sambal is daarentegen het beste uit twee werelden. Wanneer u deze sambal proeft, ervaart u een ware smaak sensatie. De bereiding vindt plaats op een unieke ambachtelijke wijze met alleen natuurlijke ingrediënten zonder toevoeging van kunstmatige smaak- en kleurstoffen en conserveringsmiddelen.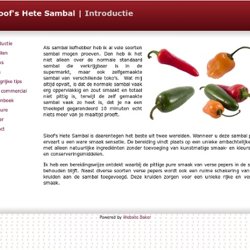 LINA - open source everywhere
Software // Proven Data Protection
Virtual Machine - Terminal Server
BixData is a system, application, and network monitoring tool which allows you to easily monitor nearly every aspect of your servers. The newly released version 2.6 is the only application that has the ability to control both Xen and VMWare virtual machines. You can control both VM Hosts (the computer that's running the VM software) and VM Guests (the virtual machines running on the hosts). Installation The first thing we need to do is install the BixServer onto one of our boxes. I'll be installing this on a Linux box but I could have easily put it on an OS X, FreeBSD or Windows machine.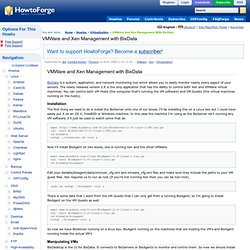 VMWare and Xen Management with BixData
Virtual Server, VMware Consulting, Virtual Servers, Server, Clustering, Consolidation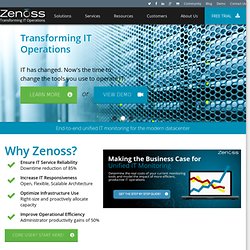 IT operations environments are very "noisy". With tens of thousands of events coming in from thousands of different devices, it's hard to know when things are "normal" and when things are "not normal". This is particularly challenging because event traffic and volume from devices can vary depending on the time of the day, the day of week, the week of month, and even the time of year. Given the... Architecting your environment to ensure high availability means designing an architecture where single points of failure are identified and mitigated. In most IT infrastructures, IT services are designed with multiple redundant components, and multiple failures must occur before you finally arrive at a single point of failure ─ the point where, if the final remaining component in the redundant...
BixData | IT Management
tools for VMware virtual machines management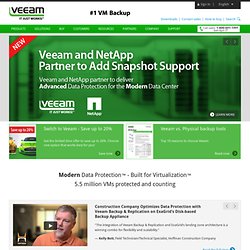 Veeam Backup & Replication Scores High Marks for Ease-of-use and Cost-effectiveness "Budget-conscious school districts should try Veeam Backup & Replication for three reasons. First, overall operating costs will go down. Second, the solution is easy to deploy, just a few clicks and you're done. And third, once the product is installed, it practically runs itself, and you get reliable, consistent backups every time."
Easily migrate server workloads from anywhere to anywhere PlateSpin® Migrate is a physical/virtual conversion tool that delivers the fastest and most efficient P2V (and in fact anywhere-to-anywhere) migrations, because of NetIQ's proprietary block-based transfer protocols and Server Sync technology. Highlights What's new in PlateSpin Migrate 11? New features in PlateSpin Migrate 11 include support for UEFI firmware, GPT volumes, vSphere 5.5, HyperV 2012 R2, PlateSpin Flexible Imaging, and the addition of support for SUSE® Linux Enterprise Server 11, Open Enterprise Server 11 and RHEL 6.4 & 6.5 workloads.
Server Consolidation and Disaster Recovery with Virtual Machines
Sanbarrow.com
Beim recherchieren für das neue vSphere Buch ist mir eine Funktion aufgefallen das man eine vApp clonen kann. Soweit so gut, beim Testen der Funktion ist mir aufgefallen, dass zwar der Name der vApp geändert wird, aber nicht die Namen der enthaltenen virtuellen Maschinen. So ist es jetzt möglich mehrere VMs im vCenter zu haben, die als Anzeigename dort den selbem Namen haben. Auch ist es möglich eine neue VM anzulegen, die ebenfalls einen schon vorhandenen Namen trägt, aber nur dann, wenn der Name innerhalb einer vApp vergeben ist. Da sollte man Vorsicht walten lassen, damit es keine Probleme gibt.
alles rund um die virtuelle Infrastruktur - Home
DDChanger P2V,V2P,P2P,V2V Welcome to the DDChanger site! Here you will find information about how to move your existing Windows servers to or from VMware and/or Microsoft Virtual Server 2005.
P2V, V2P, P2P Tools for Server Migrations - Home
View Document
Migrating VMware Workstation and VMware GSX Server Virtual Machines
Shop
VMware
Technology Network (VMTN)