Social Gaming
Tapjoy. Tapjoy.
Zynga. Social Gamers Are Most Familiar, Comfortable With Big-Brand Payment Services. [Editor's Note: The following article presents analysis and data excerpts from Inside Facebook Gold, our research and data membership service tracking Facebook's traffic growth and demographic landscape in global markets.]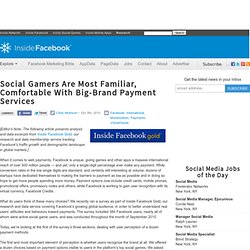 When it comes to web payments, Facebook is unique, giving games and other apps a massive international reach of over 500 million people — and yet, only a single-digit percentage ever make any payment. While conversion rates in the low single digits are standard, and certainly still interesting at volume, dozens of startups have dedicated themselves to making the barriers to payment as low as possible and in doing so hope to get more people spending more money. The Future of Social Gaming: Key Questions for 2011 & The Emerging Media Landscape. Casualties Of War: OfferPal Downsizes As Facebook Chooses Competitor. Facebook is steadily converting partners like Zynga away from their home grown payment product to Facebook Credits.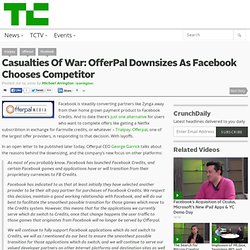 And to date there's just one alternative for users who want to complete offers like getting a Netflix subscribtion in exchange for Farmville credits, or whatever – Trialpay. Offerpal, one of the largest offer providers, is responding to that decision. With layoffs. Offerpal Media Acquires Tapjoy, Gains Beachhead For Mobile App Monetization. In late 2009 we wrote about Tapjoy's evolution from a mobile app developer to a mobile app monetization platform.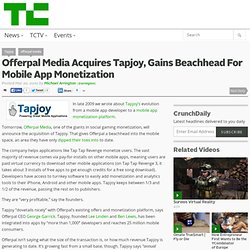 Tomorrow, Offerpal Media, one of the giants in social gaming monetization, will announce the acquisition of Tapjoy. That gives Offerpal a beachhead into the mobile space, an area they have only dipped their toes into to date. Another Piece To Google's Social Puzzle: To Acquire Jambool For $70 Million. Google continues to gobble up companies that will form the backbone of its new social strategy and the upcoming war with Facebook.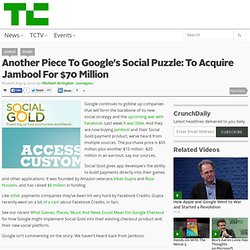 Last week it was Slide. And they are now buying Jambool and their Social Gold payment product, we've heard from multiple sources. Creating Apps | AppBank | Making Money for Social Network Users | AppBank.com. AppData - Facebook application leaderboards, charts, and metrics Facebook Application Metrics. FarmVille is Still the Most Popular Facebook App - But #2 is a Surprise. Over 16 million people watered their FarmVille crops yesterday.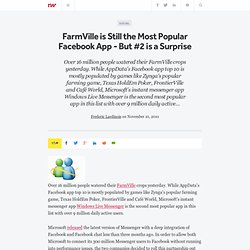 While AppData's Facebook app top 10 is mostly populated by games like Zynga's popular farming game, Texas HoldEm Poker, FrontierVille and Café World, Microsoft's instant messenger app Windows Live Messenger is the second most popular app in this list with over 9 million daily active users. Microsoft released the latest version of Messenger with a deep integration of Facebook and Facebook chat less than three months ago. In order to allow both Microsoft to connect its 300 million Messenger users to Facebook without running into performance issues, the two companies decided to roll this partnership out slowly. At this point, Microsoft tells us, only about 20% of Messenger users have access to it, making these numbers even more impressive.
---