Social Gaming
Tapjoy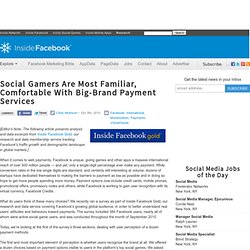 [Editor's Note: The following article presents analysis and data excerpts from Inside Facebook Gold , our research and data membership service tracking Facebook's traffic growth and demographic landscape in global markets.] When it comes to web payments, Facebook is unique, giving games and other apps a massive international reach of over 500 million people — and yet, only a single-digit percentage ever make any payment. While conversion rates in the low single digits are standard, and certainly still interesting at volume, dozens of startups have dedicated themselves to making the barriers to payment as low as possible and in doing so hope to get more people spending more money.
Social Gamers Are Most Familiar, Comfortable With Big-Brand Payment Services
The Future of Social Gaming: Key Questions for 2011 & The Emerging Media Landscape on Vimeo
Facebook is steadily converting partners like Zynga away from their home grown payment product to Facebook Credits.
Casualties Of War: OfferPal Downsizes As Facebook Chooses Competitor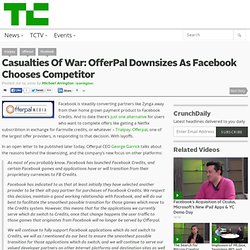 Offerpal Media Acquires Tapjoy, Gains Beachhead For Mobile App Monetization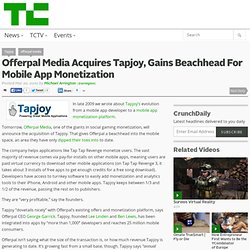 In late 2009 we wrote about Tapjoy's evolution from a mobile app developer to a mobile app monetization platform . Tomorrow, Offerpal Media , one of the giants in social gaming monetization, will announce the acquisition of Tapjoy. That gives Offerpal a beachhead into the mobile space, an area they have only dipped their toes into to date.
Another Piece To Google's Social Puzzle: To Acquire Jambool For $70 Million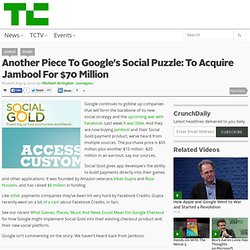 Google continues to gobble up companies that will form the backbone of its new social strategy and the upcoming war with Facebook . Last week it was Slide . And they are now buying Jambool and their Social Gold payment product, we've heard from multiple sources.
Creating Apps | AppBank | Making Money for Social Network Users | AppBank.com
FarmVille is Still the Most Popular Facebook App - But #2 is a Surprise
Over 16 million people watered their FarmVille crops yesterday.