Facebook Credits
Facebook déploie un peu plus sa monnaie virtuelle, ou "crédits", en expérimentant les paiements sur des sites tiers. Concrètement, le réseau social propose sur son site d'acquérir (contre paiement) des "crédits" utilisables sur les jeux et applications Facebook, mais aussi désormais comme moyen de paiement sur le site GameHouse.com. D'autres sites web pourraient par la suite être concernés, selon InsideFacebook, pour ce qui n'est encore qu'une expérimentation. Dans les pages réservés aux développeurs, Facebook annonce ainsi : "Nous testons actuellement les crédits Facebook sur les sites web.
Facebook étend sa monnaie virtuelle - - Le Nouvel Observateur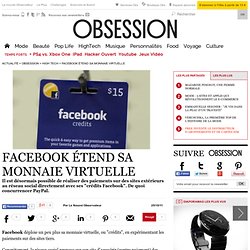 The Bank of Facebook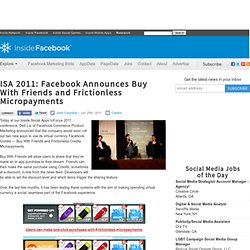 ISA 2011: Facebook Announces Buy With Friends and Frictionless Micropayments
ISA 2011: Facebook Announces Buy With Friends and Frictionless Micropayments Today at our Inside Social Apps InFocus 2011 conference, Deb Liu of Facebook Commerce Product Marketing announced that the company would soon roll out two new ways to use its virtual currency Facebook Credits — Buy With Friends and Frictionless Credits Micropayments. Buy With Friends will allow users to share that they've made an in-app purchase to their stream. Friends can then make the same purchase using Credits, sometimes at a discount, in-line from the news feed.
Virtual Currency News | Just another WordPress.com weblog
Zynga Gunning Up (And Lawyering Up) For War Against Facebook With Zynga Live
The relationship between Facebook and its biggest gaming partner, Zynga, are at an all time low, we've heard from multiple sources. The level of stress, says one source, is "intense." Some of the frustration goes back to last year's limitations on messaging users. But a much bigger concern now is Facebook's force feeding of Facebook Credits as the only payment platform that Zynga and others can use. Facebook takes a massive feee – 30% – for Credits, and the big publishers like Zynga see it as little more than a protection racket. To make matters worse, say sources, Facebook is trying to get Zynga to agree to a long term deal where Zynga remains primarily on the Facebook platform.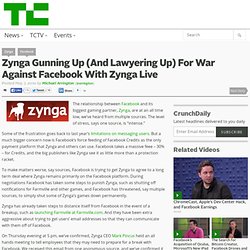 Central To The Facebook-Zynga Deal: Credits
This morning brought news of Zynga and Facebook's five year commitment to keeping social gaming on the network. As we wrote earlier today, the deal was surprising considering Zynga's recent frustrations with Facebook. Some of these frustrations stemmed from last year's limitations on messaging users.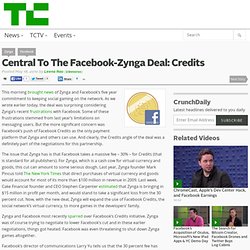 PayPal's New Virtual Goods Payment System: User Experience and Implementation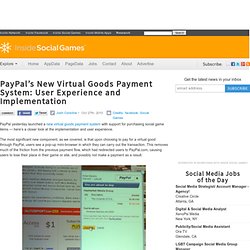 PayPal yesterday launched a new virtual goods payment system with support for purchasing social game items — here's a closer look at the implementation and user experience. The most significant new component, as we covered, is that upon choosing to pay for a virtual good through PayPal, users see a pop-up mini-browser in which they can carry out the transaction. This removes much of the friction from the previous payment flow, which had redirected users to PayPal.com, causing users to lose their place in their game or site, and possibly not make a payment as a result.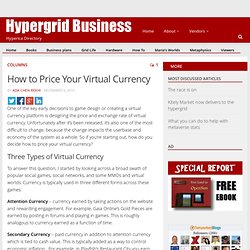 How to Price Your Virtual Currency
One of the key early decisions to game design or creating a virtual currency platform is designing the price and exchange rate of virtual currency. Unfortunately after it's been released, it's also one of the most difficult to change, because the change impacts the userbase and economy of the system as a whole. So if you're starting out, how do you decide how to price your virtual currency?
Sell on multiple platforms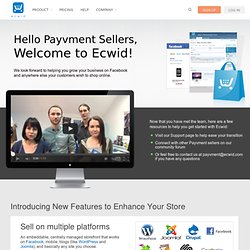 Attention WalMart and BestBuy Shoppers – Facebook Credits on aisle 5 | Analysis & Opinion |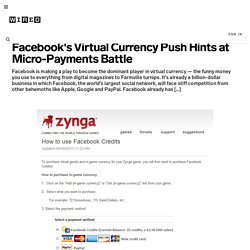 Facebook is making a play to become the dominant player in virtual currency — the funny money you use to everything from digital magazines to Farmville turnips. It's already a billion-dollar business in which Facebook, the world's largest social network, will face stiff competition from other behemoths like Apple, Google and PayPal. Facebook already has a big advantage over those companies: a virtual currency, Facebook Credits, that works across different apps rather than being tied to one specific app or another.
Facebook's Virtual Currency Push Hints at Micro-Payments Battle | Epicenter 
Offer Mediation
Offer-Based Payments - Learn more about the premier monetization partner preferred by Facebook and top game developers like Playfish, Playdom, iWin, Kabam and many more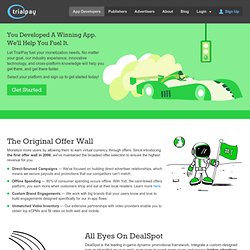 Facebook Adding Offers to Payment Options for Credits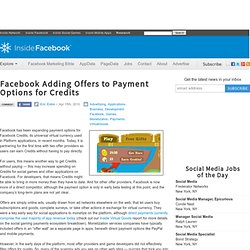 Facebook has been expanding payment options for Facebook Credits, its universal virtual currency used in Platform applications, in recent months. Today, it is partnering for the first time with two offer providers so users can earn Credits without having to pay directly. For users, this means another way to get Credits without paying — this may increase spending on Credits for social games and other applications on Facebook. For developers, that means Credits might be able to bring in more money than they have to date. And for other offer providers, Facebook is now more of a direct competitor, although the payment option is only in early beta testing at this point, and the company's long-term plans are not yet clear.
Facebook's PayPal Killer Now Accepts PayPal
Will Facebook Credits be the new Beenz
The Monetary Future
Facebook Gets Out of the Way in Payments Battle
By Jon Matonis Either lead, follow, or get out of the way. Facebook chose the third route. I don't really understand the benefits of this latest move by Facebook to accept PayPal, but then again I wasn't present at the meetings, so it could be that I am missing part of a 'grander' strategy.
Facebook Credits Come to Best Buy, Walmart
Facebook Begins Testing 'Offers' Payment Option Beyond Games
Last month, Facebook started experimenting with a new payment option for a select handful of game developers: it began supporting Offers as a way to earn its virtual currency, Facebook Credits. Now, the site is beginning to expand that test — this morning I noticed that clicking the 'Get More Credits' link at the top of Facebook's application page showed me a new option: "Earn for free by shopping". Selecting that displays 38 different offers through a partnership with offer provider TrialPay.
We're hearing that Facebook and Malaysian payments company MOL Global will be holding a press conference shortly to announce a significant new partnership around gaming and payments in Asia. MOL, you may recall, was in the news when it acquired Friendster earlier this year. The press conference is being held in Kuala Lumpur and will begin shortly, we're told. Update: Press release below: MOL and Facebook Bring Facebook Credits to Retail Stores for the First Time MOL Partners with Facebook to Become Payment Provider for Facebook Credits; Facebook Credits to be Available through MOL's 500,000 Outlets Across Asia
Breaking: Facebook To Enter Into Partnership With Friendster Buyer MOL Global
RockYou To Exclusively Use Facebook Credits For The Next Five Years
Facebook Now Takes PayPal
Target To Sell Facebook Credit Gift Cards
Facebook
Sean Parker: Credits Poised To Make Up 1/3 Of Facebook's Income In The Next 12 Months