F-Commerce / Facebook commerce
L'émission TV Big Brother intègre les Crédits Facebook pour les votes. Delta Starts Selling Flights on Facebook. Delta Air Lines has launched The Delta Ticket Window, a Facebook application that lets members find, book and share flights via the "Book a Trip" tab on the airline's Facebook Page.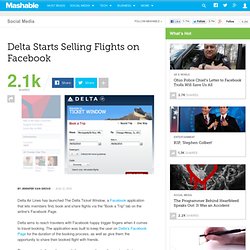 Delta aims to reach travelers with Facebook-happy trigger fingers when it comes to travel booking. The application was built to keep the user on Delta's Facebook Page for the duration of the booking process, as well as give them the opportunity to share their booked flight with friends. The Future of Local Commerce = Facebook + Foursquare + Yelp + Groupon. Editor's note: The following guest post is by David Marcus, founder and CEO of Zong, a mobile payment provider for Facebook Credits, AT&T and hundreds of leading destination websites and mobile applications There's been much hype, crazy valuations, and overall market excitement about businesses that promise to unleash the power of the social graph, location, recommendations and group buying.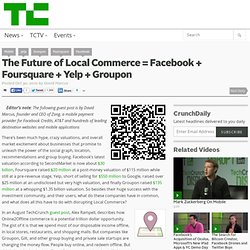 Facebook's latest valuation according to SecondMarket is now about $30 billion, Foursquare raised $20 million at a post-money valuation of $115 million while still at a pre-revenue stage, Yelp, short of selling for $550 million to Google, raised over $25 million at an undisclosed but very high valuation, and finally Groupon raised $135 million at a whopping $1.35 billion valuation. So besides their huge success with the investment community, and their users, what do these companies have in common, and what does all this have to do with disrupting Local Commerce? Why Amazon Unit Quidsi Finally Set Up Shop on Facebook. Hailed as the next big thing last year, commerce over Facebook — or "F-Commerce," if you prefer — hasn't really caught on yet.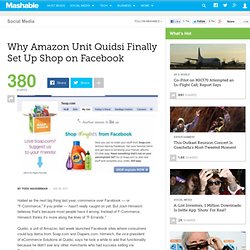 But Josh Himwich believes that's because most people have it wrong. Instead of F-Commerce, Himwich thinks it's more along the lines of "F-Errands. " Quidsi, a unit of Amazon, last week launched Facebook sites where consumers could buy items from Soap.com and Diapers.com. Amazon Opens Shops On Facebook. It's about time that one of the earliest pioneers of online commerce opened up shops on Facebook.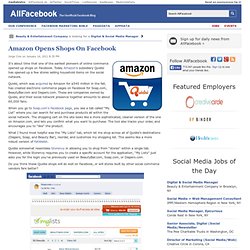 Today Amazon's subsidiary Quidisi has opened up a few stores selling household items on the social network. Quidsi, which was acquired by Amazon for $540 million in the fall, has created electronic commerce pages on Facebook for Soap.com, BeautyBar.com and Diapers.com. Payvment :: Social Network eCommerce. Sell on multiple platforms An embeddable, centrally managed storefront that works on Facebook, mobile, blogs (like WordPress and Joomla), and basically any site you choose.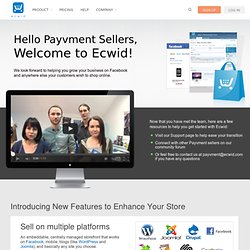 Increase flexibility on option sets and inventory More control over products with attributes (like color and size) and the ability to track separate inventory for those SKUs. Configure shipping rules by geographic location Use your own shipping account for discounted rates and set up rules for accurate freight-pricing based on geographical locations. ShopTab | Create Shop Tab on Facebook Fan Page. Coca-Cola Store.
---