Renaissance & Medieval
Renaissance and Medieval Weaponry, Clothing, Shields, Chainmail RealmCollections.com
Take yourself back in time with quality medieval clothing. Good morrow my Lord and my Lady. "An thou wouldst play the part, Thou must dress the part!"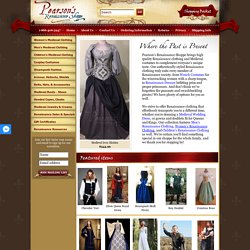 We carry high quality Renaissance clothing, and medieval costumes - authentic medieval clothing that reflects your own unique style. Be you an authentic peasant, swashbuckling pirate, or nobility, dress to your taste and preference. Medieval dresses are perfect for the Fair, Re-enactments, and even as bridesmaids gowns. Whether you are strolling around the Renaissance Faire, planning a Medieval wedding, or dancing around the fires at Pennsic War, we create apparel that will take you back through the ages with timeless grace and beauty. Step into your renaissance character and be transformed to the Renaissance Era.
Pearson's Renaissance Shoppe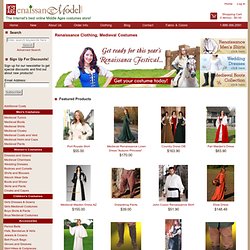 Renaissance Clothing, Medieval Costumes | Renaissance Model
Hear Ye! Hear Ye! If you're searching for the best collection of Medieval and Renaissance clothing, costumes and full array of accessories, look no further!