Vegetarian Recipes
Spicy Vegetarian Chili. You didn't think I'd show you how to make those delicious Jalapeno Pepper Jack Scones and not show you how to rock them out with some chili, did you!?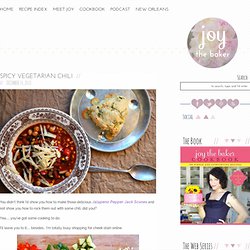 Yea… you've got some cooking to do. I'll leave you to it… besides, I'm totally busy shopping for cheek stain online. I manage to throw, darn near, the entire contents of my fridge in my chili. Beer, barbecue sauce, every vegetable trying to half rot in my crisper, loads of beans and spices by the handful.
| Post Punk Kitchen | Vegan Baking & Vegan Cooking. Baked Parmesan Tomatoes -EW. Vegan. Twenty for Twenty: Vegetarian Edition Article.
---