top plugins
Get flash to fully experience Pearltrees
MapPress adds an interactive map to the wordpress editing screens. When editing a post or page just enter any addresses you'd like to map. The plugin will automatically insert a great-looking interactive map into your blog. Your readers can get directions right in your blog and you can even create custom HTML for the map markers (including pictures, links, etc.)! For even more features, try the MapPress Pro Version Key Features
Contact Form 7 can manage multiple contact forms, plus you can customize the form and the mail contents flexibly with simple markup. The form supports Ajax-powered submitting, CAPTCHA, Akismet spam filtering and so on. Docs & Support You can find docs , FAQ and more detailed information about Contact Form 7 on contactform7.com .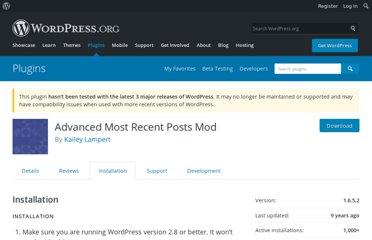 Based off the Advanced Most Recent Posts plugin by Yakup GÖVLER. Display most recent posts from selected categories or current category or all catego Installation Make sure you are running WordPress version 2.8 or better. It won't work with older versions.
A près le Top 100 de sites sous WordPress , continuons à emboiter le pas de WPMU avec ce Top 100 des plugins WordPress . Après tout, vous l'avez bien aimé ce billet, vous en aimez peut-être un autre du même acabit. Nous n'avons pas tous le temps de trainer des heures sur l' extend WordPress pour trouver les meilleurs plugins.
MudSlideShow is free software, and you can use it in commercial and non-commercial sites, but this plugin uses Highslide , Lytebox , Fancybox or prettyPhoto to display images, and each one would require or not a special license to be used in commercial sites. Be a fair user with the developer of the library you choose if you are going to earn money with your site. In Configuration > MudSlideShow you can define the viewer to use.
Dynamic Widgets gives you full control on which pages your widgets will appear. It lets you dynamically show or hide widgets on WordPress pages by setting conditional logic rules with just a few mouse clicks. No knowledge of PHP required.
Make sure you upgrade to version 0.9.5.2! Allows a user to associate a profile photo with their account through their "Your Profile" page. Admins may add a user profile photo by accessing the "Edit User" page. Uploaded images are resized to fit the dimensions specified on the options page; a thumbnail image correspondingly is also generated. User photos may be displayed within a post or a comment to help identify the author.
Calendrier / gestion d'événements
If you are a regular WPMU reader, you will have no doubt seen the WPMU 100 that we released last month. With the post proving to be so popular, we thought that you might be in the mood for more of the same. So what we have for you today is a resource that will be useful for any WordPress user – from beginner to advanced. Few of us have the time (or the inclination) to trawl through the WordPress Plugins Directory to find the best plugins. More often than not we discover plugins when they are featured on a site (such as WPMU), or recommended by a friend or colleague. That being the case, you are probably missing out on at least a few quality plugins that you didn't even know existed .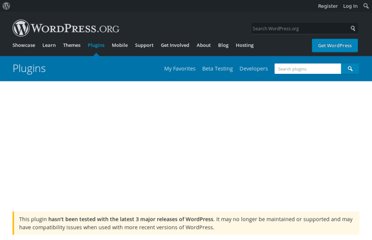 When editing a post or page, you will be able to set a physical location for that post and easily embed a Google map into your post. You can select the location by: Clicking on the map of the world to position the point. Searching for a location, town, city or address.
Relevanssi replaces the standard WordPress search with a better search engine, with lots of features and configurable options. You'll get better results, better presentation of results - your users will thank you. This is the free version of Relevanssi.
Note: a much-improved third edition of this resource is now available — you can find it here . Announced just a few short days ago , the WPMU 100 is intended to showcase the top WordPress related blogs. And now it is time to unveil the inaugural list. But before you delve in, consider the following key points. The WPMU 100 is not intended to represent the views or opinions of WPMU.org.