US prisons/detention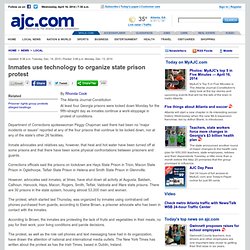 Inmates use technology to organize state prison protest  
At least four Georgia prisons were locked down Monday for the fifth-straight day as inmates continue a work-stoppage in protest of conditions.
Non-Violent Offenses Leads United States to World's Highest Incarceration Rate
Reason, July 2011: Criminal Injustice (issue on prisons)
US imprisonment in the "war on terror"
Solitary Confinement in the US
The Way to Stop Prison Rape - The New York Review of Books
As three recent studies by the federal Bureau of Justice Statistics (BJS) show, prisoners are raped with terrible frequency in the United States. We still don't know exactly how many people are sexually abused behind bars every year, but we do know that the number is much larger than 100,000. And we know that those responsible for this abuse are usually not other inmates, but members of the very corrections staff charged with protecting the people in their custody.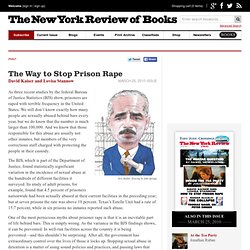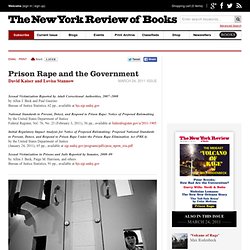 Sexual Victimization Reported by Adult Correctional Authorities, 2007–2008 by Allen J. Beck and Paul Guerino
Prison Rape and the Government by David Kaiser and Lovisa Stannow
U.S. Prison Conditions
"Perpetual state of crisis" at East Mississippi Correctional Facility (EMCF), a for-profit prison
June 24, 2013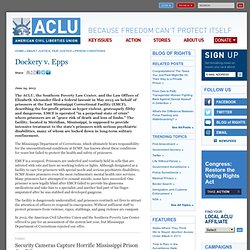 An American Gulag—The Mentally Ill at Sup...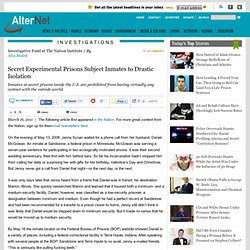 Secret Experimental Prisons Subject Inmates to Drastic Isolation | Investigations
March 16, 2011 |
Louisiana Incarcerated - NOLA.com
louisiana prison system | NOLA.com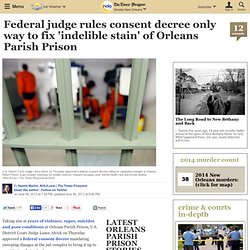 Taking aim at years of violence, rapes, suicides and poor conditions at Orleans Parish Prison, U.S.
Federal judge rules consent decree only way to fix 'indelible stain' of Orleans Parish Prison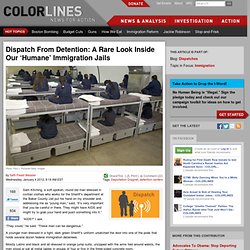 Dispatch From Detention: A Rare Look Inside Our 'Humane' Immigration Jails
Sam Kitching, a soft-spoken, round old man dressed in civilian clothes who works for the Sheriff's department at the Baker County Jail put his hand on my shoulder and, addressing me as "young man," said, "It's very important that you be careful in there. They might have AIDS and might try to grab your hand and push something into it." "AIDS?" I ask.
The warden of North Carolina's Central Prison, Warden Gerald J. Branker has retired amid allegations of torture of inmates. The Associated Press first reported a situation on Monday that a June 2011 review by the N.C.
Torture allegations in North Carolina prison - Charlotte City Buzz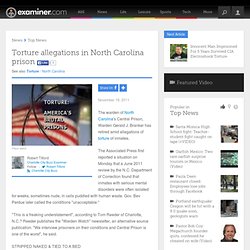 In Texas, Arguing That Heat Can Be a Death Sentence for Prisoners
David Bowser for The New York Times
A 58-year-old New Mexico man has been awarded $22 million in one of the largest ever federal civil rights settlements of its kind. For 22 months, Stephen Slevin was held in solitary confinement and never brought to trial. He wasn't the victim of the National Defense Authorization Act, which since being signed last month give the president permission to detain Americans without charge. Slevin was arrested in August 2005 on suspicion of driving while intoxicated. From then until May 2007, he was essentially forgotten in a small, padded cell with no natural sunlight in a Dona Ana County, New Mexico prison cell.
New Mexico driver arrested and forgotten in jail for two years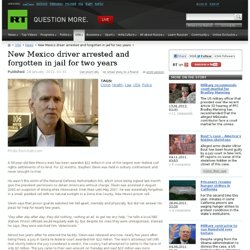 After last week's breakthrough in mitigating the damage of the drug war—the U.S. Sentencing Commission offered an estimated 12,000 people incarcerated on crack charges a chance at a sentence reduction—advocates stressed that it's still up to Congress to eliminate the crack-powder cocaine sentencing disparity altogether and to create more lasting prison reform. The lack of reform isn't due to a lack of bills, however.
Five Prison Reform Ideas Being Ignored on Capitol Hill
California prisons: Hunger strikes reported at more California prisons - latimes.com
Inmates in at least 11 of California's 33 prisons are refusing meals in solidarity with a hunger strike staged by prisoners in one of the system's special maximum-security units, officials said Tuesday. The strike began Friday when inmates in the Security Housing Unit at Pelican Bay State Prison stopped eating meals in protest of conditions that they contend are cruel and inhumane. "There are inmates in at least a third of our prisons who are refusing state-issued meals," said Terry Thornton, a spokeswoman for the California Department of Corrections and Rehabilitation. The number of declared strikers at Pelican Bay — reported Saturday as fewer than two dozen — has grown but is changing daily, she said. The same is true at other prisons. Some inmates are refusing all meals, while others are rejecting only some, Thornton said.
One Year After Historic Hunger Strike, Isolated California Prisoners Report Little Change
At this time one year ago, a three week hunger strike across California prisons had been concluded, and the California Assembly had begun planning a hearing on the use of solitary confinement in California's prisons. The conditions of the California Security Housing Units, where over 3,000 inmates are held in isolation, many for decades, had come to the public's attention.
Pelican Bay Prison: One Year Later, Policy Remains "Debrief or Die"
Robert Luca, an inmate at Pelican Bay State Prison who was a gang member, looking out the grates of his cell, near Crescent City, California, February 10, 2012. In October 1990, only months after being transferred to Pelican Bay's Security Housing Unit (SHU), Todd Ashker was shot in the right wrist by a prison guard. "This nearly severed my hand from my wrist and caused severe damage to hand, wrist and forearm," he recounted. Ashker stated that he was denied medical care, including pain management, and was told by medical staff, "If you want better care, get out of SHU. It's your choice."
Indefinite solitary confinement persists in California prisons - latimes.com
Reporting from Sacramento — U.S. prisons typically reserve solitary confinement for inmates who commit serious offenses behind bars. In California, however, suspected gang members — even those with clean prison records — can be held in isolation indefinitely with no legal recourse. Indeed, hundreds have been kept for more than a decade in 8-by-10-foot cells, with virtually no human contact for nearly 23 hours per day. Dozens have spent more than two decades in solitary, according to state figures. It's a harsh fate even by prison standards: Under current policy, an inmate who kills a guard faces a maximum of five years of isolation.
We dare to win: The reality and impact of SHU torture units
Jerry Brown Should (Still) Be Ashamed of Califo...
Corrections: The Prison Industrial Complex
Private Prison Companies Want You Locked Up — Justice Policy Institute
30 Years Later, the Private Prisons Have a Future to Secure | Rights & Liberties
21st-Century Slaves: How Corporations Exploit Prison Labor
"Voluntary" Work Program Run in Private Detention Centers Pays Detained Immigrants $1 a Day | Rights & Liberties
By the Numbers: The U.S.'s Growing For-Profit Detention Industry
The 10 Worst Prisons in America: ADX
Private Prison Company Used in Drug Raids at Public High School
The Shocking Details of a Mississippi School-to-Prison Pipeline
The intelligence factory: How America makes its enemies disappear—By Petra Bartosiewicz
Pakistan neuroscientist given 86 years for shooting at US agents | World news
White House Drafts Executive Order for Indefinite Detention