Videos
Occupy Oakland - Khali Interview
Introducing: The OccuPirates
Officials Rally for Mayor to Acknowledge 'Police Accountability' Issue | PolitickerNY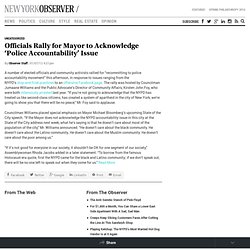 By Colin Campbell 1/07/12 4:21pm Share this: The rally featured a petition to Mayor Bloomberg and Police Commissioner Kelly. A number of elected officials and community activists rallied for "recommitting to police accountability movement" this afternoon, in response to issues ranging from the NYPD's stop-and-frisk practices to an offensive Facebook page . The rally was hosted by Councilman Jumaane Williams and the Public Advocate's Director of Community Affairs, Kirsten John Foy, who were both infamously arrested last year. "If you're not going to acknowledge that the NYPD has treated us like second-class citizens, has created a system of apartheid in the city of New York, we're going to show you that there will be no peace," Mr.
Faking It: How the Media Manipulates the World into War
FILM THE POLICE - B. Dolan feat. Toki Wright, Jasiri X, Buddy Peace, Sage Francis
Free Bradley Manning - It's Time
The OccupyUSA Blog for Wednesday (Dec. 14), With Frequent Updates
tbaI've been live-blogging OWS here daily since October 1. Email: epic1934@aol.com .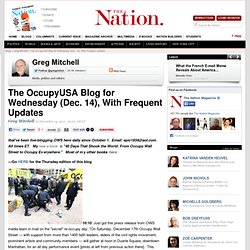 A Stunning Occupy Wall Street Interview concerning NYPD + Protest Movement with Chris Hedges mirror
Tent Protest Costume Violently Stripped from Protester's Body 061211.MOV (Concise version)
Stand Together on Vimeo
Earth Revolution - Ta'kaiya Blaney - Occupy Vancouver
Banksy Occupy London Protest
"I'll Occupy" Recruitment Song: The 99 is Pissed and We Will Not Be Dismissed!
OCCUPY LAS VEGAS 11.25.11...MIC CHECK at the Meadows Mall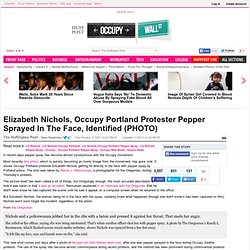 In recent days pepper spray has become almost synonymous with the Occupy movement.
Elizabeth Nichols, Occupy Portland Protester Pepper Sprayed In The Face, Identified (PHOTO)
Share photos and videos on Twitter
NEW Campaign Against Occupy Movement: 1% fighting dirty
All Live Streams
OccupyLSX Julian Assange pays homage to Anonymous
Hartmann: Occupy Boston: a victim of a police beating speaks out
Banks Give Millions To NYPD Foundation
Boston Police Attack Veterans for Peace by @haveyoumetter for Dig Boston
OCCUPY BOSTON
Rev. Jesse Jackson Honors the Late Civil Rights Stalwarts Fred Shuttlesworth and Derrick Bell
This is a rush transcript. Copy may not be in its final form. AMY GOODMAN : We turn now to the civil rights movement, which has lost two of its torchbearers.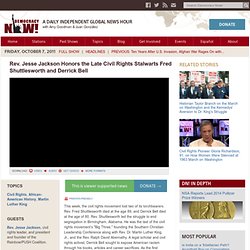 MCCCXXXIII VLOG 3~ OCCUPY WALL STREET (Part 1) 10/5/11
CNN: Occupy Wall Street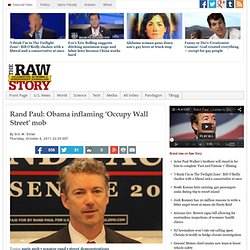 Rand Paul: Obama inflaming 'Occupy Wall Street' mob
By Eric W.
occupy
Luke Rudkowski Attacked by Police, Baton to the Gut at Occupy Wall Street Arrests
NYPD Caught On Camera Punching #OccupyWallStreet Protestor In The Face
VID00055
MOXNEWSd0tCOM's Channel
Hundreds held in anti-Wall Street protests