Ows-spring
House May Limit Detention After Arrest on U.S. Soil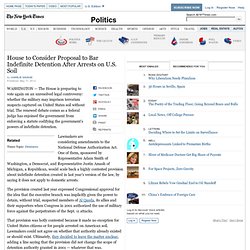 Lawmakers are considering amendments to the National Defense Authorization Act. One of them, sponsored by Representative Adam Smith of Washington, a Democrat, and Representative Justin Amash of Michigan, a Republican, would scale back a highly contested provision about indefinite detention created in last year's version of the law, by saying it does not apply to domestic arrests. The provision created last year expressed Congressional approval for the idea that the executive branch was implicitly given the power to detain, without trial, suspected members of , its allies and their supporters when Congress in 2001 authorized the use of military force against the perpetrators of the Sept. 11 attacks.
LogicalFallaciesInfographic_A1
According to the University, "the occupiers still have the opportunity to accept a proposal that would allow for a peaceful end to the illegal encampment." Click the "Keep me posted" button below for an update when we publish future stories on this topic. [Editor's Note: The University of California released the following statement at 1:35 p.m. on Wednesday.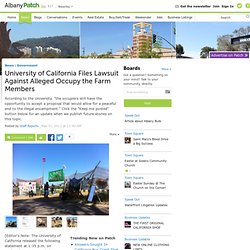 University of California Files Lawsuit Against 14 Alleged Occupy the Farm Members - Albany, CA Patch
mary mad
By David Graeber, a Reader in Social Anthropology at Goldsmiths, University of London, and an author and activist currently based in New York A few weeks ago I was with a few companions from Occupy Wall Street in Union Square when an old friend — I'll call her Eileen — passed through, her hand in a cast.
David Graeber: New Police Strategy in New York – Sexual Assault Against Peaceful Protestors
Latest Batch of DHS Occupy Documents Contains New Details About Surveillance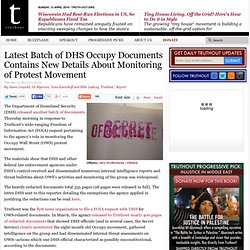 (Photo: Alex Wellerstein / Flickr)The Department of Homeland Security (DHS) released another batch of documents Thursday morning in response to Truthout's wide-ranging Freedom of Information Act (FOIA) request pertaining to the agency's role in monitoring the Occupy Wall Street (OWS) protest movement.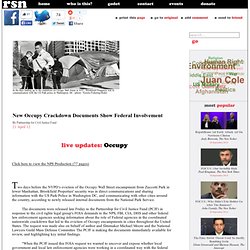 Excerpt: "Two days before the NYPD's eviction of the Occupy Wall Street encampment from Zuccotti Park in lower Manhattan, Brookfield Properties' security was in direct communications and sharing information with the US Park Police in Washington DC, and communicating with other cities around the country, according to newly released internal documents from the National Park Service."
New Occupy Crackdown Documents Show Federal Involvement
Activists sue Obama, others over National Defense Authorization Act
ClassicWHO: US Government on Rights of Foreigners…Vs. Americans
Occupy Wall Street refleurit
C'est le printemps : en partenariat avec L'Atelier des médias de RFI, OWNI vous invite à retrouver, aux États-Unis, le mouvement Occupy Wall Street qui vient d'achever d'hiberner.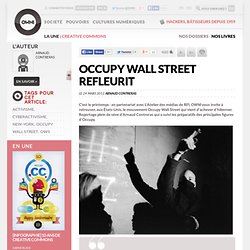 The Homeland Battlefield: 'Hedges v. Obama' Lawsuit Challenging NDAA Begins Today in NYC - The Sparrow Project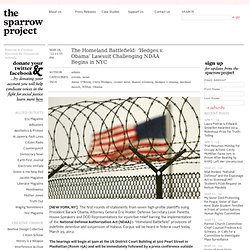 [NEW YORK, NY] The first rounds of statements from seven high-profile plaintiffs suing President Barack Obama, Attorney General Eric Holder, Defense Secretary Leon Panetta, House Speakers and DOD Representatives for injunctive relief barring the implementation of the National Defense Authorization Act (NDAA)'s "Homeland Battlefield" provisions of indefinite detention and suspension of Habeus Corpus will be heard in federal court today, March 29, 2012.
The Occupy Files: DHS Investigated Anonymous and Kept Tabs on Political Hackers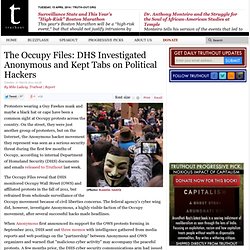 (Photo: Ramtin Amiri) Protesters wearing a Guy Fawkes mask and maybe a black hat or cape have been a common sight at Occupy protests across the country. On the street, they were just another group of protesters, but on the Internet, the Anonymous hacker movement they represent was seen as a serious security threat during the first few months of Occupy, according to internal Department of Homeland Security (DHS) documents and emails released to Truthout last week.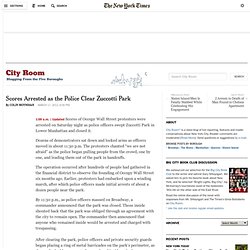 Robert Stolarik for The New York Times Robert Stolarik for The New York Times Robert Stolarik for The New York Times Robert Stolarik for The New York Times Robert Stolarik for The New York Times Robert Stolarik for The New York Times Robert Stolarik for The New York Times Robert Stolarik for The New York Times A protester in Zuccotti Park struggled as she was arrested by police.
Scores Arrested as the Police Clear Zuccotti Park
OCongress: [Photo] Cecily McMillan la