ULTRA MUSIC
BeatfreaK - Summer Promo SW4 Mix by beatfreakmedia. It is with great regret that we must declare that the Letsmix.com mix-streaming site has gone offline (per January 1st 2012). This decision follows the reassessing of our licensing restrictions, alongside a critical evaluation of the business case for our service. Our intention to expand on our operations had fundamentally outgrown the Let's Mix site. The closing of Let's Mix is not the result of complaints from copyright holders. Sia | Buttons (CSS Remix) Run Toto Run on MySpace Music - Free Streaming MP3s, Pictures & Music Downloads. Loverush Digital - vocal trance, progressive house, vocal dance music.
Me & The Washing Machine - My Awesome Mixtape. Florence and the Machine - Cosmic Love (Short Club remix) A-HA – Take ON me (The Twelves Remix) – duck duck geese. Run Toto Run - Out of Order (demo) Run Toto Run - Hater (demo) HD] Digitalism / Pogo (Shinichi Osawa Remix) Deep Dish - Say Hello (Dylan Rhymes Acid Thunder Mix) Vocal Tranceitions. Digital Beat Radio - HOME. Records :: Psytrance mp3 and wav downloads :: Tabula Rasa. Psybonsai does online distribution for psychedelic trance (psytrance) and progressive labels.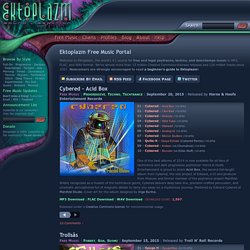 All releases are available for track by track download in wave, 320Kbps and 192Kbps mp3. You can listen to our full track previews and decide what to download later! Psybonsai is the continuation of the Cytopia Records project on Cytopia.org that run for the last 10 years, if you had an account on Cytopia it will work on Psybonsai too! Twentyfourhours.
Sons And Daughters sur Myspace Music - Ecoute gratuite de MP3, Photos et clips vidéos. Track7 Gareth Emery - Sanctuary (feat. Lucy Saunders) [From the album Northern Lights] Your trance radio 24 hours a day 7 days a week. The xx - Intro (Deep Focus Remix) The xx - Infinity (Flufftronix Remix) [Dubstep Bootleg] 1 Trance Downloads. Aurgasm | your favorite music you've never heard. The xx remix. Analog Giant. The Apple Tree - A Tribute to The Glitch Mob. Tiesto feat. Emily Haines Knock You Out (Chris Machlas Remix) Welcome to a site For Trance Music Fans - MP3s, Music Videos, Fo. Hadouken! - Crank It Up. Ian Frey vs Depech Mode - Enjoy The Teksas (Chrissler rmx.) HADOUKEN Driving nowhere. Go Back To Sleep - Music Video - A Perfect Circle - Pet.
TRON: Legacy - "Rerezzed" - Feat. The Glitch Mob. Yeah Yeah Yeahs - Heads Will Roll (A-Trak remix) Evanescence - Hello - (Gabriel & Dresden mix) Nero - Innocence (Full Version) Florence and The Machine - Heavy In Your Arms (C-Berg Remix) DJ/3D - Tracks. Inthemix.com.au: australian dance music | news | reviews | photo. DjJanVanDeRoy's Channel. Upload Subscription preferences Loading...
Working... Jan Van De Roy Uploads. Dirtybird. Remix - remix.nin.com. MT Eden Dubstep - Daniel (Bat For Lashes Dubstep Remix Video) Proton Radio. Deadmau5 - Strobe (no ultra watermark) Delirium - Silence (Niels Van Gogh vs Thomas Gold Remix) Jes - Awaken (Original Mix) Mt Eden Dubstep (HD) - Sierra Leone.
Dj mixes, electronic trance, download trance, club trance and mu. SoundArea.Org - Your Music OVERDOSE! (Powered by Invision Power. 07/12/09 Hard Vibes - Vocal Tranceitions ep. 013 (Euphoric S at. Due to the overwhelming thank you emails we have received for episode 12, we've decided to release a second part of our euphoric story's edition.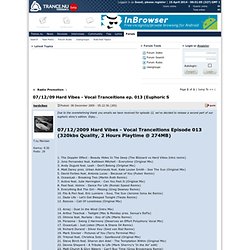 Enjoy... 07/12/2009 Hard Vibes - Vocal Tranceitions Episode 013 (320kbs Quality, 2 Hours Playtime @ 274MB) 1. Radiohead - Reckoner (Cathartic Mix) HF - Work Hard, Play Harder! BBQCHICKENROBOT. BIGSTEREO. People of Walmart Rap: Links, Pics, Videos, and News. Dialogue Incorporated. DISCODUST. Dub Fx >>. Remix Galaxy | Be Heard | Blog. RUSKO - ALL NEW TRACKS :):):):) on MySpace Music - Free Streamin. Skantasm's Channel. The Rapture - Out of the races and onto the tracks. Crystal Castles - Knights (official video by Jo Marini) Kiss FM Dance Music Radio - Listen to Kiss FM. Kluytv's Channel. Upload Subscription preferences Loading...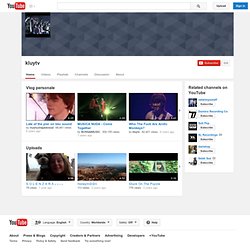 Bat For Lashes singing Daniel live on Sound/Switch. MEGAFORCE | MySpace. The Temper Trap Official Website.
---