Ultimaker
An attempt to compile and organize the information required to build a ultimaker rapid prototyper.
Software. Derivatives. Parts. Improvements. Thingiverse. Blog. Ultimaker print quality | Dave Durant's Blog. A lot of the press that Ultimaker has gotten has been about the crazy speeds these machines can print at.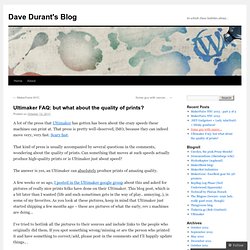 That press is pretty well-deserved, IMO, because they can indeed move very, very fast. Scary fast. That kind of press is usually accompanied by several questions in the comments, wondering about the quality of prints. Can something that moves at such speeds actually produce high-quality prints or is Ultimaker just about speed? The answer is yes, an Ultimaker can absolutely produce prints of amazing quality. Wiki. Ultimaker on Google Groups.
---