UK
Many government organisations influence and affect the way we do business in the United Kingdom.

This pearltree should reflect the arrangement of those agencies making it easier to discover them.
Bank of England. Charity Commission. Companies House. WebCheck. Competition Commission. Data.gov.uk. See UK. UK Crime Stats. DVLA Vehicle Licensing Online. EA - Home & Leisure. E-petitions. HM Revenue & Customs. Secure Login. Intellectual Property Office. Registered Designs. Trade Marks. TMView - European RTMs. Patents. Copyright. Copyright protects written, theatrical, musical and artistic works as well as film, book layouts, sound recordings, and broadcasts.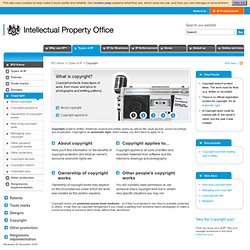 Copyright is an automatic right, which means you don't have to apply for it. About copyright Here you'll find information on the benefits of copyright protection and what an owner's exclusive economic rights are. Copyright applies to... Land Registry - House Prices. Office of Fair Trading.
---
pragmantic Oct 9 2011

These pearls relate to government organisations that affect the way we do business in the United Kingdom.
---