Websites
MEPs give overwhelming support for measures in the European Parliament to improve lorry safety for London cycling and walking UPDATE: 15th April 2014 Euro MEPs voted overwhelmingly to support amendments to the lorry design directive. Thank you to all our supporters who... Cycle safety improves as Lewisham one-way system removed One-way streets in New Cross, described as "intimidating" by local cyclists, are being reverted to two-way, making it safer for vulnerable road users.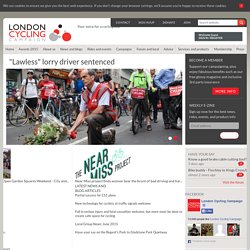 cargo bikes utility bikes child transportation bikes - HOME
BikeRadar keeps you up to date with top reviews of the latest bikes and gear for cyclists. Check out our sections on mountain, road or beginner bikes, looking at new models and putting them through rigorous testing. All bikes are properly rated by our experts for price, strengths and weaknesses. We also check out all that's new with bike parts, clothing, tyres and accessories to keep you informed as to what's out there. To help all enthusiasts, we'll impart with our years of cyclist knowledge to advise you on bike maintenance, best cycling routes and keeping up with fitness and nutrition.