UI
TETHR – The Most Beautiful iOS Design Kit Ever Made – by InVision. Susan Kare, Iconographer (EG8) Welcome - Polymer. Android 'L' Quantum Paper design features revealed. It's not clear when KitKat's successor will be released, but Google is reportedly preparing a major design makeover for its "L" version of Android.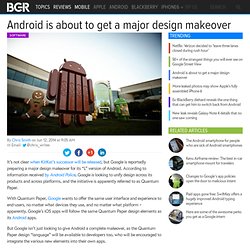 According to information received by Android Police, Google is looking to unify design across its products and across platforms, and the initiative is apparently referred to as Quantum Paper. With Quantum Paper, Google wants to offer the same user interface and experience to end-users, no matter what devices they use, and no matter what platform – apparently, Google's iOS apps will follow the same Quantum Paper design elements as its Android apps. But Google isn't just looking to give Android a complete makeover, as the Quantum Paper design "language" will be available to developers too, who will be encouraged to integrate the various new elements into their own apps. Fluid Corners – TOKI WOKI. Interface Critique | Words in Space. I'm writing a new piece for Places on prospective/speculative "interfaces to the smart city" — or points of human contact with the "urban operating system."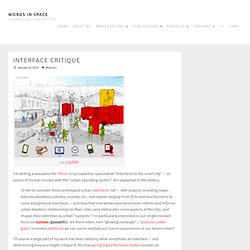 As I explained to the editors, I'd like to consider these prototyped urban interfaces' IxD — with outputs including maps, data visualizations, photos, sounds, etc.; and inputs ranging from GUIs and touchscreens to voice and gestural interfaces — and how that interactive experience both reflects and informs urban dwellers' relationships to their cities (and obfuscates some aspects of the city), and shapes their identities as urban "subjects."
I'm particularly interested in our single-minded focus on screens (gaaaahh!) : are there other, non-"glowing rectangle" / "pictures under glass"-oriented platforms we can use to mediate our future-experiences of our future-cities? Of course a large part of my work has been defining what constitutes an interface — and determining how one might critique it. Tablet Usability: Findings from User Research. Dude, I redesigned Facebook! — The ideas of Will Grounds. I've never been overly keen on — you know, when a designer or agency takes a popular website and shows you how it should have been done.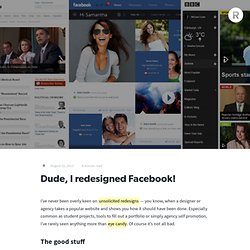 Especially common as student projects, tools to fill out a portfolio or simply agency self promotion, I've rarely seen anything more than . Of course it's not all bad. The Future of UI and the Dream of the '90s — UX/UI human interfaces. All humans are capable of emotional depth.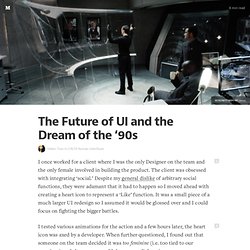 While emotions are influenced by culture, emotions themselves are universal. We use things because they are functional but we become attracted and attached to them because of how they make us feel. Technology - The future of UI. Synopsis It's 10 years since Minority Report hit our screens.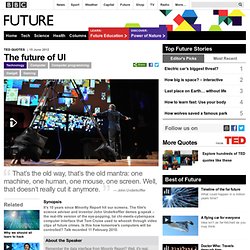 The film's science adviser and inventor John Underkoffler demos g-speak – the real-life version of the eye-popping, tai chi-meets-cyberspace computer interface that Tom Cruise used to whoosh through video clips of future crimes. Is this how tomorrow's computers will be controlled? Talk recorded 11 February 2010. About the Speaker.
NoPSD Movement
PortKit: UX Metaphor Equivalents for iOS & Android. PortKit shows you each Cocoa UI Element in iOS 6 / iOS 7 and its Android widget version, side by side, so you can compare and find the correct equivalent when porting an app.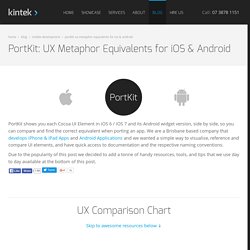 We are a Brisbane based company that develops iPhone & iPad Apps and Android Applications and we wanted a simple way to visualise, reference and compare UI elements, and have quick access to documentation and the respective naming conventions. Due to the popularity of this post we decided to add a tonne of handy resources, tools, and tips that we use day to day available at the bottom of this post. Skip to awesome resources below ↓
Colourcode - find your colour scheme. What's Wrong with the iOS 7 Icons? by Ian Storm Taylor. "It looks childish."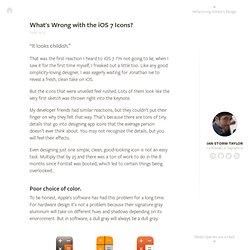 That was the first reaction I heard to iOS 7. I'm not going to lie, when I saw it for the first time myself, I freaked out a little too. Like any good simplicity-loving designer, I was eagerly waiting for Jonathan Ive to reveal a fresh, clean take on iOS. But the icons that were unveiled feel rushed. Lots of them look like the very first sketch was thrown right into the keynote. Flat Design.
Trimming the Fat — Paul Robert Lloyd. When I unveiled a new version of this site last year, I hoped the design would slowly evolve.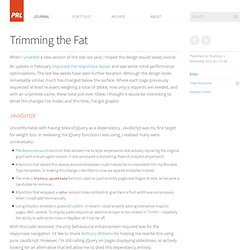 An update in February improved the responsive layout and saw some initial performance optimisations. The last few weeks have seen further iteration. Although the design looks remarkably similar, much has changed below the surface. LivIcons - Exclusive Truly Animated Icon Pack! Futurico User Interface Pro on the Behance Network. Futurico UI Pro is the world's biggest user interface elements pack.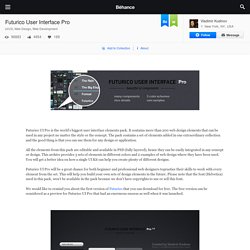 It contains more than 200 web design elements that can be used in any project no matter the style or the concept. The pack contains a set of elements added in one extraordinary collection and the good thing is that you can use them for any design or application. All the elements from this pack are editable and available in PSD (fully layered), hence they can be easily integrated in any concept or design. This archive provides 3 sets of elements in different colors and 2 examples of web design where they have been used. You will get a better idea on how a single UI Kit can help you create plenty of different designs. Responsive Navigation: Optimizing for Touch Across Devices.
As more diverse devices embrace touch as a primary input method, it may be time to revisit navigation standards on the Web.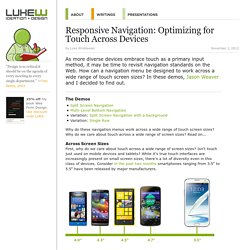 How can a navigation menu be designed to work across a wide range of touch screen sizes? In these demos, Jason Weaver and I decided to find out. The Demos. Operating System Interface Design Between 1981-2009. A Graphical User Interface (GUI for short) allows users to interact with the computer hardware in a user friendly way. Over the years a range of GUI's have been developed for different operating systems such as OS/2, Macintosh, Windowsamiga, Linux, Symbian OS, and more. We'll be taking a look at the evolution of the interface designs of the major operating systems since the 80′s. I should mention that this article showcases only the significant advances in GUI design (not operating system advances) and also not all of the graphical user interfaces and operating systems existing today.
The first GUI was developed by researchers at Xerox Palo Alto Research Center (PARC) in the '70s. Designing for touch. Net magazine is the number one choice for the professional web designer and developer. It's here that you find out about the latest new web trends, technologies and techniques – all in one handy package. Each issue boasts a wealth of expert tips and advice, including in-depth features and over 30 pages of advanced front- and backend tutorials on subjects as diverse as CSS, HTML, JavaScript, WordPress, PHP, and plenty more. net compiles the hottest new sites from around the web, and being the voice of web design, our mission is to source the best articles written by the best people in the industry and feature interviews and opinions crammed with inspiration and creative advice.
Windows Desktop UI Concept | The Verge Forums. Posted by Sputnik8 on February 24, 2012 10:24 pm This is a desktop concept that I've recently put together for fun. I thought I'd post a few screens to see what people here think. The screens include variations of explorer, ie (with a quick redesign of windows.com and bing), media center/player, and skype. Note that I didn't aim for the design to be completely consistent with what MS calls 'metro' (for instance, I specifically didn't want loops around icons, among other things). Google Maps: Designing the Modern Atlas. It is often the case in interaction design that the best solutions simply get out of the way, allowing the user to achieve their goal and get on with their life.
With Google Maps, this is certainly the desired outcome. Geographic navigation and search should be smooth, efficient, and ultimately straightforward. When this is successful and the product works as it should, the nuances and details behind these experiences can often go unnoticed, written off as algorithmically derived and invisible. Since its launch in 2004, Google Maps has come a long way from its relatively simple beginnings as a simple pannable and zoomable road map of the United States and United Kingdom. Today we display business and transit networks, three dimensional cities, natural terrain, and much more.
Android
Layer Styles. CSS Tube Map. Revolutionary User Interfaces. A few years ago, around the middle of the last decade, the mobile phone market was characterized by the rivalry between a few established vendors. These were Nokia, Samsung, LG, Motorola and Sony Ericsson. These incumbent companies had a broad portfolio of devices including smartphones and feature phones and basic phones. Many also sold networking equipment and were deeply engaged with their customers, network operators. Cubic colorscheme selector.
WAI. Visual impairment. UI Theory. UI Patterns. Conceptual UI. Mobile. iOS. Retina display.
Web typography. Newsletter. Icons.
Progressive Reduction: just another buzzword? — azumbrunnen.
---