UI / user interface
Fluid Corners – TOKI WOKI.
Interface Critique | Words in Space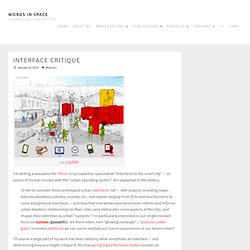 I'm writing a new piece for Places on "interfaces to the smart city" — or points of human contact with the "urban operating system." As I explained to the editors, I'd like to consider these urban interfaces' IxD — with outputs including maps, data visualizations, photos, sounds, etc.; and inputs ranging from GUIs and touchscreens to voice and gestural interfaces — and how that interactive experience both reflects and informs urban dwellers' relationships to their cities (and obfuscates some aspects of the city), and shapes their identities as urban "subjects."
Tablet Usability: Findings from User Research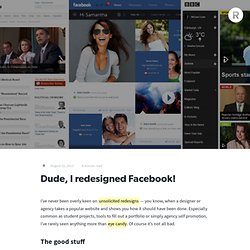 I've never been overly keen on — you know, when a designer or agency takes a popular website and shows you how it should have been done.
Dude, I redesigned Facebook! — The ideas of Will Grounds
The Future of UI and the Dream of the '90s — UX/UI human interfaces
All humans are capable of emotional depth.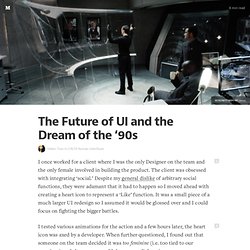 That's the old way, that's the old mantra: one machine, one human, one mouse, one screen. Well, that doesn't really cut it anymore. — John Underkoffler Synopsis
Technology - The future of UI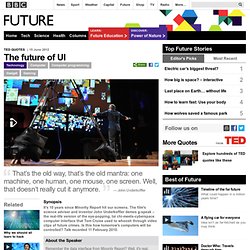 PortKit shows you each Cocoa UI Element in iOS 6 / iOS 7 and its Android widget version, side by side, so you can compare and find the correct equivalent when porting an app.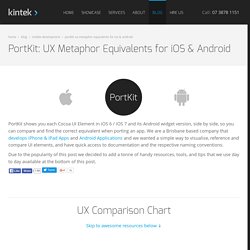 PortKit: UX Metaphor Equivalents for iOS & Android
What's Wrong with the iOS 7 Icons? by Ian Storm Taylor
"It looks childish." That was the first reaction I heard to iOS 7. I'm not going to lie, when I saw it for the first time myself, I freaked out a little too.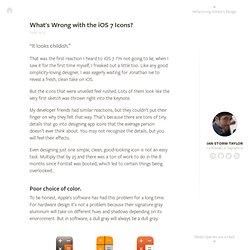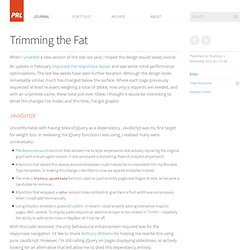 Trimming the Fat — Paul Robert Lloyd
When I unveiled a new version of this site last year, I hoped the design would slowly evolve.
Futurico User Interface Pro on the Behance Network
As more diverse devices embrace touch as a primary input method, it may be time to revisit navigation standards on the Web.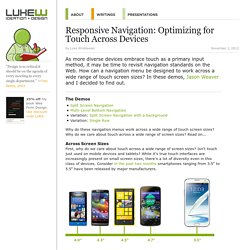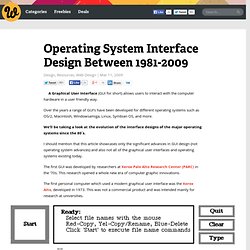 Operating System Interface Design Between 1981-2009
A Graphical User Interface (GUI for short) allows users to interact with the computer hardware in a user friendly way. Over the years a range of GUI's have been developed for different operating systems such as OS/2, Macintosh, Windowsamiga, Linux, Symbian OS, and more. We'll be taking a look at the evolution of the interface designs of the major operating systems since the 80′s. I should mention that this article showcases only the significant advances in GUI design (not operating system advances) and also not all of the graphical user interfaces and operating systems existing today. The first GUI was developed by researchers at Xerox Palo Alto Research Center (PARC) in the '70s. This research opened a whole new era of computer graphic innovations.
Fingers and thumbs turn desktop conventions on their head. Interaction designer Josh Clark explains what you need to keep in mind when designing for mobile touchscreens and compares finger-friendly touch interfaces for iPhone, iPad and Android.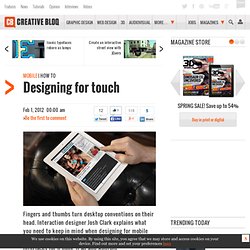 Posted by Sputnik8 on February 24, 2012 10:24 pm This is a desktop concept that I've recently put together for fun.
Windows Desktop UI Concept | The Verge Forums
Google Maps: Designing the Modern Atlas
It is often the case in interaction design that the best solutions simply get out of the way, allowing the user to achieve their goal and get on with their life. With Google Maps, this is certainly the desired outcome. Geographic navigation and search should be smooth, efficient, and ultimately straightforward.
CSS Tube Map
A few years ago, around the middle of the last decade, the mobile phone market was characterized by the rivalry between a few established vendors.
Revolutionary User Interfaces
Cubic colorscheme selector
Progressive Reduction: just another buzzword? — azumbrunnen
Today I stumbled upon a tweet from Jeffrey Zeldman about Progressive Reduction.