Typographie
We're always trying to find new high-quality freebies. Whether it's PSD's, patterns, or icons, we love finding free stuff and sharing it with you. We do the searching so you don't have to.
8 Fresh High-Quality Free Fonts | Freebies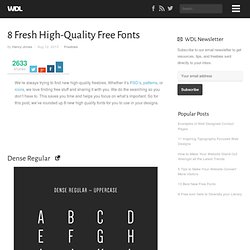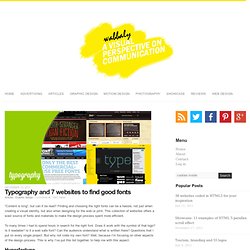 TweetTweet "Content is king", but can it be read? Finding and choosing the right fonts can be a hassle, not just when creating a visual identity, but also when designing for the web or print. This collection of websites offers a wast source of fonts and materials to make the design process spent more efficient.
Typography and 7 websites to find good fonts
25 Websites for Typography Inspiration
40 Examples of Beautiful Typography in Web Design
Typography is certainly a very important aspect of web design. So choosing the proper typography for your site is for sure a huge step of the design process. You can have a simple and delicate typo, a huge and strong one, you can also go colorful and crazy or light and smooth. From simple headers to whole 'typed' layouts, we have selected some good examples of typography to show here. So enjoy the selection and remember to take good care of the typography in your next project. Amazee Labs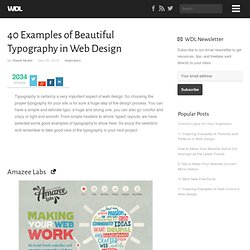 Light Fonts Use in Web Design: Examples and Resources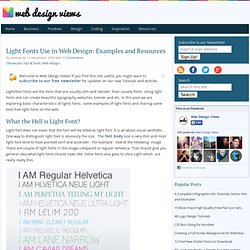 Light/thin fonts are the fonts that are usually slim and slender than usually fonts. Using light fonts one can create beautiful typography, websites, banner and etc. In this post we are exploring basic characteristics of lights fonts , some examples of light fonts and sharing some best free light fonts on the web. What the Hell is Light Font? Light font does not mean that the font will be titled as light font.
Filed Under: Fonts / Typography, Freebies by fandy January 18, 2011, 19:42 Pleased to be presenting some new fonts option and probably among those fonts not too recent, the fonts is very beautiful and high-quality like Matchbook, Franchise, Typeface Adec and others. And better yet all this for free but please read the license agreement carefully prior to using it, some of which are only for personal use. Get the fonts!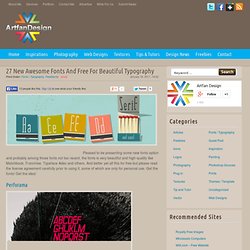 27 New Awesome Fonts And Free For Beautiful Typography
We're done with the tired old fontstacks of yesteryear. The web is no longer limited, and now it's time to raise our standards. Since 2009, The League has given only the most well-made, free & open-source, @font-face ready fonts. Like any revolution, we aim to make progress, & we need help.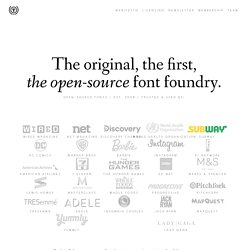 Font Preview - Google Font Directory
choose type graphic