Outils
The most comprehensive twitter app list you'll ever need. Twitter has become a remarkably diverse tool; what used to be text based has evolved into something greater, incorporating multimedia, links and info far beyond what was originally intended thanks to the creativity of programmers and the twitter community.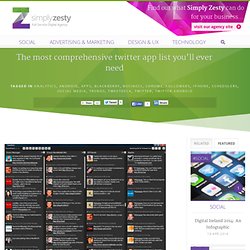 But with so many new apps already available and more being released by the day, trying to discover what useful and what isn't is time consuming. Therefore, we've compiled a list containing over 80 different twitter apps and tools for you to use. Whether you use Twitter for personal or professional purposes, all the apps below will help improve your experience with the micro-blogging site. Ranging from mobile to business to analytics, there will certainly be an app below that you'll find useful.
Third-party apps. 100 services à connaître pour mieux utiliser Twitter.
FollowFriday
Locomu – Twitter Applications and Tools. Live blogging. Twitter Tools Directory. Clients. Filtrer. Lire twitter. Gérer son compte. Hashtags. Outils de veille. Bit.ly | Basic | a simple URL shortener. Liste des outils Twitter ? conna?tre absolument. Voici une liste d'outils et de services Twitter que vous devez connaître si vous avez besoin de l'une de leurs fonctions un jour.
Bien sûr cette liste n'est pas définitive alors si vous en avez d'autres à proposer, laissez un commentaire afin que tout le monde puisse en profiter. En espérant que vous y trouverez votre bonheur ! Sommaire : 1 – Clients.
---