Edition
Outils pour prolonger la durée de vie de vos tweets
Daily on Twitter as shared by André
Les utilisateurs réguliers de Twitter (et notamment ceux qui l'utilisent comme outil de veille) en auront certainement fait le constat : dès que vous suivez un nombre assez important de personnes ou de thèmes, il devient difficile de "faire le tri" ou, au contraire, de s'assurer que l'on ne manquera pas une information utile .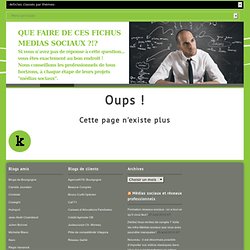 Paper.li, ou comment lire Twitter... comme un journal
Tools for presenting with Twitter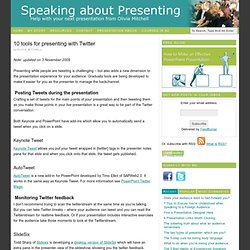 Presenting while people are tweeting is challenging – but also adds a new dimension to the presentation experience for your audience. Gradually tools are being developed to make it easier for you as the presenter to manage the backchannel. Posting Tweets during the presentation
Twitterwall.me - Create your own Twitterwall
Des dessins dans vos tweets
Twitter : 8 outils pour traduire les Tweets
Twitter est un service exploité aux quatre coins du monde .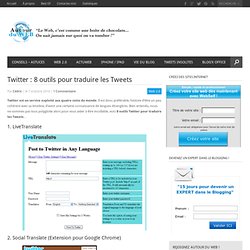 Twalendrier - Calendrier Twitter 2010
Journal de Twitter, Voir tes tweets dans un journal
Tweet + Quickly: Twitter Tool for Quick Tweeting
feedback tool for creating online polls and surveys
Twinverse - Our Planet is a Virtual World
The Twitter Times: agentit
Twitpic ajoute le « Face Tagging » « L'oeil ecoute
Twitter
TwitLens -