Edition
Outils pour prolonger la durée de vie de vos tweets. Schedule your Tweets - futuretweets.com. @twitterstories. Paper.li – read Twitter as a daily newspaper. Twitterfeed.com : feed your blog to twitter.
Daily on Twitter as shared by André. The Tweeted Times - personal newspaper generated from your Twitter account. Paper.li, ou comment lire Twitter... comme un journal. 114 expressions à connaître quand on s'intéresse aux blogs Vous pensez bien connaître le vocabulaire classique des blogs : modérateur, blogroll (= blogoliste), catégorie, nuage de tags… Je n'en… Lire la suite [...]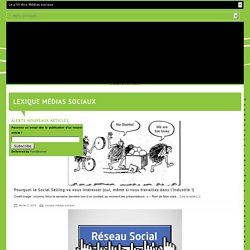 Astuce #Facebook du jour : comment modifier le nom de votre page Facebook. Tools for presenting with Twitter. Presenting while people are tweeting is challenging – but also adds a new dimension to the presentation experience for your audience.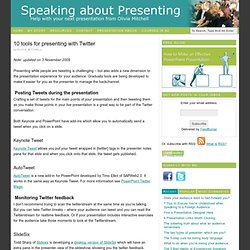 Gradually tools are being developed to make it easier for you as the presenter to manage the backchannel. Posting Tweets during the presentation. Graphisme & Design. Présenter les tweets. Twitpic - Share photos on Twitter. Twitterwall.me - Create your own Twitterwall.
Des dessins dans vos tweets. Twitter : 8 outils pour traduire les Tweets. Twalendrier - Calendrier Twitter 2010. Twitlonger - When you talk too much for Twitter. Journal de Twitter, Voir tes tweets dans un journal. Tweet + Quickly: Twitter Tool for Quick Tweeting. TweetEffect- When did you lose or gain twitter followers? Feedback tool for creating online polls and surveys. Twinverse - Our Planet is a Virtual World. Easy data exports. Lovable spreadsheet format. | Export.ly. TweetMeNews - Serving personalized news on Twitter. The Twitter Times: agentit. Tweetstream.
Tweepler (Tweepler.com) Twitpic ajoute le « Face Tagging » « L'oeil ecoute. Programmer vos tweets avec amour | Clocktweets.com. Twitter. TwitLens -
---