Client Twitter
sh
HomePuzz Share all easily on Twitter, Facebook, Google buzz
Si Facebook reste, et de très loin, le réseau social le plus fréquenté du monde avec un nombre d'utilisateurs qui pourrait prochainement passer le million, Twitter est sur une courbe de croissance tout à fait étonnante. Le site de micro-blogging, directement intégré dans la prochaine version majeure de l'iPhone (iOS 5), vient en effet de passer le cap des 100 millions de membres actifs. En tout, la société californienne compterait pas moins de 200 millions de membres, dont 55% d'utilisateurs à se connecter via un terminal mobile. Voici une sélection de dix programmes ou applications pour consulter son ou ses comptes Twitter depuis un ordinateur, une tablette ou un smartphone.
Le Top 10 des clients Twitter gratuits : Introduction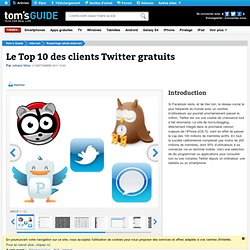 If you are a Microsoft ® Outlook ® user, you probably have it open all the time. Now you can have a fully-featured, powerful Twitter client at your fingertips without having to open any other applications. TwInbox seamlessly integrates Twitter into Outlook. It is a perfect Twitter client for any Outlook user, from a Twitter newbie to a business professional. Follow @TechHit on Twitter to receive update notifications. Features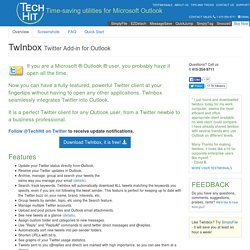 TwitterBar
Gwibber in Launchpad
TweetGlide - Desktop Application for Twitter, Facebook | Soon iP
TwitterWatch - Real Time Twitter Update - Galerie des extensions
tDash.org | Twitter Dashboard
Our Commercial Fridges Will Work For Your Business–This is a promise from us to any business that chooses to use our products. The fridges we supply are of great quality, and they come in many different shapes, sizes, and colors. We have as many diverse fridges as possible, so that a diverse number of restaurants can use our product. Once the product is ordered, our professionals will deliver the product and place it in the exact spot where it is needed. The only thing the business owner has to do is get to work.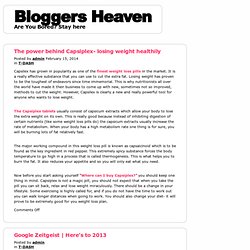 Pluggio - The Helpful Twitter Client (Previously TweetMiner)