[+]FunStuff
My Top Tweet
#HashtagBattle
The Social Radio
TimeTweets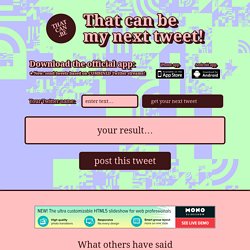 That can be my next tweet
Gizmodo Dreamlike. Semi-sensical. Sort of terrifying. The site is less a Twitter toy than a disturbing peer into my subconscious.
Tweenk is a game with minimal user's involvement. Everytime you tweet, your alter ego finds adventures, kills monsters or gets items. What should I do? Tweenk is a game with minimal user's involvement.
Tweenk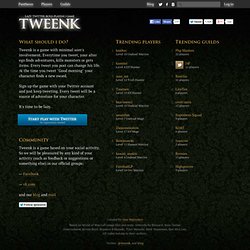 twtr activity
TweetToSpeach
Project Information About this project: This is the TweetToSpeach project ("tweettospeach") This project was registered on SourceForge.net on Aug 19, 2010, and is described by the project team as follows: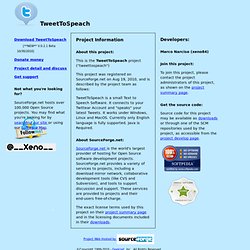 Twitter Birthday
Tori's Eye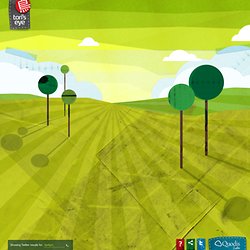 Welcome to Tori's Eye! Tori's eye is a Twitter visualization tool, inspired by papercraft and origami. It's a visual and technical experiment implemented using only standard XHTML/CSS and Javascript. What does it do? Enter a word in the search box and then catch some birds with your mouse to read the tweet they're carrying. Tori's Eye fetches the latest tweets containing the word you input from Twitter Search.
The Print Effect
PeTweet
Play Chess on Twitter
Shitty Day
TwitterLoo
Who's Poopıng on Twıtter
Shitter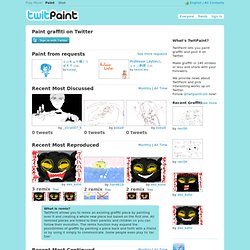 Paint graffiti on Twitter 0 tweets What is remix? TwitPaint allows you to remix an existing graffiti piece by painting over it and creating a whole new piece but based on the first one. All remixed pieces are linked to their parents and children so you can follow their evolution.
TwitPaint
DrawTweet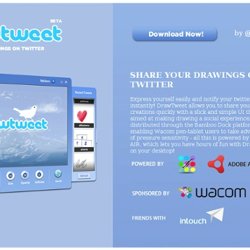 by @fabianv Express yourself easily and notify your twitter friends instantly! DrawTweet allows you to share your creations quickly with a slick and simple UI that is aimed at making drawing a social experience. It is distributed through the Bamboo Dock platform, enabling Wacom pen-tablet users to take advantage of pressure sensitivity - all this is powered by Adobe AIR, which lets you have hours of fun with DrawTweet on your desktop!
twitdraw
FoodFeed
TweetWhatYouEat
Foamee
TweetsBetween
Fun Tweets daily
The Tweet Hereafter