Tree-life
A tree-house, old child's dream... Let's gather here all we can find about designer's and architect's tree-houses.
Artikel. Interview Das Wesen zur Erscheinung bringen Günter Manke gab wiederholt Plastizierkurse an der Imkerei Fischermühle und leitet zum Bau des von ihm entwickelten Weißenseifer-Hängekorbes -einer speziellen Bienenbehausung- an.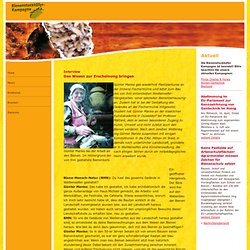 Zudem hat er bei der Gestaltung des Geländes an der Fischermühle mitgewirkt. Studiert hat Günter Manke an der staatlichen Kunstakademie in Düsseldorf bei Professor Mattaré, dem er seinen besonderen Zugang zu Kunst, Umwelt und nicht zuletzt auch den Bienen verdankt. Nach dem zweiten Weltkrieg zog Günter Manke zusammen mit einigen Kommilitonen in die Eifel. Treelife.
We are excited to announce that our first offline event, TreeLife by TCH, will be unveiled in a major city in 2013.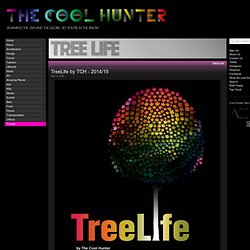 This event will showcase innovative and creative sustainable architecture, and illustrate that green can co-exist with urban city life. The world's first major public exhibition of 'green design' treehouses, TreeLife will bring the biggest names in international architecture, design and art into the one public place for the first time, showcasing cutting edge green and sustainable design. Life in the trees Treehouses have become creative eco-statements in the design world. They allow people to literally be "in" nature and peace above the stressful street level of life. Yellow Treehouse Restaurant / Pacific Environments. Architects: Pacific Environments / Peter Eising & Lucy Gauntlett Location: Auckland, New Zealand Project Managers: The Building Intelligence Group – Gareth Skirrow, Blair Wolfgram, Joe Holden Engineers: Holmes Consulting – Chris MacKenzie & John Worth, Martin Feeney – Holmes Fire Building Contractors: NZ Strong – Shane Brealey, Paddy Molloy, Megan Roberts; Citywide Construction Ltd – Jim Bellamy Timber Fins: McIntosh Timber Laminates – Owen Griffiths, Sandy Sandiford Lighting: ECC Lighting & Furniture – Renee Kelly Project year: 2008-2009 Photographs: Lucy Gauntlett It's not often that a commission to design a treehouse is offered, so when Colenso BBDO – on behalf of Yellow Pages briefed Pacific Environments Architects for a 'reality' TV advert for an off-the-wall functioning restaurant, Pacific Environments jumped at the opportunity.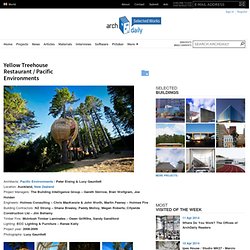 Tree hotel / Tham & Videgård Hansson Arkitekter. An interesting concept for a camouflaged hotel on a tree by Swedish architects Tham & Videgård Hansson Arkitekter: The concept is to create a shelter up in the trees, a lightweight aluminum structure hung around a tree trunk, boxes clad in mirrored glass, 4x4x4 meters.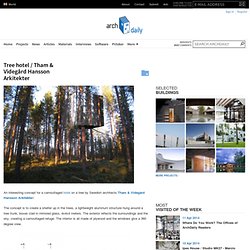 The exterior reflects the surroundings and the sky, creating a camouflaged refuge. The interior is all made of plywood and the windows give a 360 degree view. Final Wooden House / Sou Fujimoto. Architects: Sou Fujimoto Architects Location: Kumamoto, Japan Project Team: Hiroshi Kato Structural Consultant: Jun Sato Structural Engineers Lighting: Hirohito Totsune Contractor: Tanakagumi Construction Design Year: 2005-2006 Construction Year: 2007-2008 Site Area: 89,3 sqmConstructed Area: 15,13 sqmPhotographer: Iwan Baan I thought of making an ultimate wooden architecture.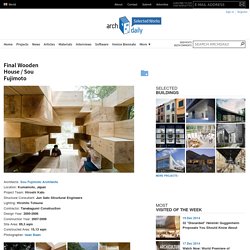 It was conceived by just mindlessly stacking 350mm square. Lumber is extremely versatile. In an ordinary wooden architecture, lumber is effectively differentiated according to functions in various localities precisely because it is so versatile. Columns, beams, foundations, exterior walls, interior walls, ceilings, floorings, insulations, furnishings, stairs, window frames, meaning all. Baumraum Treehouses. Some of us think that our far off ancestors lived in the trees — and during our childhood, when our thoughts and memories are most pure, we yearn to climb trees growing in our gardens, in our parks, in our cities.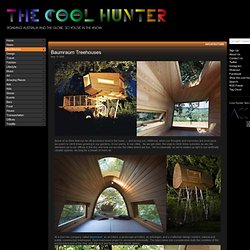 As we get older, the urge to climb trees subsides as we ride elevators up to our offices in the sky and look out across the cities where we live. Yet occasionally, as we're sealed up tight in our artificially climatic spaces, we long for a breath of fresh air. At a German company called baumraum an architect, a landscape architect, an arbologist, and a craftsman design modern, natural and solidly constructed treehouses.
Bienvenue - La Cabane de Lyon. TreeHousesofHawaii. O2Sustainability. Inhabitat. Inhabitat » T-Tree: A Towering Community of Prefab Pixel Homes. Appearing as a cross between a Tokyo capsule hotel and a pixellated prefab treehouse, the T-Tree housing community offers residents the opportunity to live among the clouds.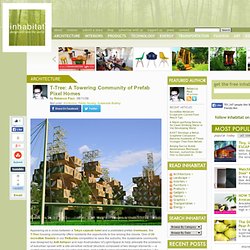 One of 20 incredible finalists in our ReBurbia competition to save the suburbs, the sustainable community was designed by Adil Azhiyev and Ivan Kudryavtsev of Light+Space to help alleviate the problems of suburban sprawl with a site-sensitive vertical structure composed of two design elements — a central core containing an elevator and stars, and a lofted series of prefab housing modules. Like the trunk of a tree the core serves as the base, while the housing modules are stacked one on top of the other to create a tower of alternating cubes and activated space.
Although prefab residential skyscrapers such as this has been explored in the past, the design of the T-Tree is thoroughly dynamic, modern, and convenient. Inhabitat » TREETOP OFFICE: Eat Your Heart Out, Cubicle Warrior. One look at this office nestled amid the treetops and you might contemplate how to change your life in order to have a workspace with such an incredible view.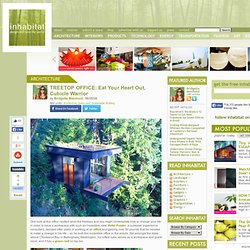 Peter Frazier, a customer experience consultant, decided after years of working at an office and gaining over 50 pounds that he needed to make a change in his life – so he built this incredible office in the woods. Set amongst the trees above Chuckanut Bay in Bellingham, Washington, his lofted cube serves as a workspace and guest room, and it has a green roof on top too. The gorgeous office sits below the main house and is nestled into the trees to blend in to its environs. Inhabitat » Vegetal City: Idealistic Visions of Our Urban Future. Ever wonder what our modern-day cities could look like 100 years from now in a perfect world?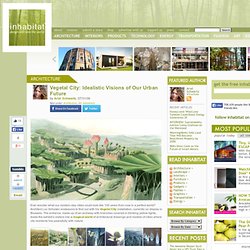 Architect Luc Schuiten endeavors to find out with his Vegetal City installation, currently on display in Brussels. The entrance, made up of an archway with branches covered in blinking yellow lights, leads the exhibit's visitors into a magical world of architectural drawings and models of cities where city residents live peacefully with nature. According to the 65 year-old architect, "You cannot feel good in light of all the environmental pollution and the grim perspectives for the future." Instead Schuiten, a self-proclaimed utopist, sketches alternatives.
Inhabitat » Ladonia: A Micronation Made of Driftwood and Nails. Looking for a change of scenery?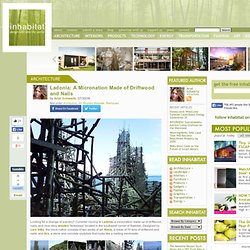 Consider moving to Ladonia, a micronation made up of driftwood, nails, and nine-story wooden "fortresses" located in the southwest corner of Sweden. Designed by Lars Vilks, the mock nation consists of two works of art: Nimis, a maze of 70 tons of driftwood and nails, and Arx, a stone and concrete sculpture that looks like a melting sandcastle. Vilks has managed to dodge government interference with the project by selling Nimis to Cristo, another artist, and by declaring Ladonia to be an independent nation in 1996. Inhabitat » 'Landscape Apertura' Treehouse Frames Nature Exquisi. Robert McLaughlin's 'Landscape Apertura' treehouse near Kansas City, offers calculated views into nature via six strategically placed, vibrant green frames. Each frame is designed to capture a specific outlook, which enables one to appreciate and focus on a small perspective of the expansive great outdoors.
As thoughtfully crafted as its outward gazes, Landscape Apertura is constructed in a Lincoln-log fashion with 90% recycled wood sourced from surrounding deconstructed houses through Habitat For Humanity ReStore. This whimsical treehouse is like a camera, permanently poised to capture nature at its most beautiful, and we'd love to snap up the views. Inhabitat » Coco Hut: An Outdoor Shed Made of Scrap Wood. What do you do if you love treehouses like us, but don't have a tree to build on? Netherlands-based designer Gert Eussen may have a solution with his Coco-Hut, a cozy and round hut made of scrap and FSC-certified wood. With an element of whimsy, the structure looks a little bit like a beehive with a linear version of the honeycomb texture. The Coco-Hut is also unmistakably cute with its round shape and humble staircase leading inside.
In conceptualizing the hut, Eussen set out to use scrap wood in a creative and replicable way. Inhabitat » Japanese Treetop Tea House is "Built Too High" The Japanese certainly have a penchant for out-of-this-world tree-top architecture, and this incredible Takasugi-an tea house is no exception. Designed by architect Terunobu Fujimori, the tree-bound tea house stands precariously perched upon the trunks of two timbers erected on a plot of family land in Chino, Nagano Prefecture.
In Japan, tea masters have traditionally maintained total control over their construction of their tea houses. Inhabitat » GREEN WEEKEND GETAWAY: Linda Aldredge's Treehouse. If you head north from New York City and hang a left on Route 28 up near Woodstock you'll find yourself on a very scenic drive through Catskill State Park. Verdant hills dotted with lakes and ponds seem to roll on forever in between the forested mountain tops.
It is here, up in the trees, that Linda Aldredge, the owner of LuLu Organics, built her weekend getaway. We came across Linda's blog about her experience in the woods via a profile of her friends on The Selby. We immediately thought that Inhabitat readers would appreciate Linda's treehouse as not only a sustainable shelter, but as a reminder of how functional and rewarding small and simple can be. Inhabitat » Raindrop Shaped Treetents by Dré Wapenaar. Sylvan housing reaches new heights with these wonderful dewdrop shaped Treetents by Dutch sculptor and designer Dré Wapenaar. Originally designed to ease the lives of tree-sitting activists, they also make excellent treetop retreats for campers, kids, and anyone soothed by an evening spent softly swaying among the branches.
Each beautifully formed droplet attaches directly to a tree trunk and is roomy enough to sleep a family of four. According to Dré Wapenaar, "The story of my tents as they relate to campsites, however, started with the Treetents which were originally designed for the Road Alert Group in England. This group of activists fight against the excessive constructing of highways through forests. Inhabitat » Living Lightly Among the Trees in Australia. Arborsculpture: extreme trees planted and shaped by richard ream.
---
bil Aug 11 2009

Carte en devenir, tout reste à faire....
---