Travelling
Verzeichnis der Plattform für deutschsprachige Reiseblogger. Australien (Western Australia, South Australia, Victoria, New South Wales, Queensland, Tasmania), Belgien, Belize, Cook Islands, Costa Rica, Curacao, Dänemark, England, Fiji, Franz.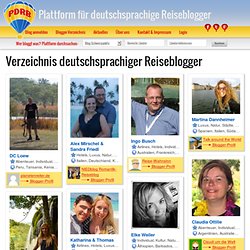 Polynesien, Frankreich, Finnland, Griechenland, Guatemala, Hong Kong, Holland, Irland, Italien, Indonesien, Kambodscha, Laos, Myanmar, Marokko, Mexiko, Malaysia, Norwegen, Neuseeland, Österreich, Polen, Portugal, Spanien, Slowenien, Schweden, Schweiz, Singapur, Sri Lanka, Türkei, Thailand, UAE, USA (New York, North & South Carolina, Kalifornien, Washington, Oregon, Nevada, Florida), Venezuela, Vietnam. Mitfahrzentrale | mitfahrgelegenheit.de. Reisen für wenig Geld. Noch einmal unter Palmen sitzen, die Sonne auf der Haut spüren und Licht tanken für den dunklen Winter.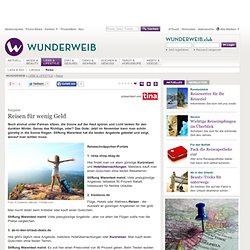 Genau das Richtige, oder? Das Gute: Jetzt im November kann man schön günstig in die Sonne fliegen. Stiftung Warentest hat die besten Angebote getestet und zeigt, worauf man achten muss. Foto: © Dudarev Mikhail - Fotolia.com. Start Here - y Travel Blog. Thanks for sharing your concern Melissa.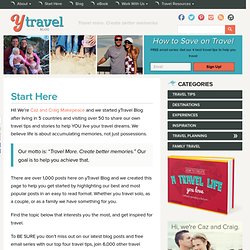 However, how do you suppose we continue to share about family travel if we don't generate revenue? I'm disappointed that you expect us to spend 80+ hours a week pumping out a huge amount of value and tips, helping to transform people's lives and inspire more families to travel for free. I'm sorry but we just can't do that. I don't know who could possibly do that for free. Apart from all that, we are sharing B-School because we have a very large number of people following us, who wish to create a digital nomadic lifestyle so they too can travel like us.
World Wide Opportunities on Organic Farms - WWOOF. 10 Best Cities for Music Lovers. Photo:Britt Reints A true music lover isn't content to have a great road trip playlist; they want to experience the local music scene wherever they go.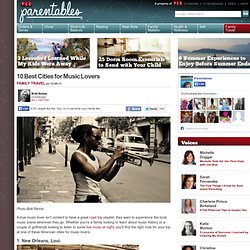 Whether you're a family looking to learn about music history or a couple of girlfriends looking to listen to some live music at night, you'll find the right note for your trip at one of these American cities for music lovers. Vagabondish | Dubious tips & essential ephemera for today's curious traveler. The Wanderlust Project. There is to me, a lot more to admire in someone who stayed put and challenged their perspectives and habits and lifestyle choices at home than there is to some first world Instagram addict who conf… Lake Dunstan, New Zealand Here's the view during lunch en route to Queenstown.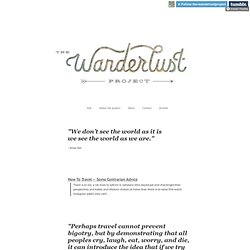 We stopped along the way with our new friend, a young German fella who we'd met at our host's home in Tarras. A fellow Couchsurfer, as well as our first hitchhiker! Watching the sunset, Tarras. Make a Rubber Band Travel Clothesline ( for Less Than $1 ) I have always loved the concept of those rubber travel clotheslines (I'm an engineer; what can I say.)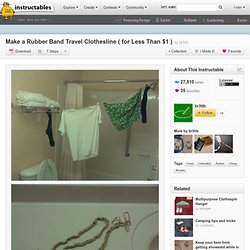 They stretch to accommodate different spans, and there's no need for clips or hangers. I was not, however, about to shell out $10 plus shipping and handling to get one. (if you're not as cheap as I am, you can buy one here) Spotted by Locals - Local insider tips in 41 cities in Europe. Stockholm, and the Strangers Who Brought Me There. NECTAR & PULSE - Your local soulmates. C'est Christine l Solo Female Travel Blog. Adventurous Kate | The Solo Female Travel Blog. Solo female travel - Nine myths and one truth. This week's guest blogger, with a post titled 'Solo female travel - Nine myths and one truth', is Stephanie Yoder, a girl who can't sit still.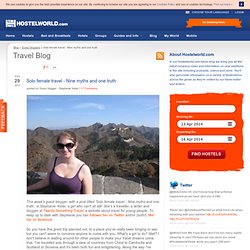 She's a traveller, a writer and blogger at Twenty-Something Travel, a website about travel for young people. To keep up to date with Stephanie you can follower her on Twitter and/or (both!) 'like' her on facebook. So you have this great trip planned out, to a place you've really been longing to see, but you can't seem to convince anyone to come with you. Twenty-Something Travel. How to See the World: Art of Travel; European and World Backpacking; On $25 a Day or Less.
---