Travel 3
JUST TRAVELOUS | follow me on my way to travelosity
The Vacation Gals
Adventure holidays | Adventure travel | Activity holidays
While on my 5 week sojourn in India, I tried a few Indian foods. Ok, I tried lots and lots of Indian foods. Sometimes I stuck to the same ol' favorites, like sag paneer and sometimes I branched out to things like goat (not so bad). And there were plenty of times that I skipped the Indian food and dove straight into some hummus.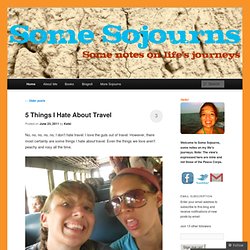 Some Sojourns | Some notes on life's journeys.
Fall in Portland- I'm Still Here! // December 16th, 2013 // 1 Comment » // Oregon Enjoying the Portland Trail Blazers- so fun :)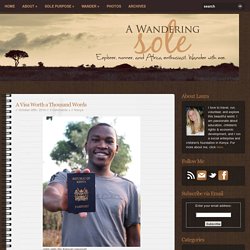 A Wandering Sole
live travel blog
Round-the-World Travel Blog | Inspiration
It was night when I landed in Kathmandu, in mid-May this year. It had been a long eighteen hours from Sydney via Guangzhou with the cheap, cheerful and overheated China Southern airlines. The weeks before the flight had been even longer.
lasaventurasdesara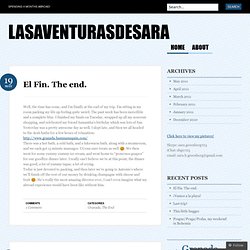 Prague. My final personal and flight-requiring excursion of my study abroad experience. Weird. Thankfully also my last experience of unnecessarily traveling the 5 hours to Madrid, just to sleep uncomfortably in the airport. The bus was actually the nicest bus I've taken so far, but I got zero sleep while we were in the airport, can't win 'em all.
Merry Christmas Madness! Christmas has been and gone and somehow my blog is still living back in October. Time to sit down and reflect on the past couple of months. As always it has been a busy time, especially with the lead up to Christmas.
The Amazing Adventures of Kate and Bear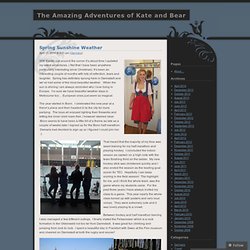 hello my long lost interwebians. i've been back states-side for two months now and i still get a heartache when i think about my 127 day adventure being over. visiting friends and family has been a blast and a blessing, if there was a way to take all my loved ones on a never-ending travelcation, i'd be all over it. i've attempted to answer questions about the trip, narrowing it down to a few favorite memories and locations. i'm about as successful at that as i am at deciding and articulating what i'm going to do next with my life. in case you haven't gotten to personally experience the answer to any of those questions, just envision some rambling interspersed with a few 'ums'. thankfully one of the take-aways of my trip was to gain a little perspective. if i can navigate my way from andorra to barcelona to scotland to france, all on my own using budget transportation, then i can handle the ambiguity of this next stage in my life.
127 days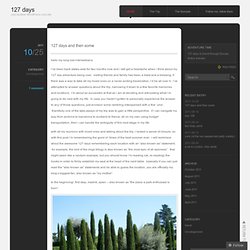 Morocco is one of those places I have always dreamed of going, but I never thought I'd have the opportunity to actually go. My study abroad program, CEA, offered a trip through Morocco Exchange for a three night, four-day, and right away I knew I had to go. We would be doing two nights at a homestay outside Marrakech and then one night in Marrakech. I knew this would be a trip of a lifetime. I did not know too much about Morocco, and especially Marrakech, but I did have a few preconceived feelings and ideas about the Muslim people. In America Muslims are portrayed as very religious people who are most likely terrorists.
Two Worlds Colliding: Barcelona and America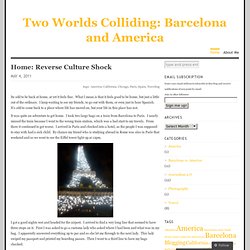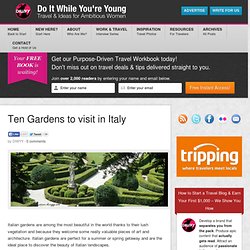 Asia is an incredible continent filled with different things to explore and see. Many Asian countries are following a trend found all around the world by catering to gambling tourists. Over the past few years many Asian countries started to build more and more casinos in their cities in order to bring in a high number of these tourists to enjoy casino gambling. The city of Macau has been building new casinos for many years. Macau has actually started pulling more money than Las Vegas or any other casino in the world and this making it famous. One of the best casinos you can go to in Macau has to be the Altira Macau as it has an impressive casino floor.
do it while you're young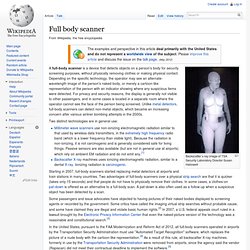 Backscatter x-ray image of TSA Security Laboratory Director Susan Hallowell A full-body scanner is a device that detects objects on a person's body for security screening purposes, without physically removing clothes or making physical contact. Depending on the specific technology, the operator may see an alternate-wavelength image of the person's naked body, or merely a cartoon-like representation of the person with an indicator showing where any suspicious items were detected. For privacy and security reasons, the display is generally not visible to other passengers, and in some cases is located in a separate room where the operator cannot see the face of the person being screened.
Full body scanner
the cheapest destinations blog
Take the leap! If you live in the UK, Holland, or Australia and you tell people you're going to go backpacking around the world for a year, you'll get a lot of nods and slaps on the back. If you say you're moving abroad somewhere, they'll probably ask when they can come crash at your place. You probably won't be looked at as a loony. In much of the USA or even Canada, however, it's still a different story.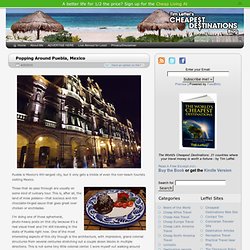 my travel map
Backpacking the Goat Rocks Wilderness If you're into wilderness backpacking and you have not been to the Goat Rocks Wilderness of Washington State, you're missing out. It is potentially the best backpack I have ever been on (and that includes the one I did in Patagonia, Argentina!).
I'm going to Germany
Two days before Switzerland we had a company visit in Cologne. We visited Nuro Games they make games for iphones and androids. Then we went and got ice cream! Me and Laura split this one it was called an after eight mint ice cream deluxe something or other. IT WAS AMAZING! I'm so glad it's finally getting warm enough to have ICE CREAM!!
peru en route
I Heart Mondegreens
globe trekker blog
"Globe Trekker," shown in the U.S. on PBS, is my favourite travel show because it focuses on real travellers experiencing slices of local cultures, not sightseeing. McCormick is my kind of traveller. Her enthusiasm for the places she visits is infectious and you can't help but conclude that she'd be a fun person to travel with. She got the travel bug in college and has found a way to make a living out of her wanderlust.
globe trekker videos (youtube)
Globe Trekker transports viewers to unforgettable destinations through its stunning photography and spirit of adventure. In each episode, we send our charismatic hosts Ian Wright, Justine Shapiro, Zay Harding, Megan McCormick, Brianna Barnes, Holly Morris, Judith Jones and more off the beaten path to soak up the local culture, sample the cuisine and revel in breathtaking vistas. Globe Trekker's motto? "living as the locals do!" Explore your favourite Globe Trekker episodes by using the drop down menu below to find out more about your favourite series or show.
travel instructables
explore
travel blog
travel lady
Journalist On The Run
backpacking worldwide
kaypacha travels
skinny backpacker
jack and jill travel
connvoyage
backpacking matt
have pack will travel
where is jenny
travel on twitter
Sightseeing Places
Free Travel Review
Travel Planning Tools. AdventureBimbling Travel Guides. Adventure Bimbling
Meet Us In Munich!
Another Flight Attendant Writing