Travel
The tastiest snacks always come in see-through wrappers. Always wear a helmet. That way no one can see you cry.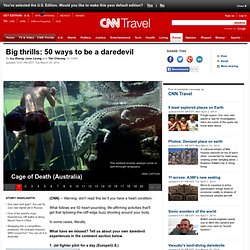 Thrill seeker's bucket list: 50 experiences to try before you die #2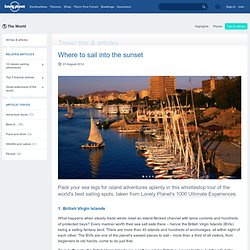 Pack your sea legs for island adventures aplenty in this whistlestop tour of the world's best sailing spots, taken from Lonely Planet's 1000 Ultimate Experiences. 1. British Virgin Islands What happens when steady trade winds meet an island-flecked channel with tame currents and hundreds of protected bays? Every mariner worth their sea salt sails there – hence the British Virgin Islands (BVIs) being a sailing fantasy land. There are more than 40 islands and hundreds of anchorages, all within sight of each other.
The ultimate sailing trips
Sign in or | No account yet? Sign up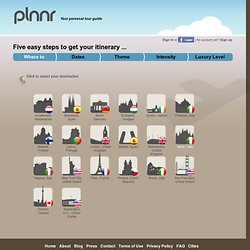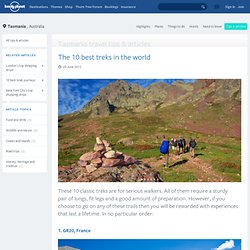 These 10 classic treks are for serious walkers. All of them require a sturdy pair of lungs, fit legs and a good amount of preparation. However, if you choose to go on any of these trails then you will be rewarded with experiences that last a lifetime. In no particular order: 1. GR20, France
16 Crazy Parties You May Not Know About | The KoldCast TV Blog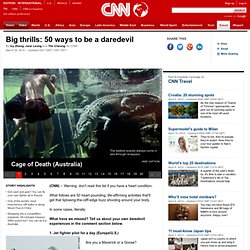 Nude runs, meals in the sky, cycling on one of the world's most dangerous roads. There's no excuse for being bored with so many adrenaline-pumping adventures out there. Here are 50 heart-pounding, life-affirming things to try before you die -- just don't do them all in the same week or they may be the very thing that kills you.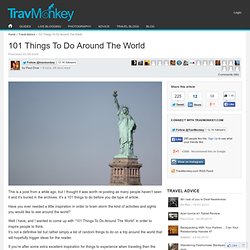 This is a post from a while ago, but I thought it was worth re-posting as many people haven't seen it and it's buried in the archives. It's a 101 things to do before you die type of article. Have you ever needed a little inspiration in order to brain storm the kind of activities and sights you would like to see around the world? Well I have, and I wanted to come up with "101 Things To Do Around The World" in order to inspire people to think. It's not a definitive list but rather simply a list of random things to do on a trip around the world that will hopefully trigger ideas for the reader.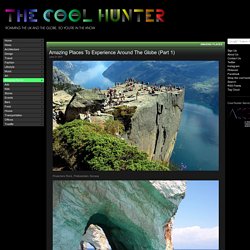 Preachers Rock, Preikestolen, Norway Blue Caves - Zakynthos Island, Greece Skaftafeli - Iceland Plitvice Lakes – Croatia Crystalline Turquoise Lake, Jiuzhaigou National Park, China Four Seasons Hotel - Bora Bora
10 Incredible Mountain Bike Trips | Bicycling Magazine