Travel
travel japan
Wanderings and Musings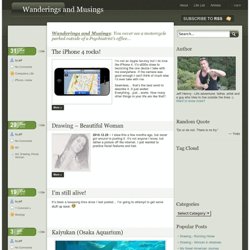 I really wanted to see two Japanese cultural events while I'm here in Japan. Sumo and Kabuki. And I got the chance the other day to go to a Sumo event. This is actually harder than I had initially thought it would be, as there are only three Sumo festivals per year and then each of the festivals only have 15 days of Sumo. I was very fortunate for the spring event to be being held while I am here in Tokyo and then to have a group that I met be going so I wasn't completely clueless about where to go and what was going on.
The story begins on the outskirts of Jodhpur in the village of Jalnadi, home of the Bishnoi people. The year was 1730, give or take. Servants of the maharajah, or king, travelled there looking for timber to build his new palace. That they arrived in Jalnadi was no coincidence they knew that the Bishnoi, a religious sect that worshipped nature, forbade the felling of trees.
Photito's Blog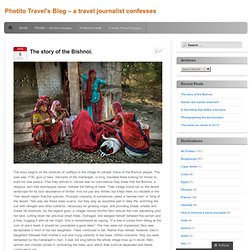 travel in the know
Overall, Christmas is time of joy, giving, appreciation, and spending time with your loved ones. Like everything else in the world, there is a good and bad side to everything. During the holidays, many family and friends gather to catch up on the things they have missed and reminisce about old times.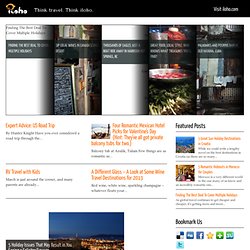 Anne Lise (travel tasting)
Tombs & Temples of Egypt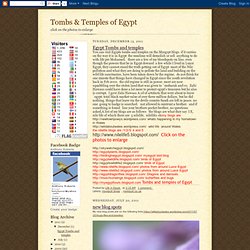 The Temple of Medinet Habu at sunset.4.6.10 Medinet Habu is the name commonly given to the Mortuary Temple of Ramesses 111an important New Kingdom period structure in the location of the same name on the West Bank of Luxor in Egypt. Aside from its intrinsic size and architectural and artistic importance, the temple is probably best known as the source of inscribed reliefs depicting the advent and defeat of the Sea Peoples during the reign of Ramesses IIIThe temple, some 150 m long, is of orthodox design, and resembles closely the nearby mortuary temple of Ramesses II (the Ramesseum). The temple precinct measures approximately 700 ft (210 m). by 1,000 ft (300 m) and contains more than 75,350 sq ft (7,000 m2) of decorated wall reliefs.[1] Its walls are relatively well preserved and it is surrounded by a massive mudbrick enclosure, which may have been fortified.
December 2008 - I do not really drink that often but lately it seems when I do I tend to try and make up for lost time. My friend organized a Christmas party for the people with whom she works and kindly invited me to tag along. The scene was laid back and her peeps rather friendly.
Adventure travel (Ploomer's Plight)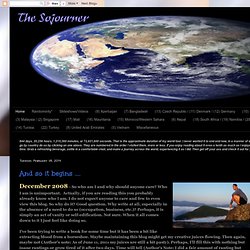 Year Around The World | A Vagabonding Travel Blog
Adventures Great and Small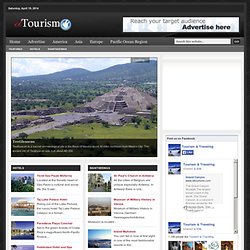 Tourism and Traveling | World's Best Hotels and Best Sightseeings
Featured Teotihuacan Teotihuacan is a sacred archaeological site in the Basin of Mexico about 30 miles northeast from Mexico City. The ancient city of Teotihuacan was built about AD 200. Teotihuacan is known for its large residential complexes, the Avenue of the Dead, and numerous colorful, well-preserved murals and as one of the seven wonders too.
One of the reasons why I blog is simply to have the space to write: getting things "on paper" helps me to process my feelings and organize my thoughts. I also love having a record of my life over the past few years: a place that holds all of my stories, my photos, the ups and downs of travel. But sometimes, I also just want to remember and share the little things that brought me day-to-day joy. Every Friday, I'll give you a peek into the book I currently can't put down, a great restaurant discovery, a fun new product or an inspiring quote: a few things that I think you might enjoy before we all take off into the glory that is the weekend! In super fun news: this little video for the Sally Hansen #ShineOn campaign was released! As much fun as it was to have a makeup artist, hairdresser, stylist and team of videographers and photographers: I think I'll stick to writing.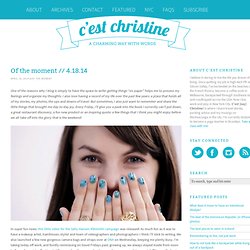 C'est Christine — California Girl / French Riviera
039;s Blog!
Travel
lastminute travel
Teresa Fritschi, Last Minute Travel and LMT Club Guest BloggerRead more of Teresa's posts on her blog at: http://teresafritschi.wordpress.com I recently received an email from my friend Ken at Last Minute Travel and LMT Club – "Would you like to be our #TravelTweetChat guest for this week, the topic is travel and romance…" to which I replied, "Yes, I'd love to!" 11 months of meeting (all kinds of) men through OKCupid, years of thinking (and writing) about 'happy endings' as well as the promise of new beginnings, passion, intimacy, tenderness, romance, words to convey longing, reuniting, and love, exploring the world (largely alone) – maybe he wasn't so far off with his subsequent words of "We need an expert on love and travel, that's you!"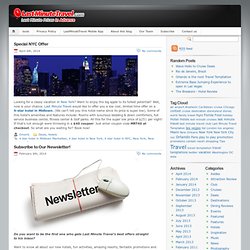 Blog
Packing Some people pack heavy. Some pack light. Some love packing. Some hate it.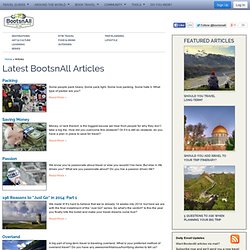 Travel Articles
Blogtelopia - travel blog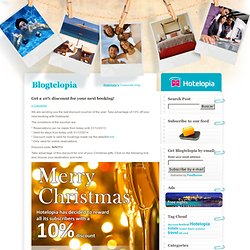 Alfama is one of the oldest quarters in Lisbon. It has maintained its Arab structure, with its labyrinthine streets, courtyards and lanes. The Sé (Cathedral) is wonderful, and the Feira da Ladra (flea market) also takes place here. Next to Alfama are the quarters of Castelo and of Mouraria. Throughout the month of June, during the Santos Populares (Patron Saints) celebrations, these quarters are packed with music, dancing and food. Bairro Alto is today one of the city's most animated quarters, with trendy bars, restaurants and shops.
Latest Post The Wander Project is Dead. And I'm really, really happy about it.
The Wander Project
DIY Holiday: MORE Printable Gift Tags | The Spotted Fox
I go to San Diego at least once a year to visit family and friends, yet I have never written anything about this perpetually sunny town. I love the beaches, Coronado, the famous San Diego Zoo, Balboa Park, and the Gaslamp district's restaurants and nightlife but no matter what, I always spend a weekend morning in San Diego's Little Italy. It's main street, India Street, is packed with restaurants, delicatessens, cafes, and gelaterias that include al fresco dining options plus the neighborhood has a lively farmer's market every Saturday morning. I highly recommend spending a few hours on Saturday or Sunday to explore this Italian enclave and here's just a taste of what you can eat!
Be A Travel Bee
Travel links
Travel
There is nothing more relaxing than taking a visit to the sun capital in the US – FLORIDA. If you want to come for a vacation, any time all year round is a good time as there is a lot of sunshine. Activity in Florida never stops, with numerous activity to fill your day long itinerary. With numerous shores for you to... read more With the events of the September 11 2001 still fresh in most peoples' minds, there is no doubt that the heartbreaking and devastating moments linger in the mind of many.
Todd's Wanderings
Jane E. Fraser travel reveiws
Sightseeing with Google Satellite Maps
Travel Photography
Velvet Escape - go explore. experience. and be inspired.
Tripcrazed - Blogs About Traveling
Pictures from around the world
Akademi Fantasia Travel
AirTreks Travel Blog
www.freedoniapost.com
Kelsey Freeman
Travels of Adam
Forget Obligation Go Global... it's your odyssey!
The Global Traveler - Travel Destinations, News For Travelers
Estudi Digital - Fotografies panoràmiques virtuals
Golberz.Com
Dyscario - Modern and new magazine
The Tanager Blog
The Grass Skirt
Greece Travel: Meteora
Frikoo - design and culture
Traveling with MJ - Taking you along wherever I go
12345 Travel Adventure (Tips and Guide)
World Travel
Travel Junkie Julia
Travel Blog - Tripbase
Travel Guide
Mother Trip
Globe Trekker TV.com - adventure travel on American Public Television
Traveldudes – For Travelers, By Travelers!
A Luxury Travel Blog
52 Perfect Days | Online Travel Magazine, Travel Articles and Ideas
Volunteer Abroad | Career Breaks & Gap Year | Inspire
italy magazine