Travel
GPlusMedia Building International Japan Carrying our vision of Building International Japan, GPlusMedia provides internet platforms for people and businesses to communicate and share across languages and cultures in Japan. Visit GPlusMedia
travel japan
Wanderings and Musings
Photito's Blog
Travelog
travel in the know
Luxury Rajasthan Holiday - your tailor-made Rajasthan
Anne Lise (travel tasting)
Tombs & Temples of Egypt
Adventure travel (Ploomer's Plight)
Year Around The World | A Vagabonding Travel Blog
Adventures Great and Small
Tourism and Traveling | World's Best Hotels and Best Sightseeings
C'est Christine — California Girl / French Riviera
Travel
Where Is Jennifer
039;s Blog!
lastminute travel
Atlanta hotels offer everything a savvy traveler would want while preserving the traditions of a bygone era. The Georgian Terrace , for instance, is a fine example of historic Atlanta hotels and of great value for your money. Its construction dates to 1911 and while boasting old world ambience it affords guests all the modern conveniences.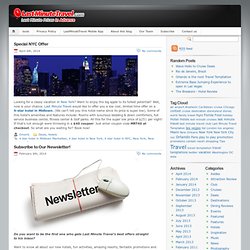 Blog
Diving Round The World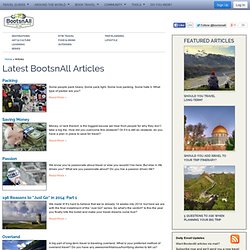 Travel Articles
Blogtelopia - travel blog
The Wander Project
DIY Holiday: MORE Printable Gift Tags | The Spotted Fox
Be A Travel Bee
Travel links
Travel
Todd's Wanderings
Jane E. Fraser travel reveiws
Sightseeing with Google Satellite Maps
Travel Photography
Velvet Escape - go explore. experience. and be inspired.
Tripcrazed - Blogs About Traveling
Pictures from around the world
Akademi Fantasia Travel
AirTreks Travel Blog
www.freedoniapost.com
Kelsey Freeman
Travels of Adam
Forget Obligation Go Global... it's your odyssey!
The Global Traveler - Travel Destinations, News For Travelers
Estudi Digital - Fotografies panoràmiques virtuals
Golberz.Com
Dyscario - Modern and new magazine
The Tanager Blog
The Grass Skirt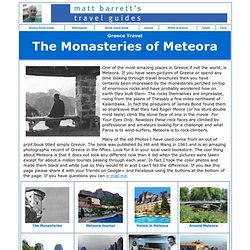 Greece Travel: Meteora
One of the most amazing places in Greece,if not the world is Meteora. If you have seen pictures of Greece or spend any time looking through travel brochures then you have certainly been impressed by the monasteries perched on top of enormous rocks and have probably wondered how on earth they built them. The rocks themselves are impressive, rising from the plains of Thessaly a few miles northwest of Kalambaka.
Frikoo - design and culture
Traveling with MJ - Taking you along wherever I go
12345 Travel Adventure (Tips and Guide)
World Travel
Travel Junkie Julia
Travel Blog - Tripbase
Travel Guide
Mother Trip
For ten days in April, the Ski resort of Whistler hosts the world famous Ski and Snowboard Championship where the entire town sparkles with a joyous celebration of sport, music and art. However, when the snow melts, Whistler becomes an extreme sports playground! Zay Harding hits the tracks hard on his mountain bike and tries out zip-trekking, a unique way of seeing Whistler's old forest, where he literally flies through the treetops!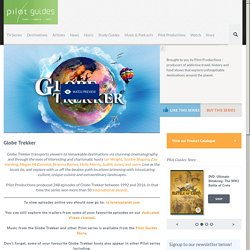 Globe Trekker TV.com - adventure travel on American Public Television
By Any Means
A Luxury Travel Blog
52 Perfect Days | Online Travel Magazine, Travel Articles and Ideas
Volunteer Abroad | Career Breaks & Gap Year | Inspire
italy magazine