Advice
110302-MINT-TIPSa.png (PNG Image, 1300x1926 pixels) - Scaled (33%) 4 Tips For Using Credit Cards Overseas. Tourism is expensive.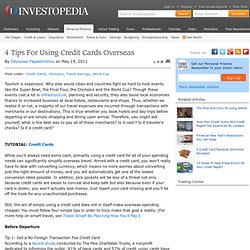 Why else would cities and countries fight so hard to host events like the Super Bowl, the Final Four, the Olympics and the World Cup? Though these events cost a lot in infrastructure, planning and security, they also boost local economies thanks to increased business at local hotels, restaurants and shops. Thus, whether we realize it or not, a majority of our travel expenses are incurred through transactions with merchants in our destinations. This is true whether you book hotels and day trips before departing or are simply shopping and dining upon arrival.
How I Can Afford My Life Of Constant Travel. I'm confused.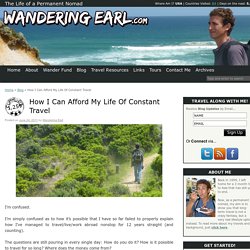 I'm simply confused as to how it's possible that I have so far failed to properly explain how I've managed to travel/live/work abroad nonstop for 12 years straight (and counting). The questions are still pouring in every single day: How do you do it? How is it possible to travel for so long? How Much to Tip, by Country. No offense, but that makes you a cheapskate and a bad customer. the fact that you would ask a question like that, clearly indicated that you know NOTHING about the service industry. the check most servers and bartenders get is for $0.00 literally. tips is how they make money. you don't wanna tip don't go to a restaurant. you wanna eat at mcdonalds fine no tip is required. you want premium service and knowledgeable staff, well that is what tipping is for. a server or a bar tender doesn't just plop your food in front of you. they can tell you about their beer and wine, and the food. explain what every ingredient is and where the beer or wine comes from. that's service and service should be rewarded.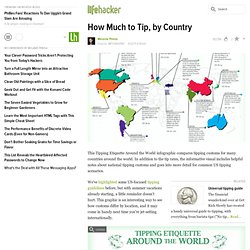 Clearly, you're not from the United States — there are armies of people in food service whose incomes rely on tips being an average of 15% (or more) of whatever the bill is. 70 Things To Do Before Having Children. Post written by: Marc Chernoff Email They say having children changes everything.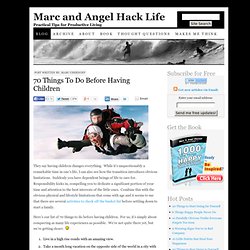 While it's unquestionably a remarkable time in one's life, I can also see how the transition introduces obvious limitations. Suddenly you have dependent beings of life to care for. 28 Things I Wish I Knew Before I Started Traveling. When you first head off to places in the world that are a lot different from where you live, a number of things change.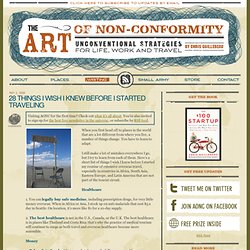 You have to learn to adapt. I still make a lot of mistakes everywhere I go, but I try to learn from each of them. How to Travel Around the World for $40 Per Day. What if I told you that it is possible to travel around the world on $40US/day for on the ground expenses (everything excluding airfare)?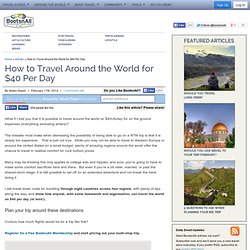 The mistake most make when dismissing the possibility of being able to go on a RTW trip is that it is simply too expensive. That is just not true. Solo Travel Reasons and Resources. Home » Lifestyle + Culture, travel advice Some people love to travel alone.
Others are paralyzed by the thought. What Does a $4 Bungalow Look Like? Just what does $4 buy you in Laos?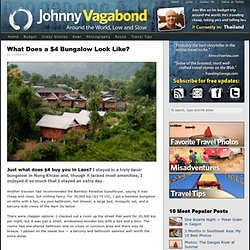 I stayed in a truly basic bungalow in Nong Khiaw and, though it lacked most amenities, I enjoyed it so much that I stayed an extra day. Another traveler had recommended the Bamboo Paradise Guesthouse, saying it was cheap and clean, but nothing fancy. For 30,000 kip ($3.75 US), I got a bamboo bungalow on stilts with a fan, my own bathroom, hot shower, a large bed, mosquito net, and a balcony with views of the Nam Ou below.
There were cheaper options: I checked out a room up the street that went for 20,000 kip per night, but it was just a small, windowless wooden box with a bed and a door. Phrases in 5 common languages to know when traveling in Europe. Traveling abroad this summer?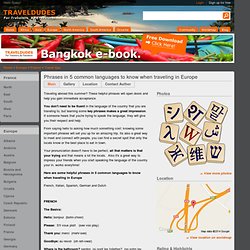 These helpful phrases will open doors and help you gain immediate acceptance. You don't need to be fluent in the language of the country that you are traveling to, but learning some key phrases makes a great impression. If someone hears that you're trying to speak the language, they will give you their respect and help. From saying hello to asking how much something cost; knowing some important phrases will set you up for an amazing trip.
Its also a great way to meet and connect with people, you can find a secret spot that only the locals know or the best place to eat in town. Shortest guide to free or radically cheap travel | ZZE.ST - inspiration & lifehacks to make life better. I've been thinking for a long time of putting all the travel lifehacks in one place.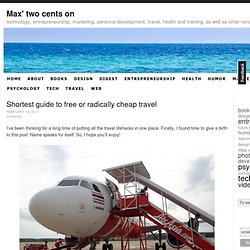 Finally, I found time to give a birth to this post. Name speaks for itself. So, I hope you'll enjoy! Going Local Travel » Top 50 travel websites. Top 50 travel websites The Independent published their list of 50 Best Travel Websites last week. At the time, I was off exploring Misiones, northern Argentina, so this is a belated catch-up.
---