Travel gear (less is more!)
During a 5-week trip to Europe a few years ago (age 50+) i watched a couple of young British girls struggling with backpacks - two each if I recall - and thought, 'wow, they really don't get it.' At the airport, leaving Frankfurt, I weighed my carry-on (and only) bag, which included some books I'd bought in Paris - 5.5 kilos.

Over ten years ago we arrived in Australia for five weeks. The friend who met us at the airport said, 'where's the rest of your luggage?'

You get the idea.... pangasius Aug 30
I've never seen a travel pack that can match a backpacking pack for comfort. I have trekked some with my Porter and found it comfortable enough. It is true the waistband is not very stout, but most travel packs have none at all.
For all you light travelers: What single, carry-on backpack do you use? - Lonely Planet travel forum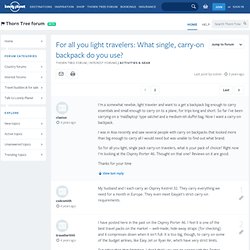 Untether to Evolve | Ev Bogue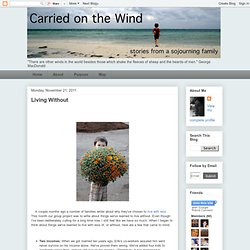 Carried on the Wind: Living Without
A couple months ago a number of families wrote about why they've chosen to live with less.
Extreme Car Camping
Shed Dweller's Moments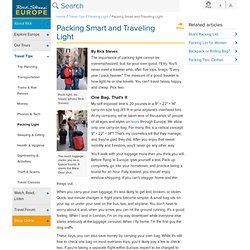 Pack Smart and Travel Light by Rick Steves
By Rick Steves The importance of packing light cannot be overemphasized, but, for your own good, I'll try.
Think in Terms of What You Can Do Without By Rick Steves
Pack Light and Travel Happy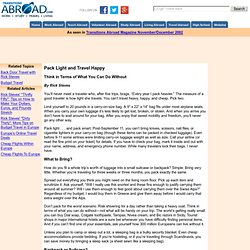 Packing it all in – a guide to travelling hand-luggage only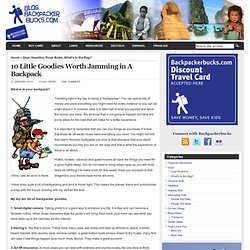 What is in your backpack?
» 10 Little Goodies Worth Jamming in A Backpack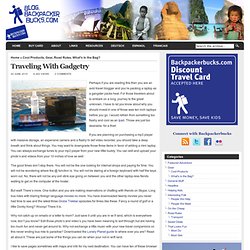 » Traveling With Gadgetry
Perhaps if you are reading this then you are an avid travel blogger and you're packing a laptop as a gangster packs heat.
Quiet, please! Finding the best ear plugs. - By Ulrich Boser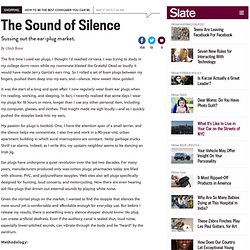 The first time I used ear plugs, I thought I'd reached nirvana.
Home » Gear, General Stuff, Road Rules, What's in the Bag? 30 May 201014,904 viewsNo Comment What is a sacrificial wallet?
» Sacrificial Wallet – Dummy Wallet – Fake Wallet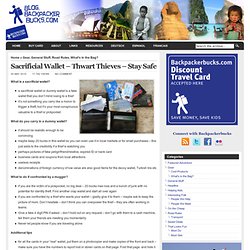 Zipped baggage is not safe!