Travel gear (less is more!)
During a 5-week trip to Europe a few years ago (age 50+) i watched a couple of young British girls struggling with backpacks - two each if I recall - and thought, 'wow, they really don't get it.'
At the airport, leaving Frankfurt, I weighed my carry-on (and only) bag, which included some books I'd bought in Paris - 5.5 kilos.

Over ten years ago we arrived in Australia for five weeks. The friend who met us at the airport said, 'where's the rest of your luggage?'

You get the idea.... For all you light travelers: What single, carry-on backpack do you use? - Lonely Planet travel forum. I've never seen a travel pack that can match a backpacking pack for comfort.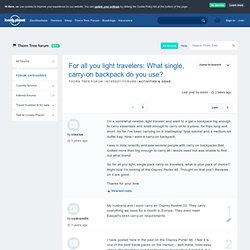 I have trekked some with my Porter and found it comfortable enough. It is true the waistband is not very stout, but most travel packs have none at all. The shoulder straps do have a separate lift point, making it more comfortable on the shoulders. I think it comes down to what you are going to do with the pack. Most backpacking packs are top loaders and you can get any kind of suspension system from adequate to extremely comfortable. Untether to Evolve | Ev Bogue. Carried on the Wind: Living Without. A couple months ago a number of families wrote about why they've chosen to live with less.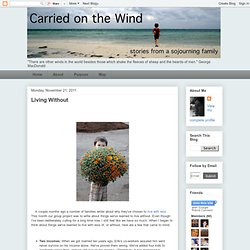 This month our group project was to write about things we've learned to live without. Even though I've been deliberately culling for a long time now, I still feel like we have so much. When I began to think about things we've learned to live with less of, or without, here are a few that came to mind:Two Incomes. When we got married ten years ago, Erik's co-workers assured him we'd never survive on his income alone. Extreme Car Camping. Shed Dweller's Moments. Pack Smart and Travel Light by Rick Steves. By Rick Steves The importance of packing light cannot be overemphasized, but, for your own good, I'll try.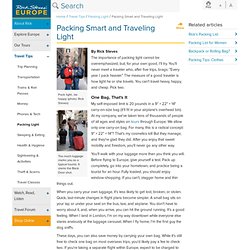 You'll never meet a traveler who, after five trips, brags: "Every year I pack heavier. " The measure of a good traveler is how light he or she travels. You can't travel heavy, happy, and cheap. Pack Light and Travel Happy. Think in Terms of What You Can Do Without By Rick Steves You'll never meet a traveler who, after five trips, brags, "Every year I pack heavier."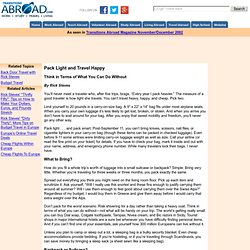 The measure of a good traveler is how light she travels. You can't travel heavy, happy, and cheap. Pick two. Packing it all in – a guide to travelling hand-luggage only. Packing light used to be a handy skill.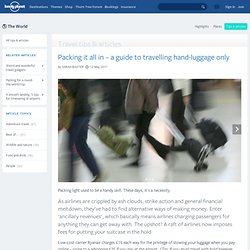 These days, it's a necessity. As airlines are crippled by ash clouds, strike action and general financial meltdown, they've had to find alternative ways of making money. Enter 'ancillary revenues', which basically means airlines charging passengers for anything they can get away with. » 10 Little Goodies Worth Jamming in A Backpack. What is in your backpack?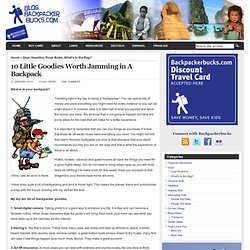 I think I see an anvil in there. Traveling light is the key to being a "backpacker". You can spend lots of money and pack everything you might need for every instance or you can be smart about it. A common idea is to take half of what you packed and twice the money you have. » Traveling With Gadgetry. Perhaps if you are reading this then you are an avid travel blogger and you're packing a laptop as a gangster packs heat.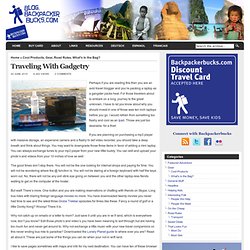 For those travelers about to embark on a long journey to the great unknown, I have to let you know about why you should invest in one of those wee ten inch laptops before you go. I would refrain from something too flashy and cool as an Ipad. Those are just too desirable for a thief. Quiet, please! Finding the best ear plugs. - By Ulrich Boser. The first time I used ear plugs, I thought I'd reached nirvana.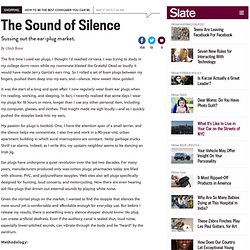 I was trying to study in my college dorm room while my roommate blasted the Grateful Dead so loudly it would have made Jerry Garcia's ears ring. So I rolled a set of foam plugs between my fingers, pushed them deep into my ears, and—silence. How sweet! » Sacrificial Wallet – Dummy Wallet – Fake Wallet. Home » Gear, General Stuff, Road Rules, What's in the Bag?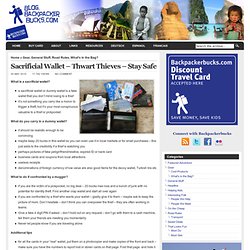 30 May 201017,782 viewsNo Comment What is a sacrificial wallet?
Zipped baggage is not safe! Natural First Aid Kit. Travel light!
---