Examples of techy toys
Techno Source to distribute new kid-friendly tablet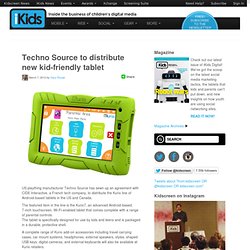 March 7, 2012 by Gary Rusak Share US plaything manufacturer Techno Source has sewn up an agreement with CIDE Interactive, a French tech company, to distribute the Kurio line of Android-based tablets in the US and Canada. The featured item in the line is the Kurio7, an advanced Android-based, 7-inch touchscreen, Wi-Fi-enabled tablet that comes complete with a range of parental controls. The tablet is specifically designed for use by kids and teens and is packaged in a durable, protective shell. A complete range of Kurio add-on accessories including travel carrying cases, car mount systems, headphones, external speakers, styles, shaped USB keys, digital cameras, and external keyboards will also be available at Kurio retailers.
Pearson and Knewton Team Up to Make Learning Personal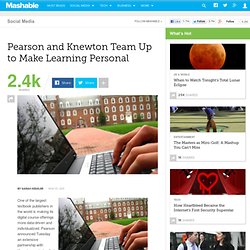 One of the largest textbook publishers in the world is making its digital course offerings more data-driven and individualized. Pearson announced Tuesday an extensive partnership with Knewton, a startup that specializes in adaptive learning technology. The technology personalizes the presentation of educational material based on students' strengths and weaknesses. Pearson, McGraw-Hill and other publishers have developed products that incorporate this kind of technology. Knewton plans to power Pearson's product MyLabs , which has more than 750 titles. In addition, Knewton and Pearson will work together to develop full course solutions that facilitate blended learning in classrooms.
LeapPad: A Durable Child-Friendly Learning Tablet for Kids from LeapFrog
Language learning QR codes teach vocabulary and pronunciation
Learning a new language is never easy, but there's no shortage of fresh approaches aiming to help. In recent years we've seen a Twitter-based tool for building vocabulary, for instance, as well as a video app for learning French. Next up? Lingibli , a smartphone app that uses QR codes to help users learn basic words and pronunciation. Based in Slovakia, Lingibli recently launched with an initial offering of 18 languages: German, English, Arabic, Catalan, Czech, Danish, Dutch, Finnish, French, Greek, Italian, Norwegian, Polish, Portuguese, Russian, Spanish, Swedish and Turkish.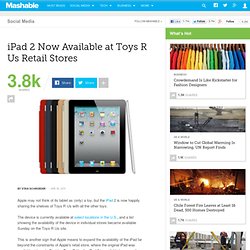 iPad 2 Now Available at Toys R Us Retail Stores
Apple may not think of its tablet as (only) a toy, but the iPad 2 is now happily sharing the shelves of Toys R Us with all the other toys. The device is currently available at select locations in the U.S. , and a list showing the availability of the device in individual stores became available Sunday on the Toys R Us site. This is another sign that Apple means to expand the availability of the iPad far beyond the constraints of Apple's retail store, where the original iPad was available at launch.
Each day, Mashable highlights one noteworthy YouTube video.
Disney's iPad-Friendly Toys Give Playtime A Digital Boost [VIDEO]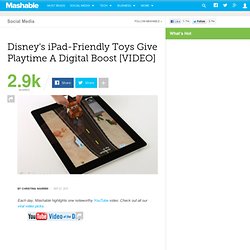 This list was researched and developed by Tuck students under the direction of center director, M. Eric Johnson, who follows the toy industry. The toy selections cover all ages and represent our absolute favorite Tech Toys for this year. As part of this annual, fun research product, the center hosts a holiday toy drive. Please drop off a new, unwrapped toy to benefit the Upper Valley "Toys for Tots" campaign, supported by the US Marine Corps Reserve, in boxes marked on the Tuck Campus. {*style:<b>Put on Giggle Octopus $12.00
Top Tech Toys 2011