Top sites downloads_uploads_200_450 MB
How to upload a file to the server Click on the «Select» button or use «Drag&Drop» function and choose file from your computer Click the "Upload" button Copy the link for downloading your file and give it to your friends If you are an unregistered (free) user, files you upload will be stored 7 days only, and you cannot upload more than 200 MB. Unregistered users can upload one file at a time. Would you like to upload more than 200 MB? Store files for 45 days? Edit and delete files?
Free File Sharing System TurboBit.net - files exchange up to 100 Gb, free hosting for files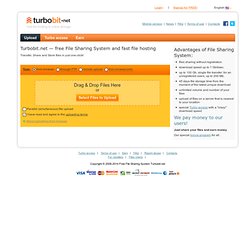 MidUpload.com - Easy way to share your files
file-rack.com
Dimshare - Easy way to share your files
Free File Hosting - uGotFile
FlameUpload | Upload Everywhere!
SpeedShare - Free File Hosting One Click Hosting Filehost Free Upload Hosting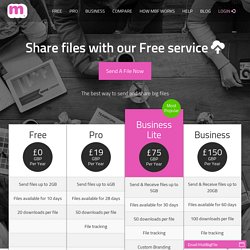 Send Big Files with a Pro Account Send Bigger Files Big Files up to 4GB Longer Availability Encrypted Transfer Address Book Download Alerts File Tracking Pro Support Unlimited Transfers Money Back Promise More Downloads Permanent Storage £19.00 GBP/year £2.99 GBP/month Try it for free!
AxiFile: Upload and download big files
Default Parallels Plesk Panel Page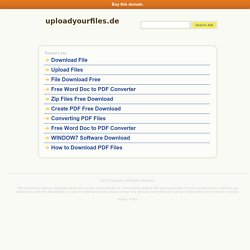 Parallels is a worldwide leader in virtualization and automation software that optimizes computing for consumers, businesses, and Cloud services providers across all major hardware, operating systems, and virtualization platforms. For the Cloud, Parallels automation and virtualization software enables cloud services providers to rapidly and profitably deliver the widest range of cloud services that small businesses want and need. Our software includes key building blocks of cloud service delivery - self service control panels, billing, cloud service provisioning and virtualization.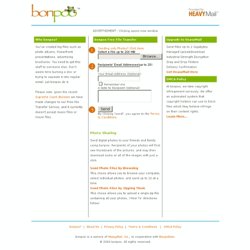 bonpoo! Free Online Photo Sharing :: Free Online File Transfers :: Email Large Files :: Transfer Large Files Online :: Email Big Files
ADVERTISEMENT - Clicking opens new window Why bonpoo? You've created big files such as photo albums, PowerPoint presentations, advertising brochures.
SlingFile.com - Free File Hosting & Online Storage
More than just a file hosting web site, SlingFile has the features you need to easily upload, download, manage, and share your documents, presentations, videos, images, and more. Unlimited Uploads All accounts can upload an unlimited number of files. Unlimited Downloads You can share your files an unlimited number of times. Share Huge Files Free: 2GB / file maxPremium: 50GB / file max ** Large Storage Space Premium accounts come with a hefty 500GB storage space, while free users get 50GB. Direct/Hot Linking * Bypass download pages or stream media files. Flexible Sharing Share with e-mail, Twitter, Facebook, and more.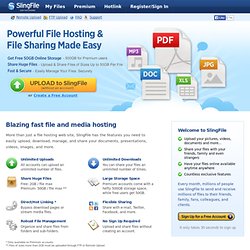 News November 27, 2012 Nintendo has officially confirmed the release of a new iteration in Wii models, the Wii Mini. It will launch exclusively to Canada on December 7, for $99. The new design lays down flat and features a manual release top-loading disc tray. All
Free File Hosting. File Upload. Share Files - Enterupload
Keinen eigenen Webspace oder keine Lust, wegen ein paar Dateien erst eine lange und nervige Anmeldeprozedur bei einem Freehoster durchzuführen? Dann sind Sie hier genau richtig! File-Upload.net bietet Ihnen die Möglichkeit, Ihre Dateien ohne Anmeldung auf unseren File Hoster zu laden und abzuspeichern.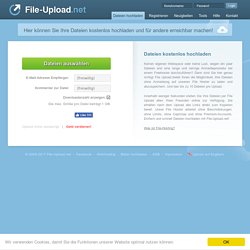 SimpleUpload.net - WebHosting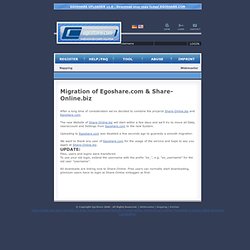 ..:: Egoshare ::.. Your Data Recovery Solution - EgoshareUpload & Share
After a long time of consideration we've decided to combine the projects Share-Online.biz and Egoshare.com. The new Website of Share-Online.biz will start within a few days and we'll try to move all Data, Useraccount and Settings from Egoshare.com to the new System. Uploading to Egoshare.com was disabled a few seconds ago to guaranty a smooth migration.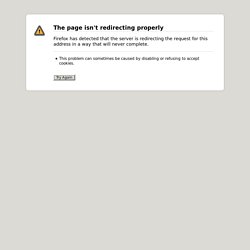 Uploading large files has never been easier! Upload files to store them online for instant access and sharing. GigaSize.com allows you to upload large files in just one click. If you have files that are too large to email, use GigaSize to share them with your friends in a quick and easy way! Special features for Chrome, FireFox & Opera users!
Load.to Uploadservice
Load.to is a so-called 1-click-hoster / sharehoster which hosts your files for FREE! After uploading a file you will get your personal download link you can send to your friends all over the world. We have no bandwidth limit for uploading (up to 1 GB per file) and downloading!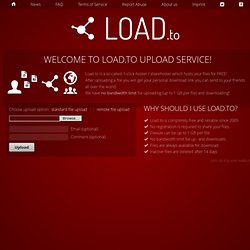 Share-Online - Welcome to our Service
Free Upload Server | Hospedagem Arquivos | Cash Advance | Debt Consolidation at Myupload.biz
Netload Serious Filehosting - Netload