Top *10*
Berlage Institute. News - D-ARCH - ETH Zurich. Das Departement Architektur bietet ab Herbstsemester 2014 den neuen, interdisziplinären Studiengang "Integrated Building Systems" an.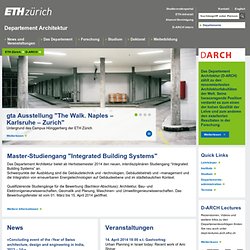 Schwerpunkte der Ausbildung sind die Gebäudetechnik und –technologien, Gebäudebetrieb und –management und die Integration von erneuerbaren Energietechnologien auf Gebäudeebene und im städtebaulichen Kontext. Qualifizierende Studiengänge für die Bewerbung (Bachleor-Abschluss): Architektur, Bau- und Elektronigenieurwissenschaften, Geomatik und Planung, Maschinen- und Umweltingenieurwissenschaften. Das Bewerbungsfenster ist vom 01. März bis 15. The Glasgow School of Art. Unitec: Study in Auckland. Certificate, Diploma, Degree, Postgraduate. Tokyo Institute of Technology Department of Architecture and Building Engineering. IAAC - Institute for Advanced Architecture of Catalonia.
Southern California Institute of Architecture. MIT - Massachusetts Institute of Technology. AA School Homepage.
---