Downloadables
BrainStorm: accelerates thinking, writing and planning. Zoot. Thinklinkr. Five Open Source Apps For Writers and Authors. By Lisa Hoover - Jul. 17, 2009Comments (9) Even if you have the perfect idea for the next Great American Novel, getting it down on paper is never easy.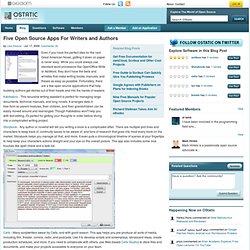 While you could always use standard word processors like OpenOffice Write or AbiWord, they don't have the bells and whistles that make writing books, manuals, and theses as easy as possible. Fortunately, there are a few open source applications that help budding authors get stories out of their heads and into the hands of readers. Kabikaboo - This recursive writing assistant is perfect for managing large documents, technical manuals, and long novels. PageFour - Software for Novelists and Creative Writers - Tabbed. Because it's NOT a business product.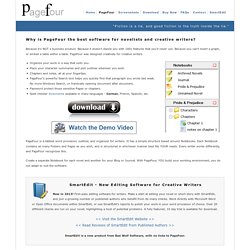 Because it doesn't dazzle you with 1001 features that you'll never use. Because you can't insert a graph, or embed a table within a table. PageFour was designed creatively for creative writers. Organize your work in a way that suits you. Celtx - #1 Choice for Media Pre-Production.
---