Servers
Built for reliability Cloud Servers reside in our world-class data centers, with hardware RAID 10 storage, ECC memory, and fully redundant networking and power all the way to the host. Global regions Build your infrastructure in any of our 6 global regions: Northern Virginia, Dallas, Chicago, London, Sydney, and Hong Kong
Cloud Servers - Virtual Server Hosting & Dedicated Server Hosting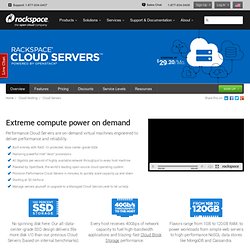 Amazon Elastic Compute Cloud (Amazon EC2) is a web service that provides resizable compute capacity in the cloud. It is designed to make web-scale computing easier for developers. Amazon EC2's simple web service interface allows you to obtain and configure capacity with minimal friction. It provides you with complete control of your computing resources and lets you run on Amazon's proven computing environment. Amazon EC2 reduces the time required to obtain and boot new server instances to minutes, allowing you to quickly scale capacity, both up and down, as your computing requirements change.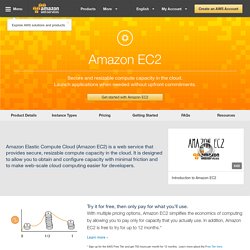 Hébergement cloud - Serveurs dédiés flexibles en infrastructure cloud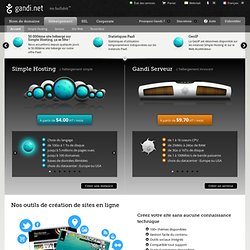 Choix du langage de 10Go à 1 To de disque jusqu'à 5 millions de pages vues jusqu'à 100 domaines bases de données illimitées choix du datacenter : Europe ou USA PaaS ? Platform as a Service, vous permet de créer vos instances en choisissant vos services en toute simplicité, tout en bénéficiant d'une infrastructure informatique de pointe. Puissance et limitations Ne vous souciez plus de la puissance nécessaire à votre site web : dimensionnez comme bon vous semble, sans migration, en quelques minutes.
VPS - OVH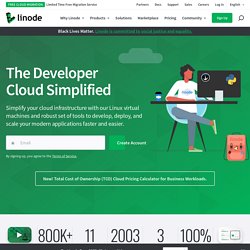 We're a cloud hosting company built upon one simple premise: provide the best possible tools and services to those that know what they need — better hosting. A Linode server means freedom. You get everything from the kernel and root access on up. All managed by our simple yet very powerful control panel. Discover why Linode may be right for you. Full ssh and root access Guaranteed Resources 8 processor Xen instances Out of band console shell Dedicated IP address, premium bw Six datacenters in the US, Europe, and Asia-Pacific HA and Clustering Support Transfer pooling Managed DNS with API