The Zeitgeist Movement
Culture en Déclin - Episode 1 - Quelle démocratie ?
"Understanding The Zeitgeist Movement Critics..." An Essay by Peter Joseph
Peter Joseph: Where are We Going? - 12 Translation
ZDay 2012 - Los Angeles - Communicating RBE Concepts - 6 Translation
Zeitgeist - Le Contrat Social
Zeitgeist: The Movie (2007)
Tout va pour le mieux dans le métro Parisien - 19/11/2011
La Ferme Malplaquet (67)
Zeitgeist Theme Cover (with Matt Butler)
Zeitgeist: Moving beyond money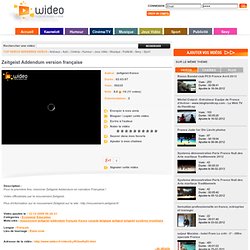 video Zeitgeist Addendum version française - mouvement, zeitgeist, addendum
Description : Pour la première fois, visionner Zeitgeist Addendum en narration Française !
L'Alarme
« C'est la dette » - Z-Day 2012 - Bagnols-sur-Cèze
ZDay 2012 - Vancouver - Panel Q&A
Paroles de Convergents on Vimeo
Interview par RFI de Benoite du Mouvement Zeitgeist PACA à l'Alter-G20 de Novembre 2011
Réponses du Mouvement Zeitgeist : le FBI ciblant les activistes à la manière de terroristes
Prison of Debt ZDay 2011
Action collage à Toulouse - Février 2011
ZDay Auvergne - Clermont Ferrand 2011
Vidéo Why I Advocate TZM ? - Peter Joseph de revelation-evolution (Actualité - revelation-evolution