The political economy of oil - reading...
Get flash to fully experience Pearltrees
Essay Despite common assumptions, oil prices are likely to remain low for a while: key producers, especially Saudi Arabia, have been boosting their production, and demand growth in top consumers like the United States and China will be more modest than expected. Growing demand for energy in developing countries and calls for greener energy worldwide are putting unprecedented pressure on the global energy system.
The study of natural resource extraction in resource-rich countries often shows that plunder, rather than prosperity, has become the norm. Management of natural resources differs widely in every state; a close examination of the decision making chains in various states highlights the key principles that need to be followed to avoid distortion and dependence. This book consists of eight case studies investigating the political economy of the decision chain, revealing where various states have met with success, or failed disastrously. This original research provides a unique insight into how different countries have handled their resource extraction. This book is essential reading for students, researchers and policy makers working across development economics and natural resource economics. 'Plundered Nations is a very important book at a crucial time.
How oil undermines democracy, and our ability to address the environmental crisis.
A groundbreaking account of Aramco as a microcosm of the colonial order.
"In this rich and compelling ethnography, Elana Shever explores how the oil sector in Argentina has reconfigured itself and the lives of its workers and communities. With great insight and nuance, Shever details how neoliberalism—as much as the oil industry—is made and remade through laboring, learning, communicating, playing, and caring. A major challenge to how we think about not only the corporate world of hydro-carbon capitalism but of neoliberalism itself, Resources for Reform is a gem."—Michael Watts, University of California, Berkeley
Money, Oil, and Empire in the Middle East Cambridge University Press 9780521767903 - Money, Oil, and Empire in the Middle East - Sterling and Postwar Imperialism, 1944–1971 - By Steven G. Galpern
More Oil: Demand, Supply and Trends in the United States By Joseph ... Parra, F., "Oil Politics: A Modern History of Petroleum," (ib Taurus 2004). 3. Financial Times (www.ft.com). See attached charts. ... dr.berkeley.edu/ pdfs_to_post/ OIL_OVERVIEW_OF_5DECADE_HISTORY_AND_TODAYS_CHALLENGES-1.pdf New Books List Oil Politics: A Modern History Of Petroleum, ib Tauris, 2004.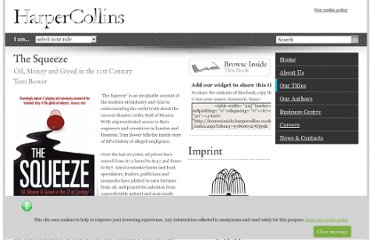 'The Squeeze' is an invaluable account of the modern oil industry and vital to understanding the awful truth about the current disaster in the Gulf of Mexico. With unprecedented access to their engineers and executives in London and Houston, Tom Bower tells the inside story of BP's history of alleged negligence. Over the last 20 years, oil prices have soared from $7 a barrel to $147 and down to $37.
Daniel Howard Yergin (born February 6, 1947) is a Pulitzer Prize winning American author, speaker, and economic researcher. Yergin is the co-founder and chairman of Cambridge Energy Research Associates , an energy research consultancy that is now part of IHS Inc. . He is best known as author of The Prize: The Epic Quest for Oil, Money, and Power ; and The Quest: Energy, Security, and the Remaking of the Modern World .
Citation Styles for "Twentieth century petroleum statistics." APA (6th ed.) DeGolyer and MacNaughton., & United States. (1945).