The political economy of oil - reading...
The global economy runs on oil. Sea, air, and land transportation (of both goods and people) and the manufacture of a vast array of products, from plastic and paint to textiles and flooring, all depend on petroleum. This quintessential product of modernization and globalization, however, constitutes one of the greatest exceptions to the rules by which the globalized world is generally governed.
What to Read on Oil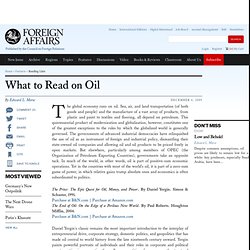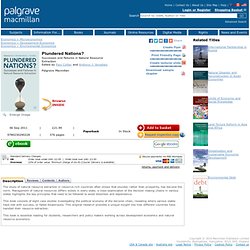 Plundered Nations?
The study of natural resource extraction in resource-rich countries often shows that plunder, rather than prosperity, has become the norm. Management of natural resources differs widely in every state; a close examination of the decision making chains in various states highlights the key principles that need to be followed to avoid distortion and dependence. This book consists of eight case studies investigating the political economy of the decision chain, revealing where various states have met with success, or failed disastrously. This original research provides a unique insight into how different countries have handled their resource extraction. This book is essential reading for students, researchers and policy makers working across development economics and natural resource economics. 'Plundered Nations is a very important book at a crucial time.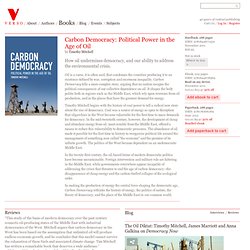 As tumultuous events in Egypt unfold at speed, with former President Morsi currently in custody, we present Verso's updated reading list of key titles and articles addressing the challenges facing Egypt and the Middle East.
A groundbreaking account of Aramco as a microcosm of the colonial order.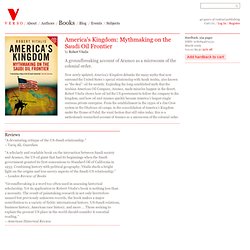 America's Kingdom - Robert Vitalis
"Resources for Reform is an exemplary, well written and very accessible account of a highly complex story encompassing poor and rich Argentines, hard-working industry labourers and people struggling to get by, as well as politicians, lawyers, international consultants, and corporate representatives who have all contributed, in one way or another, to tying Argentina's oil industry more tightly into a global neoliberal regime."—Gisa Weszkalnys, Anthropology of this Century "In this rich and compelling ethnography, Elana Shever explores how the oil sector in Argentina has reconfigured itself and the lives of its workers and communities. With great insight and nuance, Shever details how neoliberalism—as much as the oil industry—is made and remade through laboring, learning, communicating, playing, and caring.
Resources for Reform: Oil and Neoliberalism in Argentina - Elana Shever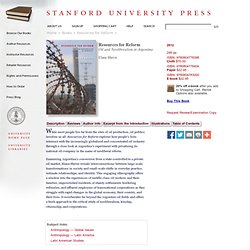 Resource-Curse-Reading-material-en
17_Of_Oil_Revolution_And_Complicity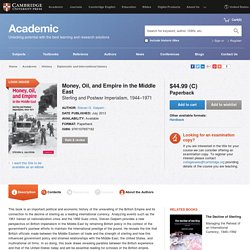 Money, Oil, and Empire in the Middle East
This book, first published in 2009, is an important political and economic history of the unravelling of the British Empire and its connection to the decline of sterling as a leading international currency. Analyzing events such as the 1951 Iranian oil nationalization crisis and the 1956 Suez crisis, Steven Galpern provides a new perspective on British imperialism in the Middle East by reframing British policy in the context of the government's postwar efforts to maintain the international prestige of the pound. He reveals the link that British officials made between the Middle Eastern oil trade and the strength of sterling and how this influenced government policy and strained relationships with the Middle East, the United States, and multinational oil firms. In so doing, this book draws revealing parallels between the British experience and that of the United States today and will be essential reading for scholars of the British empire, Middle East studies and economic history.
Oil politics: a modern history of petroleum - Francisco R. Parra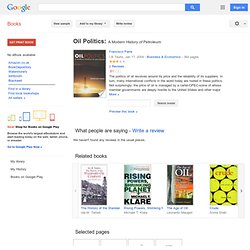 More Oil: Demand, Supply and Trends in the United States By Joseph ...Parra, F., "Oil Politics: A Modern History of Petroleum," (ib Taurus 2004). 3. Financial Times (www.ft.com). See attached charts. ...dr.berkeley.edu/pdfs_to_post/OIL_OVERVIEW_OF_5DECADE_HISTORY_AND_TODAYS_CHALLENGES-1.pdf New Books ListOil Politics: A Modern History Of Petroleum, ib Tauris, 2004. HD9560.6.P37 2004.
The Prize | Book by Daniel Yergin - Simon & Schuster
The Squeeze : Tom Bower - HarperCollins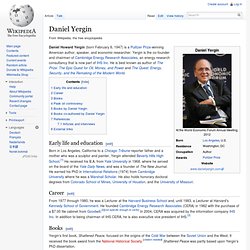 Daniel Howard Yergin (born February 6, 1947) is a Pulitzer Prize-winning American author, speaker, and economic researcher. Yergin is the co-founder and chairman of Cambridge Energy Research Associates, an energy research consultancy that is now part of IHS Inc. He is best known as author of The Prize: The Epic Quest for Oil, Money, and Power and The Quest: Energy, Security, and the Remaking of the Modern World.
Daniel Yergin
Citation Styles for "Twentieth century petroleum statistics." APA (6th ed.) DeGolyer and MacNaughton., & United States. (1945).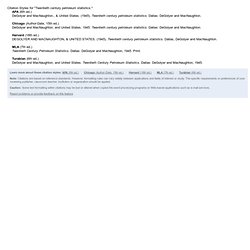 Twentieth century petroleum statistics.
Oil 101