The New Economy
New Economy Organizations
From Globalization to Glocalization
Alternative Exchange Systems
How to Map the New Economy in Your City
New App Lets You Boycott Koch Brothers, Monsanto And More By Scanning Your Shopping Cart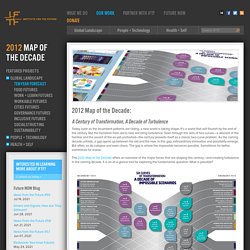 Today, even as the incumbent patterns are fading, a new world is taking shape. It's a world that will flourish by the end of the century. But the transition from old to new will bring turbulence.
2012 Map of the Decade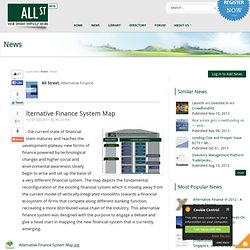 Alternative Finance System Map | All Street
As the current state of financial system matures and reaches the development plateau, new forms of finance powered by technological changes and higher social and environmental awareness slowly begin to arise and set up the basis of a very different financial system. The map depicts the fundamental reconfiguration of the existing financial system which is moving away from the current model of vertically-­integrated monoliths towards a financial ecosystem of firms that compete along different banking function, recreating a more distributed value chain of the industry. This alternative finance system was designed with the purpose to engage a debate and give a head start in mapping the new financial system that is currently emerging.
The U.S. Needs to Make More Jobs More Creative - Roger Martin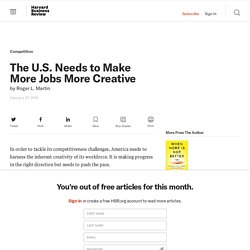 by Roger Martin | 10:26 AM February 27, 2012 In order to tackle its competitiveness challenges, America needs to harness the inherent creativity of its workforce. It is making progress in the right direction but needs to push the pace. Michael Porter has done us all a service in identifying that the wealth of modern economies comes from the productivity, innovation and high wages found in their clustered industries — those industries that are found only in certain geographic areas and trade most of their output outside their home areas, both nationally and internationally. Wages in these clustered industries (like pharmaceuticals or business services) are dramatically higher than in dispersed industries (like primary medical care or consumer services).
Founder Institute's Requirement - Create a Company
▶ Jaron Lanier: Why Facebook Isn't Free
Balaji Srinivasan speaks to the crowd at Y Combinator's annual startup school at De Anza College's Flint Auditorium in Cupertino, Calif., on Saturday, October 19. (Credit: Nick Statt/CNET) CUPERTINO Calif. -- Balaji Srinivasan opened his Y Combinator startup school talk with a joke: Is the US the Microsoft of nations? The question was received warmly by the crowd of more than 1,700 and did in fact have a logical conclusion: Larry Page and Sergey Brin, co-founders of Google, were exactly what Bill Gates feared when he said in 1998 that two people in a garage working on something new was Microsoft's biggest threat.
A radical dream for making techno utopias a reality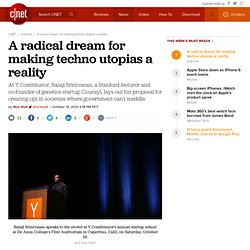 Jason Pontin: Can technology solve our big problems?
What's Wrong with Technological Fixes? | Boston Review
If you are looking for some smart, informed skepticism about the promise of digital technology to cure important problems, Evgeny Morozov is the critic for you. In his second book, To Save Everything, Click Here: The Folly of Technological Solutionism , the BR contributing editor takes aim at what he describes as Silicon Valley's "amelioration orgy." According to the ameliorationists, "all that matters" is "to get humans to behave in more responsible and sustainable ways, to maximize efficiency." Morozov characterizes this impulse to fix everything as "solutionism," and offers two broad challenges to the solutionist sensibility. First, solutionists often turn public problems into more bite-sized private ones.