Collaborative Community
Cooperative Ownership. Social Production. Patent and Copyright Issues. Maker Culture. 43 Essential essays on the commons and Peer 2 Peer theory. This list is from the great P2P foundation website, which has loads of great articles and information on Peer 2 Peer (P2P) theory.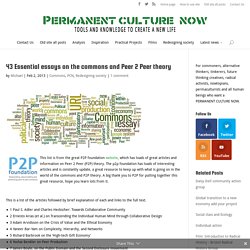 The p2p foundation has loads of interesting articles and is constantly update, a great resource to keep up with what is going on in the world of the commons and P2P theory. A big thank you to P2P for putting together this great resource, hope you learn lots from it. This is a list of the articles followed by brief explanation of each and links to the full text. 1 Paul S. Howard Rheingold: The new power of collaboration.
Consumer Innovation as New Economic Pattern. When he was finished, Mr.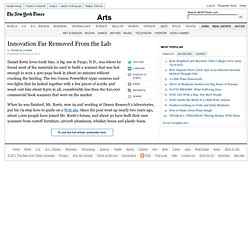 Reetz, now 29 and working at Disney Research's laboratories, put his 79-step how-to guide on a Web site. Since the post went up nearly two years ago, about 1,000 people have joined Mr. Reetz's forum, and about 50 have built their own scanners from castoff furniture, aircraft aluminum, whiskey boxes and plastic foam. Create More Value Than You Capture. As alternative energy advocate Steve Baer once noted, the commons is often ignored in economic analysis.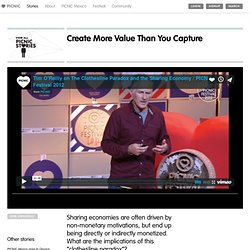 He used a humble analogy to name this "the clothesline paradox": When you put your clothes in the dryer, the energy you use is measured and counted, but when you hang them on the line, the energy "disappears" from the measured economy. But it doesn't disappear from the real economy. In fact, the value that has been created surfaces in unexpected ways.
In this talk, Tim O'Reilly explores how sharing economies are subject to the clothesline paradox. While there are often non-monetary motivations driving these economies, they end up being directly and indirectly monetized. Doc Searls on How the Old Bottom is the New Top / PICNIC Festival 2012. The Dawning Age of Mass Collaboration. Mass collaboration is the future of competitive advantage in business.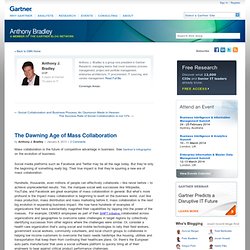 See Gartner's infographic on the evolution of business. Social media platforms such as Facebook and Twitter may be all the rage today. But they're only the beginning of something really big. Llaborative Entepreneurs create more jobs and profit, study shows | Guardian Social Enterprise Network. Their contestants may promise to give 110% but a new study has found that the combative stereotyping of entrepreneurs as portrayed by TV programmes such as the Apprentice and Dragons' Den could be choking off much-needed economic growth and productivity in the UK.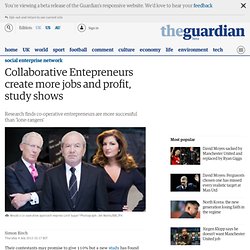 Genuine entrepreneurs on the other hand, the study argues, reject this negative stereotype and, instead, adopt a more co-operative approach, one which has better performance outcomes including greater job creation and profit generation. These findings were among those presented at the recent co-operative congress in Cardiff by the economist and chief executive of Delta Economics, Dr Rebecca Harding, who researched the motivations of 2,500 entrepreneurs in 13 countries. P2P Foundation. A Bushelful of Art — Mixed Media. More and more people are signing up for deliveries of fresh, local produce by buying shares in community-supported agriculture, or CSA, farms.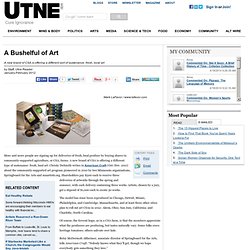 A new brand of CSA is offering a different type of sustenance: fresh, local art. Christy DeSmith writes in American Craft (Oct. New Dream Community Action Kit. It's one of the first things we learn as kids: How to share.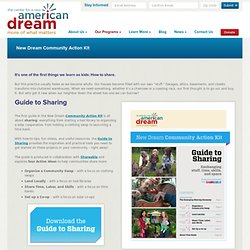 But this practice usually fades as we become adults. Our houses become filled with our own "stuff." Garages, attics, basements, and closets transform into cluttered warehouses. When we need something, whether it's a chainsaw or a roasting rack, our first thought is to go out and buy it. But why get it new when our neighbor down the street has one we can borrow? Detroit SOUP. Community-Wealth.org: Wealth-Building Strategies for America's Communities. Commons Framework. Webinars - National Community Land Trust Network. Have the experts finally figured out how to end poverty? | Work and Wealth. The first day of the Land and Poverty Conference, as I approached the World Bank from H Street, I noticed several homeless people still sleeping on the benches outside.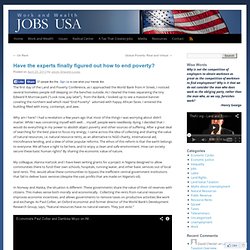 As I cleared the trees separating the tiny Edward R Murrow park ("Look now, pay later"), from the Bank, I looked up to see a massive banner covering the northern wall which read "End Poverty" adorned with happy African faces. I entered the building filled with irony, contempt, and awe. Why am I here? Category:Commons Economics. This special section is dedicated to documenting a upcoming conference to be held in Berlin on May 22-24, 2014, on Commons-Oriented Economics [1].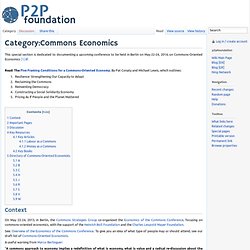 Read: The Five Framing Conditions for a Commons-Oriented Economy, By Pat Conaty and Michael Lewis, which outlines: Resilience: Strengthening Our Capacity to Adapt Reclaiming the Commons Reinventing Democracy Constructing a Social Solidarity Economy Pricing As If People and the Planet Mattered On May 22-24, 2013, in Berlin, the Commons Strategies Group co-organized the Economics of the Commons Conference, focusing on commons-oriented economics, with the support of the Heinrich Boll Foundation and the Charles Leopold Mayer Foundation. See: Overview of the Economics of the Commons Conference. Community - a review of the theory. Community.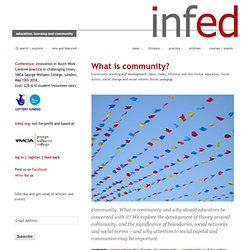 What is community and why should educators be concerned with it? We explore the development of theory around community, and the significance of boundaries, social networks and social norms – and why attention to social capital and communion may be important. contents: approaching the theory of community · community and boundary · community and network · community – norms and habits · social capital and community · communion and community · further reading · references · links · how to cite this article Since the late nineteenth century, 'the use of the term community has remained to some extent associated with the hope and the wish of reviving once more the closer, warmer, more harmonious type of bonds between people vaguely attributed to past ages' (Elias 1974, quoted by Hoggett 1997: 5).
---