The Economist
Debates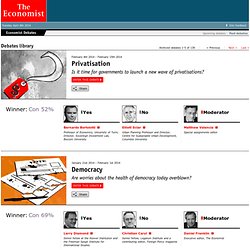 Anthony Townsend is an urban planner and forecaster whose writing, public speaking, activism and consulting focus on urbanisation, ubiquitous computing and technology-led innovation and economic development. He holds posts as Research Director at the Institute for the Future, an independent research organisation based in California's Silicon Valley, and Senior Research Fellow at New York University's Rudin Center for Transportation. He was co-founder of NYCwireless, a pioneer in the community broadband movement, and was named one of Planetizen's "Leading Thinkers in Urban Planning & Technology" and "Top 100 Thinkers" tracking the Internet of Things by Postscapes. His first book, "Smart Cities: Big Data, Civic Hackers, and the Quest for a New Utopia", is published by W.W. Norton & Co.
by R.A. | LONDON LET'S put a slightly finer point on the argument in the previous post. The Fed technically has a three-part mandate: "maximum employment, stable prices, and moderate long-term interest rates". In January of 2012, the Fed basically defined what it thought its real mandate is as: 2% annual inflation (as measured by the price index for personal consumption expenditures) and as close to maximum employment (which it is free to define for itself) as it can get. Since the Fed made this declaration, PCE inflation has been below target roughly 90% of the time.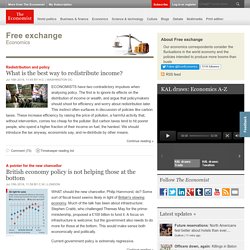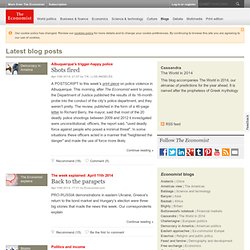 by N.B. BEFORE 2011 John Michael McDonagh was known as the less successful brother of Martin McDonagh, an award-winning playwright and the writer-director of "In Bruges". But in 2011 John Michael made his own debut as a writer-director with "The Guard", and his knowing, ribald crime-comedy broke box-office records. It stands as the most lucrative independent Irish film ever made. His follow-up, "Calvary" is similar in some key respects. Again, Brendan Gleeson stars as an incorruptible, unconventional, know-it-all authority figure in a coastal Irish village, and again, the post-Tarantino script is studded with sex, drugs and stinging put-downs.
Latest blog posts
Culture
Science & Technology
Business & Finance
Middle East and Africa
Americas
Asia
Europe
Britain
United States
KAL's cartoon
Business this week
Politics this week
Print Edition