Television futur
Semiconductor sales leaders by year. This article lists the top 10~25 largest semiconductor companies by sales leaders since 1987.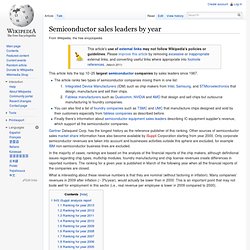 The article ranks two types of semiconductor companies mixing them in one list: Integrated Device Manufacturers (IDM) such as chip makers from Intel, Samsung, and STMicroelectronics that design, manufacture and sell their chips.Fabless manufacturers such as Qualcomm, NVIDIA and AMD that design and sell chips but outsource manufacturing to foundry companies.You can also find a list of foundry companies such as TSMC and UMC that manufacture chips designed and sold by their customers especially from fabless companies as described before.Finally there's information about semiconductor equipment sales leaders describing IC equipment supplier's revenue, which support all the semiconductor companies. Gartner Dataquest Corp. has the longest history as the reference publisher of this ranking. Media - La TV du futur: les écrans et les marques au-delà du connecté et du contenu… Publié le 30 juin 2011 Nous sommes en 2025.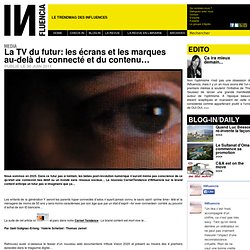 Dans ce futur pas si lointain, les bébés post-révolution numérique n'auront même pas conscience de ce qu'était une connexion bas débit ou un monde sans réseaux sociaux… Le nouveau CarnetTendance d'INfluencia sur le brand content anticipe un futur pas si imaginaire que ça… Les enfants de la génération Y seront les parents hyper connectés d'ados n'ayant jamais connu le sacro saint «prime time» télé et la ménagère de moins de 50 ans y sera moins caractérisée par son âge que par un état d'esprit «for ever connected» corrélé au pouvoir d'achat de son ID bancaire… La suite de cet article ici et paru dans notre Carnet Tendance : Le brand content est mort vive le… From Hulu to Google TV Battle Is on in Distribution Turf War - Advertising Age - MediaWorks. MTV's launches 'WatchWith' for iPhone. Today, MTV announced an iPhone version of their WatchWith app (already available for the iPad) to offer a second screen experience for their shows, "including Jersey Shore, Awkward, Teen Wolf, 16 & Pregnant, Teen Mom and The Challenges."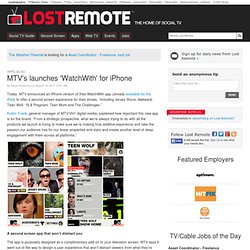 Kristin Frank, general manager of MTV/VH1 digital media, explained how important this new app is for the brand. "From a strategic prospective, what we're always trying to do with all the products we launch is trying to make sure we're making truly additive experience and take the passion our audience has for our linear properties and stars and create another level of deep engagement with them across all platforms." A second screen app that won't distract you. Interactive Television. It's Not TV, It's the HBO iPhone App. Lots of television networks are starting to get into the mobile app business — the Discovery Channel, MSNBC, CNN and CNBC are just a few of the networks with iPhone-specific applications.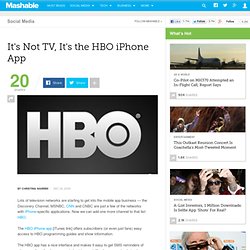 Now we can add one more channel to that list: HBO. The HBO iPhone app [iTunes link] offers subscribers (or even just fans) easy access to HBO programming guides and show information. The HBO app has a nice interface and makes it easy to get SMS reminders of when your favorite show or movie is airing next. Total Audience for Online Video Continues to Climb. Internet Users Embrace TV.
The fourth edition of Deloitte's "State of the Media Democracy" report reveals Internet users are more in love with their televisions than ever—and ready for the coming convergence of TV and online.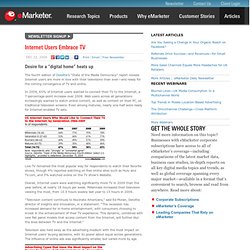 In 2009, 65% of Internet users wanted to connect their TV to the Internet, a 7-percentage-point increase over 2008. Web users across all generations increasingly wanted to watch online content, as well as content on their PC, on traditional television screens. Even among matures, nearly one-half were ready for Internet-enabled TV sets. Live TV remained the most popular way for respondents to watch their favorite shows, though 4% reported watching on free online sites such as Hulu and TV.com, and 3% watched online on the TV show's Website.
Overall, Internet users were watching significantly more TV in 2009 than the year before, at nearly 18 hours per week. Hands On with Comcast's Xfinity: TV Everywhere That's Not All It. After weeks of anticipation, I finally got a chance to go hands-on with Comcast's Fancast Xfinity TV service while visiting family that subscribe to Comcast's cable and broadband service.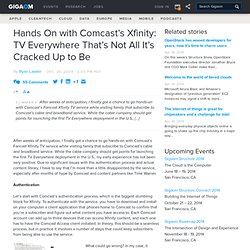 While the cable company should get points for launching the first TV Everywhere deployment in the U.S., my early experience has not been very positive. Due to significant issues with the authentication process and actual content library, I have to say that I'm more than a little disappointed by the service, especially after months of hype by Comcast and content partners like Time Warner. Authentication Let's start with Comcast's authentication process, which is the biggest stumbling block for Xfinity.
To authenticate with the service, you have to download and install on your computer a client application that phones home to Comcast to confirm that you're a subscriber and figure out what content you have access to. DirecTV 3D broadcasts coming in early 2010? Finding itself with a wealth of a additional bandwidth thanks to a new satellite going up today, DirecTV may have already decided its first big addition will be 3D.
Citing the always popular unnamed sources, HD Guru says we should prepare for a CES announcement that the bird will be up and running by March beaming down a collection of movies, sports and TV shows in 3D HD, requiring only a firmware upgrade on existing set-top boxes to tune into the new stations. UK satellite provider Sky has already tipped its hand about 2010 3D plans, with a newly freshened HDMI spec expected to ease things along and nearly every manufacturer either already producing compatible displays or planning to announce them in less than a week there's very little doubt remaining about whether broadcast 3D is coming home this year, only how and when. Comments. Media: Microsoft's Ballmer Sees Content Everywhere - Advertising. Disney Demos DECE Competitor 'KeyChest' The race to create technology that would allow users to purchase a piece of content once and watch it on nearly any device is heating up, with Disney showing off its "KeyChest" technology yesterday.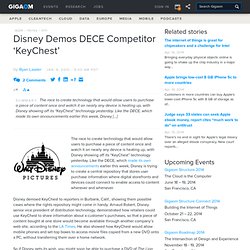 Like the DECE, which made its own announcements earlier this week, Disney is trying to create a central repository that stores user purchase information where digital storefronts and devices could connect to enable access to content wherever and whenever. Disney demoed KeyChest to reporters in Burbank, Calif., showing them possible cases where the rights repository might come in handy. Arnaud Robert, Disney senior vice president of distribution technology, demonstrated how retailers could use KeyChest to share information about a customer's purchases, so that a piece of content bought at one store would become available through another company's web site, according to the LA Times.
The TMR Zoo - Men's Entertainment... Devolved! I have a theory.
My theory pertains to whether or not high-definition (HD) television was a revolution for TV. My theory is…not.
---