Telecoms
Altylis Seme Telecom, le nouvel opérateur de téléphonie mobile annoncé au Cameroun
D'après le journal La Nouvelle Expression, un nouvel opérateur de téléphonie mobile devrait bientôt faire son apparition dans le paysage camerounais des télécoms. Il ne s'agit nullement du Vietnamien Viettel, qui avait décroché l'an passé la 3eme licence privée du pays, mais d'une société nationale, portée par l'opérateur économique camerounais, Seme Noungon (photo), propriétaire du Seme New Beach Hotel de Limbé et de la marque d'eau minérale Semme Mineral Water. L'idée, qui est adossée sur un financement de 5 milliards de FCfa provenant d'Afriland First Bank, a pour objectif de «casser les prix du mobile au Cameroun» via la technologie VoIP, afin que les consommateurs puissent pleinement jouir des services de télécommunications.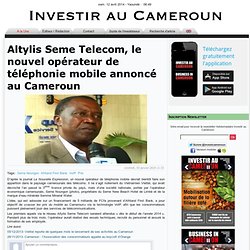 Les 6 000 km de fibre optique dont dispose actuellement le Cameroun ne suffisent pas encore pour répondre aux besoins du pays. Le chantier de développement des infrastructures de télécommunications conduit par la Cameroon Telecommunications (Camtel) se poursuit avec le National Broad Band Network (NBN). Un programme comprenant entre autres, la pose de 4 000 km supplémentaires de fibre optique pour assurer la connexion inter-urbaine en fibre optique notamment dans les villes de Yaoundé et de Douala. Camtel a reçu, à cet effet, un financement additionnel d'un montant de trois milliards de F pour le parachèvement des travaux de génie civil et de préparation des sites du NBN. L'argent a été obtenu via un prêt contracté auprès de la Standard Chartered Bank.
Trois milliards pour l'extension du réseau de la Fibre optique | Actualite au Cameroun et en Afrique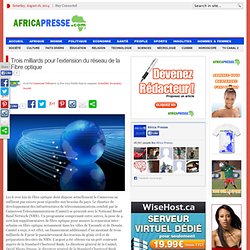 CTC Cable - Projet unique et complexe - 200906-Essono-ART-Cameroun.pdf
Most welcome as the virtual gateway of rural and enclaved areas to the world, the communities of Ako, Misaje, Jakiri, Oku and Ewoh in the North West Region now sound off with multi- purpose community telecentres. The respective centres officially went functional from August 5-7, 2013 with the Minister of Posts and Telecommunications, Jean Pierre Biyiti-bi Essam, cris-crossing the communities with prescriptions for the populations to embrace and preserve the facility for posterity. On -the-spot in the beneficiary Divisions of Bui, Donga Mantung and Momo, Minister Jean Pierre Biyiti-bi Essam said the telecentres are a precious gift of President Paul Biya whose commitment to develop the nation never dims. He said the centres meet standards and were conceived to serve the people without discrimination.
Cameroon: Telecommunications - NW Gets Five Proximity Telecentres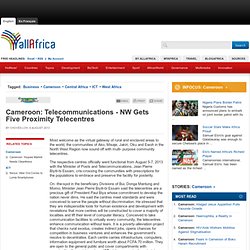 Amman, August 4, 2013 Emerging Markets Payments (EMP), a leading electronic payments card processing company in the Middle East and Africa, has been appointed to provide electronic payments processing for taxes and customs fees at the Port of Douala in Cameroon. EMP has committed to pilot the service from next month, with the full launch scheduled for autumn 2013. EMP is undertaking this venture after winning a tender organised by the World Bank in collaboration with "Guichet Unique" - an online one-stop-shop that enables import/export operators to fulfill external payment requirements.
EMP to offer ePayment service in Cameroon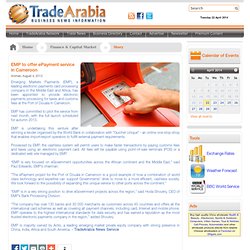 MTN launches first airtime Electronic Payment Terminals in Cameroon | Cameroon Mirror | All About Cameroon
MTN Cameroon, in partnership with Easy Pay, which specialises in payment solutions, has launched a new airtime distribution system using Electronic Payment Terminals (EPT). The tool will ensure the availability of airtime 24 hours a day at popular sites such as hospitals, airports, hotels, restaurants, pharmacies, night clubs and service centres. This payment mode is currently available in two forms, says MTN. The first is a kiosk version, which looks like a cash distribution machine, and the second is a miniature version. The EPT technology is based on the same model used by banks for their electronic payments, and ensures the security and authenticity of transactions.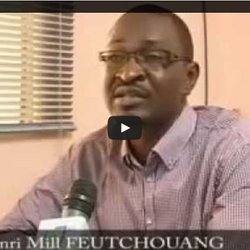 This video is currently unavailable. Sorry, this video is not available on this device. Play Pause Replay Stop live playback
Le Marché Du Web Au Cameroun Evolue Fortement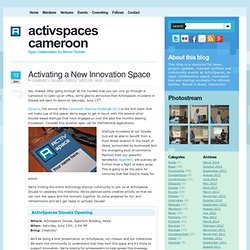 Activating a New Innovation Space - ActivSpaces Cameroon
Yes, indeed! After going through all the hurdles that you can only go through in Cameroon to open up an office, we're glad to announce that ActivSpaces' incubator in Douala will open its doors on Saturday, June 15th. Djoss.tv, the winner of the Cameroon Startup Challenge 2012 is the first team that will make use of this space.
Cameroun : Viettel obtient l'approbation du président Biya pour le développement de son réseau
(Agence Ecofin) - Le président du Cameroun, Paul Biya, a signé un décret le 7 juin 2013, qui porte sur l'approbation de la convention de concession pour l'établissement et l'exploitation d'un réseau de communication électroniques mobiles et le cahier des charges signé le 14 décembre 2012 entre la République du Cameroun et la société Viettel Cameroun. En d'autres termes, l'opérateur de téléphonie mobile Viettel Cameroun peut désormais commencer l'installation de ses infrastructures réseau dans le pays, en vue fournir des services de télécommunications. Le groupe vietnamien qui a remporté la troisième licence de téléphonie mobile du pays compte investir plus de 360 millions de dollars dans la logistique et l'installation des pylônes. Le groupe devra faire face à une rude concurrence sur un marché local des télécoms dominé par MTN et Orange.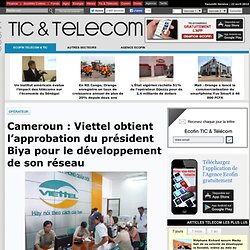 More Sharing ServicesPlus Détails Publié le Jeudi, 12 Avril 2012 18:29
TIC Mag, le premier portail de la veille technologique au Cameroun - E-post va interconnecter 234 bureaux de postes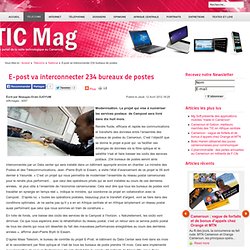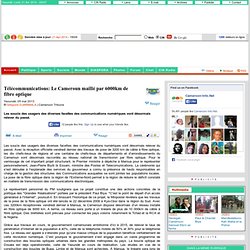 Télécommunications: Le Cameroun maillé par 6000km de fibre optique
Les soucis des usagers des diverses facettes des communications numériques vont désormais relever du passé. Avec la réception officielle vendredi dernier des travaux de pose de 3200 km de câble à fibre optique, les dix chefs-lieux de régions et une centaine de chefs-lieux de départements et d'arrondissements du Cameroun sont désormais raccordés au réseau national de transmission par fibre optique. Pour le vernissage de cet important projet structurant, le Premier ministre à dépêche à Maroua pour le représenter personnellement, Jean-Pierre Biyiti bi Essam, ministre des Postes et Telecomunications. La cérémonie qui s'est déroulée à l'esplanade des services du gouverneur a connu la présence de hauts responsables en charge de la gestion des structures des Communications auxquelles se sont jointes les populations locales. La pose de la fibre optique dans la région de l'Extreme-Nord permet à la région de réduire le déficit constaté en matière de transmission des communications électroniques.
Selon le directeur général de Huawei Cameroun, Shi Weiliang, les produits du mastodonte chinois des Ntic ont été tellement bien accueillis au Cameroun que, de nos jours, «un tiers des Camerounais utilisent des équipements Huawei pour les communications». Le responsable de cette firme chinoise au Cameroun a fait cette déclaration le 7 mars dernier à Yaoundé, au cours d'une rencontre organisée par la représentation camerounaise de l'agence Chine Nouvelle, et qui a mis face à face des hommes des médias et les entrepreneurs chinois installés au Cameroun. Rencontre au cours de laquelle le Dg de Huawei Cameroun a par ailleurs indiqué que « grâce aux équipements Huawei, les tarifs de la minute de communication ont baissé de 60% par rapport à il y a 10 ans ».
Un tiers des Camerounais utiliseraient des produits du chinois Huawei
Only One Cable Distributor Has a Licence Out of Over 500
(Business in Cameroon) - Among the over 500 cable distributors in Cameroon, only one (TV+) has a license on February the 22nd, 2013. Authorities in the Ministry of Communication say 70 operators have paid for application files while five have paid the licence fees and are close to having licences. The application file is CFAF 500,000 while licence fees differ depending on the reach of the operator. Local distributors pay 50 million francs CFA for licences while a national network cable distributor pays 100 million for a licence fee. "This sector offers employment to thousands of Cameroonians.
How Viettel Cameroun outsmarted Bharti and Maroc Telecom to become Cameroon's third mobile telephone company - Business in Cameroon
" …(Business in Cameroon) - the Vietnamese company had the most complete and coherent technical offers, in terms of a significant impact on the telecommunications sector in Cameroon 24 months after the granting of its license," reads an anonymous communiqué in Le Quotidien de l'économie of January 25, 2013. Viettel cameroun plans to cover 92 % of the national territory in 24 months, and an internet penetration of 50% in 15 years compared to Bharti and Maroc Télécom penetration of below 20% within the same period. The company wants to build 1851 base stations in 2 years, compared to Bharti which could do same but in 15 years.
By Emmanuel Tumanjong YAOUNDE, Cameroon--Viettel Cameroun Sarl, the local unit of Vietnamese telecommunication company Viettel, will invest about 200 billion CFA francs ($393.9 million) in Cameroon's telecommunications industry, said Minister of Telecommunications Jean Pierre Biyiti Bi-Essam. The statement late Monday followed news that Viettel has been chosen by the government as the country's third mobile telephone operator. Viettel will be competing against Orange, controlled by France Telecom (>> FRANCE TELECOM), and South Africa's MTN Group Ltd.
Vietnam's Viettel To Invest In Cameroon's Telecommunications Industry
IC2.pdf (application/pdf Object)
DT-TICINFOR-2.2_CN1.pdf (application/pdf Object)
13-telephonie.html
Diapositive 1
ART 2008b.pdf (application/pdf Object)
4586.pdf (application/pdf Object)