Open vs closed
The tradeoff between open and closed cdixon.org – chris dixon's. When having the "open vs closed" debate regarding a technology platform, a number of distinctions need to be made.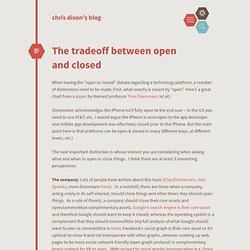 First, what exactly is meant by "open." Here's a great chart from a paper by Harvard professor Tom Eisenmann (et al). Open Source and Economics: How the Hold Up Problem Explains the Flash Wars. Last year, when we were finalizing an academic paper tracing the history of public software institutions over the last half a century, Flash stood out as somewhat of an exception – a proprietary solution in the web development world otherwise dominated by open source.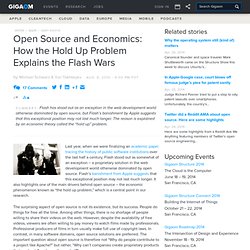 Flash's banishment from Apple suggests that this exceptional position may not last much longer. It also highlights one of the main drivers behind open source – the economic phenomenon known as "the hold up problem," which is a central point in our research. The surprising aspect of open source is not its existence, but its success. People do things for free all the time. The tradeoff between open and closed cdixon.org – chris dixon's. Strategy Letter V. By Joel Spolsky Wednesday, June 12, 2002 When I was in college I took two intro economics courses: macroeconomics and microeconomics.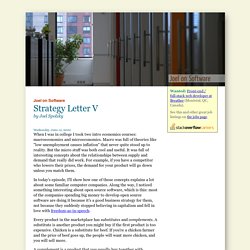 Macro was full of theories like "low unemployment causes inflation" that never quite stood up to reality. Working Papers: 2006-2007 - Faculty & Research. Opening Platforms: How, When and Why? by Thomas Eisenmann, Geoff. Thomas R.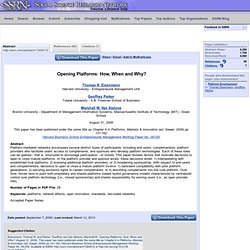 Eisenmann Harvard University - Entrepreneurial Management Unit Geoffrey Parker. Open vs. Closed: What Does Open Really Mean? The Open vs.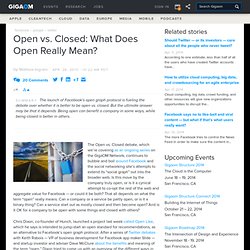 Closed debate, which we're covering as an ongoing series on the GigaOM Network, continues to bubble and boil around Facebook and the social networking site's attempts to extend its "social graph" out into the broader web. Is this move by the company truly open, or is it a cynical attempt to co-opt the rest of the web and aggregate value for Facebook — or could it be both? Facebook, The App Store, And The Sound Of Inevitability. "That is the sound of inevitability…" I'm reminded of this quote from The Matrix as I read headline after headline around the blogosphere about how Facebook and Apple and their (at least relatively) closed ecosystems are going to destroy the fabric of the web as we know it.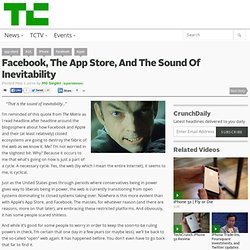 Me? Investor Dave McClure: 'Open is for losers' What's next in mobile?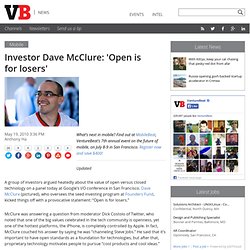 Find out at MobileBeat, VentureBeat's 7th annual event on the future of mobile, on July 8-9 in San Francisco. Register now and save $400! Updated A group of investors argued heatedly about the value of open versus closed technology on a panel today at Google's I/O conference in San Francisco. Dave McClure (pictured), who oversees the seed investing program at Founders Fund, kicked things off with a provocative statement: "Open is for losers." Open Android vs. Closed iPhone. I just finished up spending the past two days at Google I/O.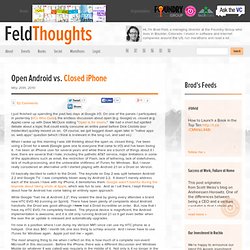 On one of the panels I participated in yesterday (VCs Who Code), the endless discussion about open (e.g. Google) vs. closed (e.g.
---
PED Apr 26 2010

Il a une approche très "économique" de la chose. Pour lui le débat n'est pas tant une question d'idéologie qu'une question qu'on peut approcher par la théorie des réseaux

russata Apr 26 2010

Merci pour les liens :-) L'article de Dixon est intéressant, mais il me faut encore lire tout ça en détail :-)
---