Environment
Assistive Technology Directory : USA TechGuide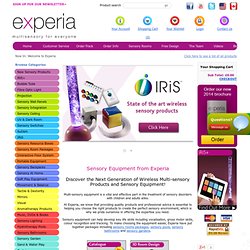 This is an example of a HTML caption with a link. Discover the Next Generation of Wireless Multi-sensory Products and Sensory Equipment! Multi-sensory equipment is a vital and effective part in the treatment of sensory disorders with children and adults alike. At Experia, we know that providing quality products and professional advice is essential to helping you choose the right products to create the perfect sensory environment, which is why we pride ourselves in offering the expertise you need. Sensory equipment can help develop key life skills including vocalisation, gross motor skills, colour recognition and tracking. To make choosing the equipment easier, Experia have put together packages including sensory rooms packages, sensory pools, sensory bathrooms and sensory gardens.
Experia | Sensory Equipment | Special Needs Equipment | Sensory Rooms
RehabMart.com- Discount medical supplies, dme, and online medical supply. Therapist owned
Assistive-tech - How to Make Instructables
We believe disability is not an end but a new beginning to a fulfilling life filled with high spirit and strong will. Able People Foundation, formerly known as AbleProject was founded in 2002 to address the growing need of low income seniors and individuals with disabilities, especially those with physical limitations. We provide basic mobility equipment, at no charge, to eligible candidates, as well as advocacy education to promote independence. Click here for our programs and services 2013 Holiday Gift of Mobility FREE "Brand New" MOBILITY AIDE PRODUCTS LIGHTWEIGHT MANUAL WHEELCHAIR OR WALKER WITH SEAT AND BASKET For seniors and people with limited mobility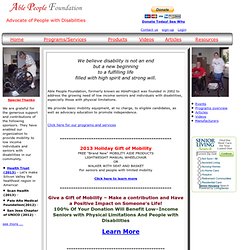 AblePeopleFoundation.org - - Wheelchair, scooter, walker, commode, lift, shower, chair, bench, walker, therapy, disabled, handicapped, aging, senior, ramp, modification, health, canes, crutches, children, assistive
LD OnLine :: Section 504, the ADA, and Public Schools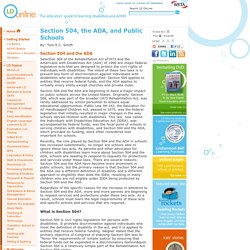 By: Tom E.C. Smith (2001) Section 504 and the ADA
Sammons Preston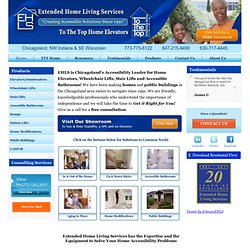 Extended Home Living Services has the Expertise and the Equipment to Solve Your Home Accessibility Problems Today EHLS is the number one source for accessibility modifications – serving Northeastern Illinois, Southeastern Wisconsin and Northwestern Indiana. EHLS offers a complete line of accessibility equipment – including Stair Lifts, Wheelchair Lifts, Home Elevators and Patient Lifts. In addition, we will modify your home or bathroom to create the access and space you need including beautiful and accessible bathrooms with roll-in wheelchair accessible showers. We are a licensed contractor and licensed elevator contractor as well.
Extended Home Living Services